Article
Summer LITT
Your summer weekend in Bermuda is about to get LITT (Lost in the Triangle). We've got all the activities and parties you are looking for to have a weekend full of fun. 
Beyond the Beach,
Local Hotspots,
On the Beach
NIGHTLIFE
The moment you land in Bermuda you will feel the energy take control. It's Friday evening and the Happy Hours are vibrant with locals who are looking to free up for the weekend. One of the best ways to kick off your evening is to get on one of the Über Vida happy hour cruises. You will enjoy amazing views of the island as you cruise around the Great Sound sipping on some Bermuda rum or beverage of your choice from the bar. Next up, find some live music and food at Sea Breeze Lounge which overlooks the beautiful Elbow Beach, or at Hamilton Princess Marina Nights.  
When the sun sets it is time to hit the bars on Front Street. Try the outside bar at Front Yard, where you can also pick up some Portuguese-inspired food from Generosa's, and then continue to one of the late-night bars where the DJs will be playing your favourite tunes.
Here are more suggestions:
ON THE WATER
If there is one thing you absolutely must do while in Bermuda, it is to cool off in our crystal-clear turquoise water – and there are plenty of ways to find a thrill while doing so. Catch a breeze with windsurfing or kitesurfing lessons, try freediving and explore our coral reefs with a strong breath hold, learn to surf on our calm shores, or rip around the island on a jet ski tour.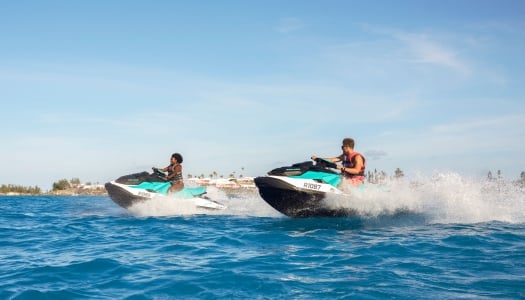 You can also find adventures like parasailing and deep-sea fishing, but if you really want to know how the locals do it, hire a party boat and cruise around with your summer playlist and a cooler full of your favourite drinks. Your captain will take you to the best spots on the island to party like a rockstar.
Activities:
ON LAND
Carve out some time to explore the main island, where you literally can't take a wrong turn. Rent electric bikes and cycle through some of the Bermuda Railway Trail, it is possible to cycle the whole length of the island in one day if you are up for it! If you would prefer to drive on the windy roads, rent a Twizy or Rugged Rental, but remember that we drive on the left! Take a hike through Walsingham Nature reserves where you will stumble upon limestone caves that you can swim in, or if you love the game of golf, there is no shortage of courses for you to choose from here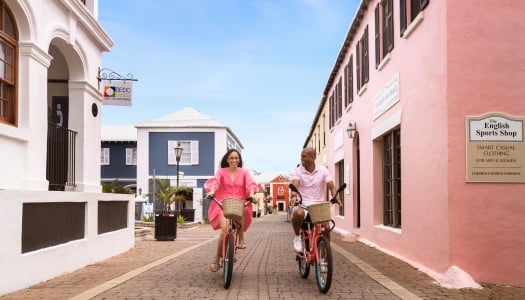 MUST TRY FOOD AND DRINK
A trip to Bermuda isn't complete without a few staple dishes and drinks. To start, at Happy Hour you will want to try our Bermuda Dark Rum, which is best served in one of our classic cocktails the Rum Swizzle or the Dark 'n Stormy. If you prefer gin, then you should try Bermuda's Pink House Gin with some flavoured tonic.
There are a few signature dishes in Bermuda that should not be missed. The first is the local catch fish sandwich with the works. We know, the combination of raisin bread, fried fish, tartar sauce, cheese, coleslaw and hot sauce sounds weird, but all the flavours come together and usually cause a reaction of 'oh wow'. Popular places to find the locals chowing down on their sandwiches are Woody's Sports Bar, Mama Angie's and Seaside Grill.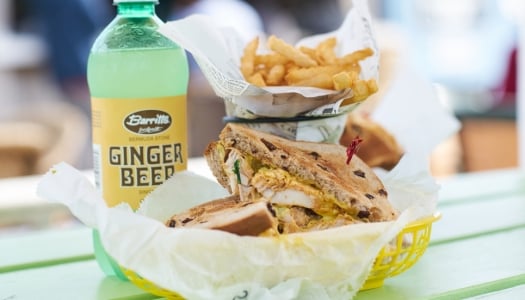 The traditional Sunday codfish breakfast can be found at many mom-and-pop eateries, and you should make sure to get in line to get yours before you head out. Again, a mixture of flavours are going to grab you by surprise and have you wondering who put these random ingredients together – because you will want to thank them! Grab a takeaway breakfast from Grannies and walk to Ducking Stool Park to sit on the rocks looking out at the ocean while enjoying your Bermudian breakfast.   
 
Ingredients: 
Codfish 
Boiled potatoes 
Tomato or butter and onion sauce 
Avocado 
Banana 
Cornbread or Jonny bread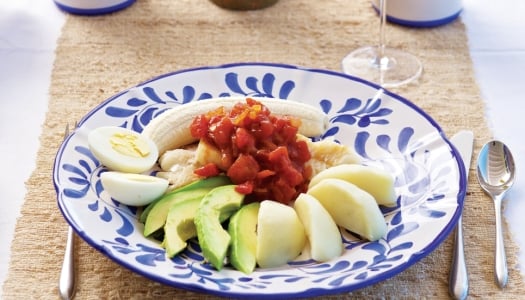 Finally, here are a few more suggestions for places to eat:
Turn off your email notifications and find your happy place. You are about to find the laid-back island way of life in this little slice of paradise.
Find balance with a blend of island vibes. Mix your weekend itinerary up with adventure thrills that are contrasted against moments of total serenity.