Article
Bermuda's Classic Cocktails
Two signature cocktails steal the show: the Dark 'n Stormy® and the Rum Swizzle. Order an icy one (or two) at happy hour, then bookmark these recipes to try at home.
Bermuda is known for delicious cocktails that combine local rum (which tends to be darker and sweeter than rums from the nearby Caribbean islands) with bitters, fruit juices, ginger beer and sweeteners.
The two most famous original cocktails are the Dark 'n Stormy® and the Rum Swizzle. To prepare them, follow these classic recipes and let the fun begin!
DARK 'N STORMY®
There's a reason the trademark symbol is used when referring to this island favourite: a Dark 'n Stormy® exclusively uses dark, syrupy Gosling's Black Seal Rum – no substitutions!
First, ginger beer is poured into an ice-filled glass with the rum floater on top. Don't forget to stir this cocktail – otherwise, you'll gulp down the ginger beer only to be walloped with a shot of 80-proof liquor at the end.
Ingredients
Ice
4-5 oz. Gosling's Stormy Ginger Beer 
1.5 oz. Gosling's Black Seal Rum
Method
In a tall glass filled with ice, add the Gosling's Stormy Ginger Beer and top with the Gosling's Black Seal Rum. Garnish with a lime wedge (optional).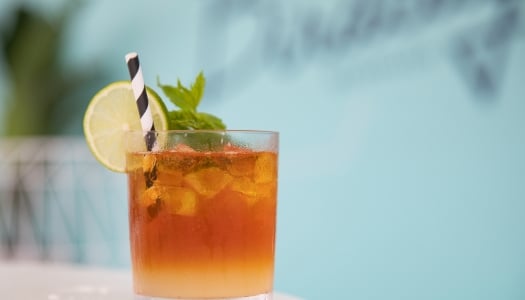 RUM SWIZZLE
The Swizzle Inn lays claim to inventing this fruity, rum-filled cocktail and is a traditional place for visitors to enjoy a final drink before leaving the island. The Rum Swizzle is also the unofficial national drink of Bermuda – it would practically be rude to not sip a swizzle on a sunny patio while gazing out on the fine turquoise ocean beyond.
Ingredients
4 oz. Gosling's Black Seal Rum
4 oz. Barbados rum (or any amber rum)
2 oz. Triple sec
5 oz. pineapple juice
5 oz. orange juice
2 oz. Bermuda Falernum or simple sugar syrup
4 dashes of Angostura bitters 
Juice of two lemons
Ice
Method
Mix all ingredients in a pitcher with cracked ice and shake vigorously until frothing head appears. Strain into cocktail glasses.