Article
Bermuda: The Solo Trip of a Lifetime
So you've taken the plunge and booked your solo trip to Bermuda. Congratulations! We're so excited you'll be joining us on an adventure that's all about YOU. To us, solo travel is anything but lonely travel. Before you join us, we want to make sure you have all the tools you'll need to get to know our culture, learn from new friends, meet other travellers, and make those connections and memories with locals that will last a lifetime.
Here are just a few thought starters on how to get to know us and other travellers while you're here.
Local Hotspots,
Travel Tips
WOMEN-LED TOURS AND EXPERIENCES
With over 400 years of history and culture packed into 21- square miles, you can't understand the richness that is Bermuda without digging into a few of our stories. Small group tours will not only give you the opportunity to meet other solo travellers, they'll give you the chance to learn about life in Bermuda from the women who know it best. Here are just a sampling of the women-led tours and experiences you might want to check out based on your travel style:
Hidden Gems: Go beyond the major sites and explore our food and nature with Ashley Harris.
St. George's History and Food: Join Kristin White by bike as she takes you around this UNESCO World Heritage site. You won't go hungry either, as you'll be sampling authentic Bermudian dishes throughout your tour. Don't forget to pop into Kristin's bookstore, which focuses on works by women of colour. 
Sip and Savour: Eat and drink like a local in the City of Hamilton, or hop on a bus tour that takes you to the best spots between Hamilton and Dockyard.
Caves and Nature: Explore Jenita Dyer's "back yard" at Admiralty House park during this AirBNB experience.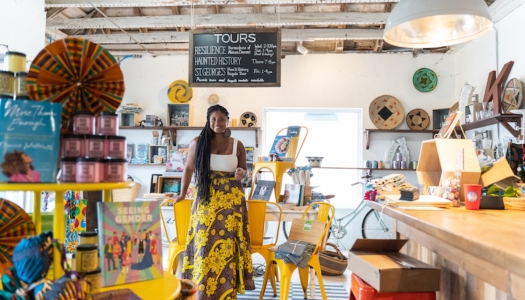 OUT AND ABOUT
It's not uncommon to hear stories about taxi drivers you become instant friends with, conversations struck up after an encounter on a trail, or a friend of a friend introducing you to someone who takes your trip from amazing to next level. Whether or not you're at an event or on a tour, just get out there and keep exploring. In Bermuda, it's all about the people that you meet and where the journey takes you. 
HAPPY HOURS
In Bermuda, Happy Hour is a little different to what you might be used to. At hotels, restaurants and bars across the island, Happy Hours don't end when the sun goes down, they can be all-evening affairs. We like to think that they give us the perfect excuse to dress up, enjoy the sunset, be grateful for the day, and also meet people we might not have the chance to otherwise.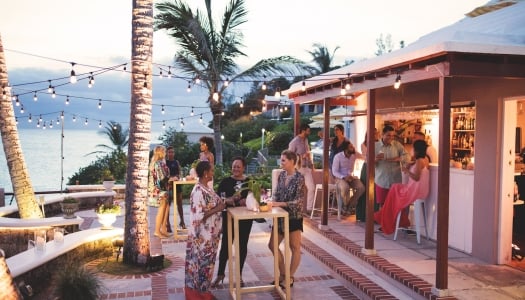 CUP MATCH
Every summer we celebrate our culture and history during Cup Match. With a two day Cricket match that sees rivals from St. George's and Somerset face off amongst a packed arena of supporters, you'll be guaranteed to be amongst friends in no time. Make sure to pack some red and blue clothing options if you're not yet sure which team you'll end up supporting.
Afterward, head on over to Mangrove Bay for the biggest raft up you've ever seen. Everyone's invited. 
EVENTS THROUGOUT THE YEAR
Got a special interest you're hoping to explore? Events happen out here all year round and range from golf and kiteboarding to triathlons and performing arts. And don't forget the food festivals too! They're great places to meet like-minded travellers AND locals. Here are just a few samples of what we've got going on this year. Check the full calendar for more! 
World Triathlon Series: Check out some of the training camps from tri clubs across the US and Canada and see some of the continent's top up and coming triathlon talent. 
Restaurant Weeks: Every winter, come taste some of the locally grown and seasonally sourced meals created and prepared by Bermuda's top chefs. Later in the season, check out Bermuda's food truck festival and foodie tours that give you an amazing taste of our African, British, Portuguese, and Caribbean food heritage. 
Here are a few ideas to help you make the most of your solo time in Bermuda and get to know us and other travellers while you're here – and maybe get to know yourself better, too.