List
Top Spots for Cliff Diving & Jumping
If there's a platform in Bermuda over deep water free of rocks, strong currents, and debris, thrill-seekers will find it and jump off it. Bermudians have been cliff jumping for years, and it remains a favourite summer pastime for locals and travelling adventure seekers. If you're on the hunt for a perfect spot to cliff dive in Bermuda, we're here to help.
Ready? Let's jump into it!
1. DIVING BOARD ISLAND
When it comes to cliff jumping or diving in Bermuda, Diving Board Island is a spot locals love coming back to again and again. This small island, only accessible by boat, features hand-carved steps chiselled right onto the rock that makes up most of the island. Visiting this island is the perfect opportunity to charter a boat and spend a day exploring the multitude of small islets in Bermuda's Great Sound. There are four natural and man-made jumping platforms on Diving Board Island where you can safely jump or dive. Each range from approximately 10 to 40 feet — a perfect assortment for those who want to ease into cliff jumping as well as thrill-seekers looking for pure adrenaline. 
2. BLUE HOLE PARK IN TOM MOORE'S JUNGLE
Blue Hole Park is known to the locals as Tom Moore's Jungle and is located in Hamilton Parish as part of the Walsingham Nature Reserve. The highlight of Tom Moore's Jungle is the mangrove pond or Blue Hole, after which the park has been named. Its deep, crystal-clear blue water makes it perfect for a relaxed day of swimming and cliff diving. Blue Hole is surrounded by cliffs and lush vegetation, making it a beautiful and intimate spot. If you're a bit more adventurous, you can explore the park further along narrow red dirt paths, which lead to a couple of cliff-jumping points on the other side of the water.
Always be careful when trying out new jumping points. If possible, check them out from the water before jumping, and always make sure you're jumping as far out and away from the rocks as possible.
3. ADMIRALTY HOUSE
Located on the North Shore in the outskirts of Hamilton, Admiralty House Park is one of the most popular cliff jumping spots amongst the locals. During the summer months in Bermuda — May to October — you'll see many local children jumping off the cliffs here. A big family pastime during the weekend is to come for a picnic and swim for the rest of the day. There is a beach at Admiralty House Park for hanging out and tons of history. You can visit and walk through the old ruins and underground tunnels of a British Royal Navy Admiral's Home.
 
The best spot at Admiralty House is known as Canon. Over the years, the ocean and weather have formed an arch-like formation on the face of the cliff. The drop here is about 20 feet, and you can see the arch created by time and erosion from the water. For maximum safety, make sure you are jumping during high tide only so that the water is deep enough for everyone, and remember, never jump head first!
 
After jumping in the water and admiring the view, you can swim through an underwater cave before coming up to the surface. You can then make your way back up to the jumping point using the ancient rocky pathway blasted into the rock by the British more than 100 years ago. It's always recommended to bring and wear swimming shoes for maximum comfort when cliff jumping here.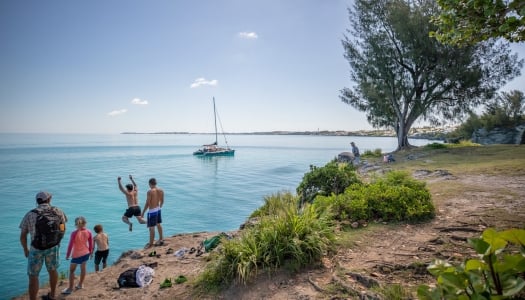 3. HORSESHOE BAY BEACH
You can find another favourite safe cliff at Horseshoe Bay Beach. This jumping point is known as the Crown and is about 30 feet. Again, make sure you're only jumping from here at high tide. Otherwise, the water will not be deep enough for a safe jump.
 
Towards the eastern end of Horseshoe Bay Beach, there is another spot known as Peel Rock or Flat Rock. This is a jumping spot we only recommend for experts — and even then, we suggest caution. That's because even at high tide, the water is only about 6 feet deep, and you will likely end up touching the bottom once you jump. For your safety, opt instead to jump off Launching Pad, located directly across from Peel Rock. There is a platform here specifically for jumping, and the water is deeper.
4. WATFORD BRIDGE
Besides cliffs, there are bridges on the island that are also quite popular with the locals. Watford Bridge is located in Sandy's Parish and goes over the water channel that connects Somerset Island and Watford Island. The bridge connects the road that goes up to the Royal Naval Dockyard. The views from the bridge are spectacular, and the jump is about 20 feet. When jumping from bridges, it's always important to check both sides of the water to ensure that no boats are passing underneath.
JUMP INTO FUN!
Remember to only jump from places where locals or tourists are already doing it. Local cliff jumpers will tell you where to jump from, point out any tree branches, currents, and rocky points to clear, and, most importantly, how to get out of the water safely. Always bring a friend and know your limits before jumping.
 
Cliff jumping is a sure way to feel unbound freedom while travelling. The sheer act of it forces you to be deeply aware of your surroundings while urging you to be entirely in the moment. Dive into planning your vacation to beautiful Bermuda today. We can't wait to welcome you here!