Article
Windsurfing, Kiteboarding & Surfing in Bermuda
If you're into board sports, you'll find that Bermuda has all the right conditions to enjoy your favourite on-the-water thrills – plus some amazing views you won't find anywhere else.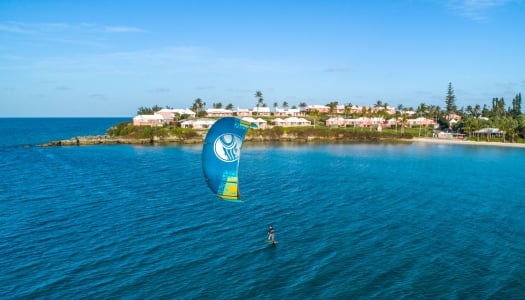 You'll find many ways to have exhilarating adventures on the water while you're here. If you're experienced, you'll find all the outfitters you need. If not, lessons are available to get you started.
Windsurfing
Bermuda's ideal weather conditions make it a great place for this wind-powered sport – both newcomers and seasoned professionals can enjoy windsurfing here. Blue Hole Water Sports offers rentals of speedy slalom boards and gear, so you can catch the wind from Grotto Bay Beach. Meanwhile, Island Winds are windsurfing specialists, offering the very best in windsurfing equipment, windsurfing lessons and windsurfing rentals. After a two-hour lesson from these experts, you'll be good to go. Other popular windsurfing spots are Shelly Bay Beach and Achilles Bay, where conditions are usually good and the coastline sights are unbeatable.
Kiteboarding
Elbow Beach is a popular spot if you're looking to catch some air kiteboarding (also called kitesurfing). Experienced kiteboarders can find gear at Island Winds, which also offers private and semi-private lessons. Newcomers to the sport should note that it can be extremely challenging and requires proper instruction. All kiteboarders should take extra precautions before and after storms.
Surfing
Bermuda's beaches are legendary. The island's surfing scene? Not so much. However, Cullen O'Hara is changing that. He launched Isolated Surfboards in 2010 and has rapidly become Bermuda's go-to resource for everything surfing, from boards and SUPs to ding repair, lessons and accessories. Check out the Isolated retail space in Hamilton.