Article
Top Dive Sites in Bermuda
Coral reefs teeming with marine life, labyrinthine underwater caves and inshore grottos, plus hundreds of shipwrecks – Bermuda conjures up a diver's dreamscape. Don those flippers and prepare for mystery and adventure.
Close to the Action
One of the reasons divers rave about Bermuda's experience is the extraordinary proximity to deep water. You can strap a tank to your back, wade into the water from a South Shore beach and be admiring colourful reef fish within minutes of leaving the shoreline.
The best sites require short boat trips, but even then you can find yourself marvelling at a sunken galleon just 15 minutes out to sea.
Shipwreck Diving
It's a well-earned phrase, that Bermuda is renowned as the Shipwreck Capital of the Atlantic.
Sea captains of yore either missed or underestimated the danger posed by jagged coral reefs lurking just below the water's surface, and many vessels – some tossed about by tremendous storms – met their doom close to Bermuda. But their bad luck is now a jackpot for today's divers who can explore a wide range of wrecks spanning three centuries.
Plunge into the past at the many shipwreck dive sites surrounding the island. Some of the best-preserved shipwrecks are to the east and north of Bermuda, in depths of 40 to 80 feet. At the western end, you'll find older ships, some in water as shallow as 30 feet.
Fewer than 40 of the 300-plus shipwrecks are named. Of these, there are at least a dozen standouts renowned for their interesting provenance, ease of access and visual appeal.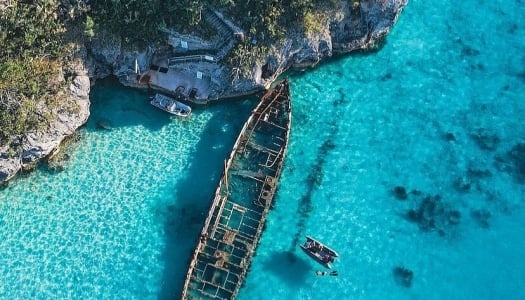 Six of the best:
Constellation: Jaws author Peter Benchley based his follow-up novel The Deep around this wreck, which sank on the South Shore with a cargo of morphine and whisky. The 192-foot American schooner sank during World War II en route to Venezuela.
Mary Celestia: A 225-foot side-paddlewheel steamer, she served as a Confederate blockade-runner and sank in 1864, also off the South Shore. Intact bottles of wine, perfume and cologne were found on board as recently as 2011.  Watch the video.
Cristobal Colon: At nearly 500 feet long and three decks high, this Spanish luxury liner is the biggest of Bermuda's wrecks. She sank in 1936 and her remains are spread across the north shore reef. She was once heavily looted by locals, whose descendants still proudly show off their booty. Such looting is frowned upon today.
Iristo: This 250-foot Norwegian freighter sank in 1937 and is nestled among beautiful coral off the north-eastern shore with her propeller and engine still visible.
North Carolina: This Liverpool-built sailing ship sank in 1880 en route from Bermuda to England. Highly photogenic, she sits upright off the West End with stern and bow intact.
Pelinaion: This 385-foot Greek cargo steamer crashed on a reef off the East End during World War II. Tragically for her, St. David's Lighthouse had been blacked out to thwart German spies.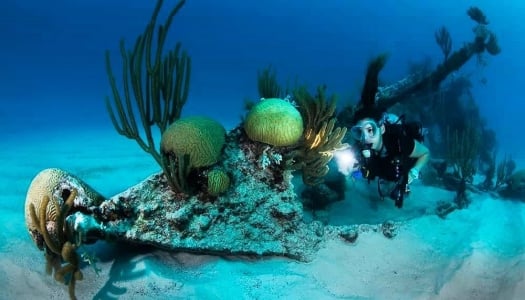 Coral Reefs
Bermuda is ringed by 200 square miles of coral reefs, many of them easily accessible from the South Shore and colourfully populated by blue angelfish, parrotfish, spiny lobster and trumpetfish. You'll want an underwater case for that smartphone camera. 
Few dive spots are more spectacular than the so-called "Cathedral," located near Gurnet Rock off the East End. Picture a massive underwater dome punctured by holes that accommodate fluted pillars of watery sunlight. Dive through tunnels and dramatic archways here and the scene will forever be imprinted in your mind. Just don't be tempted to snap off a chunk of coral as a souvenir – it's a big no-no.
Night Dives
In midsummer, there are few activities in Bermuda more thrilling than diving at night – especially if the moon's out to add a touch of romance. Find critters sleeping in rocky crevices and enjoy the beautiful stillness. Switch off your flashlight and watch bioluminescence make the sea glow.