Article
Ultimate Bermuda Spiny Lobster Guide
The Spiny Lobster is sourced directly from our waters by specially licensed fishermen and plated up in a variety of ways, all sure to make your mouth water. This seasonal dish is a local favourite and throughout the months of September - March you can find it on the menu of many restaurants across the island.
Unlike its distant relative, the Maine lobster, spiny lobsters (also known as rock lobsters) have a harder (and spinier!) shell and don't have claws. That means nearly all of the tender, succulent meat is found in the tail. But here's a tip: you can also find very tasty meat in the legs and antenna.
As we said, most restaurants have Spiny Lobster on their menus during the season – but here are a just a few local favourites you've got to try.
LOCAL FAVOURITES
36 Water St., St. George's
"Make mine with Bermuda Lobster!" From September through March, that's all you have to say at Wahoo's, and you'll be treated to chowders, salads, tacos, pasta dishes and more made with fresh Spiny Lobster. Or just ask for the "special" – ½ Bermuda Lobster filled with crabmeat stuffing. 
6 Bermudiana Road, Hamilton
With a name like Lobster Pot, you know it's gotta be good. Serving satisfied customers since 1974, this City of Hamilton knows just the right way to prepare spiny lobster. Ask about their baby spiny lobster appetizer – though these rare delicacies usually disappear fast! 
69 South Rd., Southampton Parish
A favourite among locals and tourists for spiny lobster, this restaurant and pub boasts beautiful South Shore views and a charming old world atmosphere. Don't miss the sushi either. 
5 Burnaby Hill, Hamilton
One of Bermuda's finest steak and seafood eateries, the Barracuda Grill in Hamilton is always a good source for fresh Bermuda lobster during the season (or Maine lobster year-round). Try the Lobster & Tomato appetizer with yuzu, cucumber and fresh basil whipped burrata. 
56 South Shore Road, Southampton
Expertly prepared Spiny Lobster dishes with a picture-perfect view of the beach and ocean? That's exactly what you'll get at Coconuts (part of The Reefs Resort & Club). Make the evening even better by selecting a bottle or two from the restaurant's extensive wine list.
RED CARPET
37 Reid Street, Hamilton
This quaint little restaurant is well-loved by locals and one of Bermuda's best-kept culinary secrets. Known for its seafood, you can order any of the local catches and you will not be disappointed. During the lobster season they often have your choice of Spiny Lobster or local Guinea Chicks, the smaller cousin of the lobster with a sweeter taste.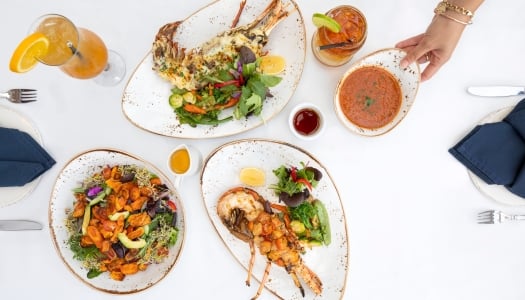 CATCH & COOK EXPERIENCE
Want your spiny lobster extra fresh? Catch your dinner with local licensed lobster divers and cook it that evening for dinner – a unique and totally memorable, "sea-to-table" experience.
Or purchase just-caught, live whole lobsters at roadside locations in Hamilton Parish. Get there early! These often sell out fast.
BERMUDA SPINY LOBSTER RECIPE
Baked Bermuda Spiny Lobster with Curried Baby Shrimp and Herb Filling Recipe courtesy of Chef Keith Deshields of Cambridge Beaches
THE LOBSTER
Ingredients
1 medium size fresh Bermuda Spiny lobster 
1 small onion
2 pieces celery sticks cut in 3rds
2 clove garlic
1 teaspoon whole peppercorn
2 bay leaves
Cutting boards with catch sides to prevent getting your work area messy when working with the lobster.
Large pot of salted water (if you can get ocean water even better) enough water to cover the lobster
A bowl or large pot with ice water to (shock) cool down the cooked lobster so the cooking process stops and the lobster does not overcook
Method
Put all ingredients except the lobster in the salt water. Bring to a heavy boil, put the lobster in the boiling water and cook for about 7 minutes. Depending on the size of the lobster, the time will differ. You need about 5 minutes for a 2.5-lb lobster, while a mid-size Spiny lobster is about 3lbs.  
Once the lobster has cooked for the appropriate time remove from heat and shock the lobster in the ice water.
Once the lobster has completely cooled use a large heavy chef knife to cut the lobster down the middle length wise. Be careful not to hurt your hands on the spines – use an old hand towel to hold the lobster when working with the spiny lobster.
Once you have cut the lobster, remove all the unwanted inner parts, and give the tail and inside of the head a rinse. Set aside for the next step.
THE CURRIED SHRIMP AND HERB STUFFING
Ingredients:
1 tablespoon vegetable oil
½ Small onion – finely chopped
1 clove garlic – chopped
1 teaspoon Fennel – coarsely chopped
Zest of 1 lemon
1 teaspoon lemon juice
¼ cup cooked baby shrimp (250-350) dried from excess water
Tablespoon butter
Salt and pepper
¼ inch piece root ginger – peeled and thinly sliced
 ¾ teaspoon good quality curry powder
1 tomato – peeled and diced
1 tablespoons concentrated tomato paste mixed with 1.5 tablespoons light fish stock
1 fresh chili seeded and chopped finely (optional)
Method:
Heat the oil in a heavy pan then add the chopped onion and stir for a few minutes with the heat on high.
Add the ginger, garlic and green chili (if using). Stir for 30 seconds then put the heat down to very low.
Cook for 15 minutes stirring from time to time making sure nothing browns or burns.
Add curry powder still very gently, for a further 5 minutes. Don't burn the spices – sprinkle on a few drops of water if needed.
Take off the heat and cool. If you have a hand blender use it to puree the curry together adding the lemon juice, zest and the fennel. if not then add a little cold water in a blender, add the contents of the pan and blend until very smooth adding the lemon juice, zest and fennel tops, add the tomato puree and stir.
Put the puréed mixture back into the pan and cook for 20-30 minutes it should have the consistency of a puree when finishes.
In a sauté pan melt and heat the butter, when butter is hot enough add the baby shrimp and toss around seasoning with salt and pepper.
Add the baby shrimp to the curry, set aside 
GARLIC BREADCRUMBS
Ingredients:
3 tablespoons butter
½ cup course bread crumps (you can make your own buy slowly drying dinner rolls and putting them between a Ziploc bag and hitting them lightly with a rolling pin)
1 clove garlic minced very fine
¼ small onion chopped very fine
Pinch of fresh tyme
1 tablespoon chopped parsley (you can use dry 1 teaspoon)
Salt and pepper
Method:
In a medium size skillet, melt butter and add all ingredients except the bread, on medium heat. Fry until the garlic and onion starts to brown remove from heat, toss the breadcrumbs in the herb butter.
To Complete:
Heat your oven to 375 F, put the two halves of the lobster in a fairly deep baking pan. Spoon the curry into the head of the lobster halves dividing evenly.
Using your hand crumble and divide the breadcrumbs over the shrimp curry, your hand will be greasy after this. Give them a good wash before moving further.
Place a small cup of water in the bottom of your oven. This will generate moisture to help to prevent your lobster from drying and getting tough.
Melt a little butter in a small pan (you can use salted butter if you like, I like to add the amount of salt that I like so I use unsalted butter ) season the lobster tails with salt and white pepper (if you are using salted butter, only use pepper).
Spoon the butter over the lobster tail, put the lobster tail in the oven and bake between 7-10 minutes. The size of the lobster will determine how long you need to bake.
Note: Be careful not to overcook the lobster, it will get tough and chewy. I like to take mine out of the oven just before it is done. The heat will continue cooking the lobster. This keeps it from overcooking.