Article
What You Need to Know About Snorkelling & Scuba Diving in Bermuda
Even to the most ardent landlubber, Bermuda's clear, blue water is a powerful lure. With more shipwrecks per mile than anywhere else in the world, the island has been listed by National Geographic as an unmissable diving destination. Exploring the surrounding reefs and wrecks is a bona fide bucket list experience. A little guidance and planning will help maximise your enjoyment.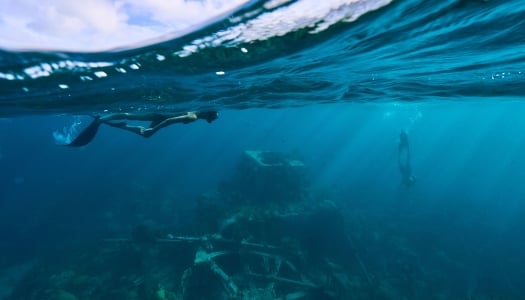 CLEAR WATER, EASY ACCESS
Action centres around the coral reefs, where the fish come to feed and, over three centuries, hundreds of ships have wrecked.
Few places in the world offer easier access; you can dive from the beach or marvel at shipwrecks while snorkelling in 25 feet of water. And Bermuda's expert diving guides can lead you to all the greatest under-the-waves spots in a safe and friendly fashion. 
Another distinguishing feature is the water clarity – up to 80 feet of visibility in the summer – and its warmth, averaging 28 degrees Celsius in peak season. For snorkellers, extra buoyancy created by high salt density makes things easier, too.
NO EXPERIENCE REQUIRED
Safety and tuition standards are high and certified dive shops are located island-wide. Children as young as 10 can learn. Lessons for novices start on the beach or in the pool, and if you get the hang of it, you can take your first shallow dive on the same day.
Most diving in Bermuda is between 30 and 70 feet, and guided dive boats typically take out small groups of 10 to 20 people, with snorkellers and sometimes passengers among them. See top dive sites.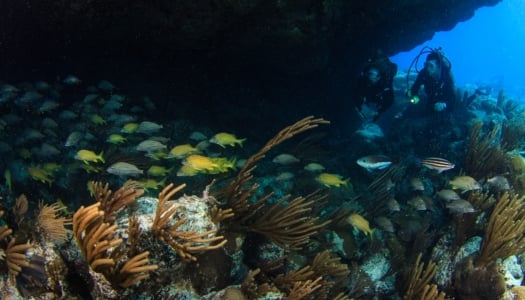 DIVERSE MARINE LIFE
While the declining health of coral reefs is a concern across the world, Bermuda's reefs are in good shape, thanks in part to strict protective laws.
Divers will see a greater variety of fish than snorkellers, but there are some species you're almost guaranteed to encounter, such as the striking blue angelfish; the yellow-and-black striped sergeant major; parrotfish (they come in different sizes and colours) and the barracuda, which wins no beauty contests because of its razor-sharp teeth and habit of opening and closing its fearsome-looking mouth. Don't fret, they don't eat snorkellers. 
Sea turtles are quite plentiful in Bermuda waters; most are on vacation from their breeding grounds in Mexico and Costa Rica. For the first time in decades, some sea turtles have been found nesting in local waters.
SHIPWRECK CAPITAL OF THE ATLANTIC
If you were to pull an imaginary plug and drain the water around Bermuda, more than 300 shipwrecks would be laid bare. The remains of American Civil War blockade-runners, the hulls and cannons of Spanish galleons, and even the remnants of a B52 bomber and a Chinese migrant ship (sunk in 1997) lie beneath the waves. It's tempting to describe it as the graveyard of the fabled Bermuda Triangle, but the more realistic explanation is that skippers were too busy navigating by the stars to spot the jagged, hull-busting coral reefs just below the water's surface.
Each wreck has a story – the more recent its demise and deeper its location, the better its condition. Some of the wrecks off the island's West End are in 30 feet of water or less, making them ideal for novice divers or snorkellers in optimum weather conditions.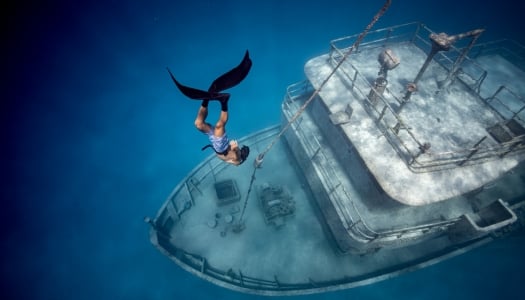 HIGHLIGHTS
Snorkelling at Tobacco Bay in St George's Parish is popular with all age groups due to shallow water, intriguing rock formations to swim around just off the beach and full amenities including restrooms, beach rentals and a snack bar. It's ideal for a family outing.
The Hermes is amongst the most popular wreck dive sites because the 165-foot, steel-hulled World War II buoy tender, built in Pennsylvania in 1943, is intact. Having broken down and limped into Bermuda, she was deliberately sunk in 1985 and lies in 80 feet of water not far from Horseshoe Bay on Bermuda's South Shore. An underwater camera a must for this adventure.
Several island outfitters offer snorkelling and diving adventures, including the sampling below: 
Blue Water Divers & Watersports - Blue Water provides easy access to the best of Bermuda's diving, including more that 22 wreck sites and 25 pristine reefs.  
*Diving image by Alex Pilgrim
Dive Bermuda at Grotto Bay - This PADI centre at Grotto Bay Resort takes guests out on a 36' Hatteras dive boat for amazing underwater explorations. 
Fantasea Diving & Watersports - The historic Royal Naval Dockyard is the perfect launching point for diving and snorkelling trips in Bermuda.