Article
Where to Go Snorkelling in Bermuda
Bermuda can seem quite small – until, that is, you start to explore the ocean. And there is no easier way to enjoy the island's abundant aquatic life than snorkelling. 
A quick guide to the best Bermuda snorkelling sites via beach or boat. 
First Things First
Don't pull your flippers on just yet. First, do a little research. Take a trip to the Bermuda Aquarium, Museum and Zoo or the Bermuda Underwater Exploration Institute and familiarize yourself with what you'll later see through your snorkel mask. It's sure to enhance your appreciation and enjoyment.
Next, decide whether you want to venture out by boat or snorkel from the beach. Both are great fun, but on balance, the best sights are to be seen by boat and there are plenty of tour operators to choose from. But let's start on the beach.
Snorkelling From the Beach
Ask locals for guidance and they'll be torn on which beach deserves top honours for snorkellers, but two places tend to stand out: Church Bay and Tobacco Bay. No matter which beach you choose, the water will be clear and warm (average 28 degrees Celsius in summer), the visibility excellent (up to 80 feet) and the marine life varied and colourful. Here are a few options:
Church Bay: Close to the The Reefs hotel, you'll find high cliffs and a ribbon of spectacular reefs close to the shore. It's a gorgeous location with thriving marine life. Bring your own snorkel gear and exercise caution, as the South Shore can get a little choppy.
Tobacco Bay: If you're staying at the East End of the island, this is your best bet. You'll find a sheltered bay with shallow water and lots of rocky coves to explore. Be ready to encounter a school of sky-blue parrotfish as you swim around huge rocks that jut out of the sea.
John Smith's Bay: A small, pretty beach 15 minutes from Hamilton that is popular with locals. Bear right (as you look out to sea) for the best snorkelling; the fish tend to congregate by the rocks.
West Whale Bay: Close to the world-famous Port Royal Golf Course in Southampton, tiny West Whale Bay Beach is secluded and never crowded. The snorkelling is great but check out the tide times in advance; the beach vanishes at high tide.
Snorkel Park: This is a great, well-organized beach facility with chairs, umbrellas and snorkel gear for rent. It's located in Royal Naval Dockyard and is ideal for families.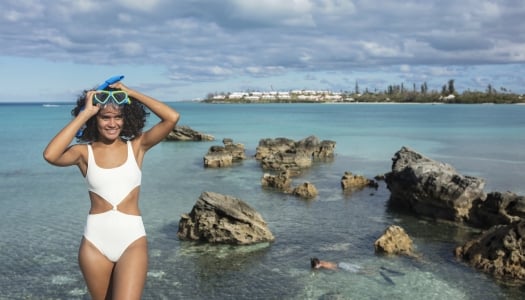 Venturing out to the Reefs & Wrecks
Beyond the beach, encounter the mystery and intrigue of hundreds of shipwrecks and spectacular reef formations.
Aerial views of Bermuda show how the island is girded by coral reefs; they protect islanders during storms but over three centuries, proved too great an obstacle for hundreds of ships. The ships' skeletal remains now litter the seabed, and some are highly accessible to snorkellers.
Western Blue Cut: This is an opening in the reef off the north shore, an hour's journey by boat. Two shipwrecks – Constellation and Montana – lie in less than 20 feet of water and can be seen clearly when snorkelling. The fish life is good too, and if you're lucky you'll see large, black grouper.
HMS Vixen: Off the West End, this semi-submerged ship is half a mile off the Somerset shore. The HMS Vixen was a three-masted steam-driven British gunboat launched in 1867. Scuttled by the British Royal Navy, her bow sticks up above the water and her hull remains intact. It's a thrilling sight for snorkellers.
Sea Garden: Close to the Vixen is the so-called Sea Garden, an underwater oasis of marine flora with brain coral, sea fans, blue-and-yellow damselfish and bright parrotfish.
Eastern Blue Cut: A little more than six miles off the north shore, it includes Blue Hole – it's known primarily as a dive site but the water is crystal clear and in many spots the reefs are just inches below the surface. Fish are plentiful here; on the best days it's like swimming in an aquarium.
North Rock: Going farther afield, North Rock is seven miles offshore – about as far as you want to go for snorkelling – but the marine life here is dazzling.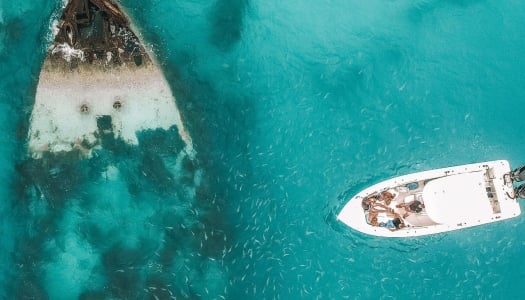 Winter Options
Hardier souls will have no problem donning wet suits for snorkelling January through March. The water temperature dips to 17 degrees Celsius but the trade-off is greater water clarity than summer – up to 200 feet on a good day.