Article
South Shore Bermuda
Limestone bluffs, secluded coves, pink-sand beaches and nature trails: the South Shore is a photographer's – and vacationer's – paradise.
Bermuda's South Shore is the stuff of postcards and vacation selfies. Ranked as one of the best beaches in the world by TripAdvisor, the legendary Horseshoe Bay Beach lures visitors and locals with its wide pink sands and stunning rock formations. Nearby, Warwick Long Bay is just as breathtaking.
Cliffs, Coves, & Hidden Beaches
South Shore Park, the coastal area connecting Southampton and Warwick Parishes, has been a national park since 1990. Stretching from Warwick Long Bay to Horseshoe Bay Beach, the park provides the ultimate island beach day. Follow the trail along cliffs and beaches to get wide ocean views and discover tiny coves that'll make you feel like a castaway, at least for a little while.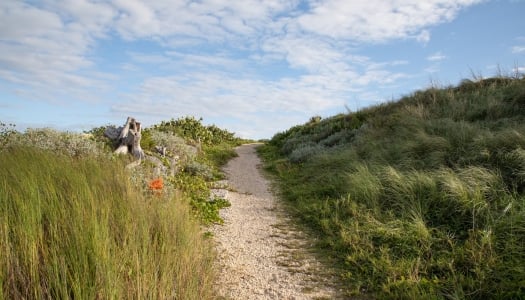 As you stroll along the grassy trails and bluffs in and around South Shore Park, you'll find secluded coves and hidden beaches. Take Astwood Cove, a dreamy wedge of sand tucked away beneath a steep cliff, which is so remote you'll think you're on a private island. No wonder it's popular for weddings. The picturesque twin coves of Chaplin Bay and Stonehole Bay are rock-dotted hideaways. Take a walk, go for a dip or sit at the edge of a bluff at night and count the stars.
Historic Lighthouses & Forts
The South Shore also buzzes with history. Gibbs' Hill Lighthouse, the oldest cast iron lighthouse in the world, was built about 150 years ago. It's so tall, sailors can see it from 40 miles away. Scale the 185 winding steps to the top for a spectacular view. 
Fairways & Trails
Port Royal Golf Course offers an 18-hole championship course designed by architect Robert Trent Jones. It merges challenging play and dazzling ocean views.
Also on the South Shore, Bermuda's Railway Trail (built on a former train line) takes cyclists, hikers and walkers from winding rocky coastlines to breathtaking backcountry. Along the way, you'll encounter sites like the Somerset Bridge, the world's smallest working drawbridge. It opens just 32 inches wide, enough space for a sailboat to squeak through.