Article
Eco-friendly Practices in Bermuda's Restaurant Scene
   Bermuda may be well known for its colourful shorts, pink sand beaches, and folks zipping around on scooters, but for discernable foodies who've come to experience its fresh, local cuisine, they'll also find an idyllic island filled with eco-conscious restaurants that are fiercely committed to putting the most sustainable foods on people's plates.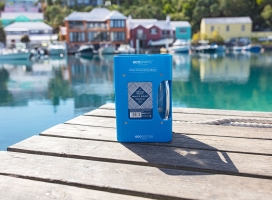 Take for example the hotel's recent partnership with ecoSpirits, an innovative closed-loop distribution system that nearly eliminates packaging waste in the premium spirits supply chain. That means instead of using single-use glass bottles for spirits such as Gosling's Black Seal Rum and The Bermuda Gin Company's White Roof Gin, the hotel refills and reuses so-called ecoTotes to eliminate glass waste and drastically reduce its carbon footprint. In fact, thanks to its partnership with ecoSpirits, which also removes 1kg of ocean waste worldwide for every ecoTote sold, the Hamilton Princess has contributed to the removal of over 504 kg (or 1,100 lbs) of marine refuse, making it one of the most successful sustainability initiatives in Bermuda.
Equally as important is supporting Bermuda's fishermen and farmers, all of whom provide fresh grown produce and day-caught seafood to the bulk of island restaurants. This includes family-run operations like Cardinal Farms, Wadson's Farm, Bermy Fresh, and J&J Produce, among others, who provide seasonal fruits and vegetables to island chefs, plus local fishermen like Andrew Marshall, Stephen Cabral and Bermuda Fish & Co., who fish for wahoo, tuna, snapper, mahi-mahi and spiny lobster, which is a sweeter, clawless version of the popular New England-based crustacean that's available in Bermuda from September through March.