Article
Dining on the Beach in Bermuda
In Bermuda, it can be hard to leave the sand behind. Lucky for you, there are many places (and ways) to dine on the beach. Find everything from resort restaurants to beach outposts serving local fare and refreshments. Or, customise your own beach dining experience.
Whether you're looking to pause your beach day for a tasty lunch or get dressed up for dinner with a view, Bermuda's beach dining options won't disappoint.
Beach Resort Vibes
Enticing island resorts dotting the shoreline are part of Bermuda's mystique – and the luxe atmosphere extends out to the sands that skirt them at these restaurants.
The Lido Complex
Situated on the pink sand that lines Elbow Beach Bermuda's manicured resort grounds, this quintessential open-air beach restaurant is an excellent choice for lunch, cocktails or dinner. The menu at Lido Complex features everything from light beach snacks to gourmet salads to fresh seafood dinner entrées. In the evening, smart casual dress is recommended.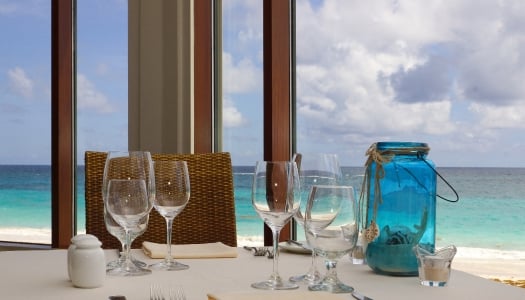 Breezes at Cambridge Beaches
A sunset from the West End should be required viewing for any vacationer. That's why you'll want to reserve your spot at this beachfront eatery on Long Bay before the sun starts to sink. A great spot to sip a swizzle with your toes in the sand, Breezes is located right on the private beach at the historic Cambridge Beaches Resort & Spa, an adults-only property near Somerset Village. On the menu you'll find classic Bermudian dishes, like the fish sandwich, with an upscale twist. This casual spot is lunch-only on Mondays.
Coconuts at the Reefs
Gaze out over Bermuda's iconic South Shore Beaches – and the dramatic cliffs and turquoise waters of the Atlantic just beyond – at this breezy beachfront spot on the grounds of The Reefs Resort & Club. Have an elegant lunch or dinner experience while seated at a white-linen-covered table, or opt for casual, toes-in-the-sand dining at one of the beachside tables. The everchanging menu at Coconuts is highly dependent on seasonal influences, and the evening dress code is smart-casual.
Coral Beach & Tennis Club
You'll find a few beachside dining options at Coral Beach & Tennis Club, a 26-acre resort at this members and guests only private club that is located along Bermuda's famous South Shore. The Beach Terrace is a casual spot with food and drink to help you refuel between beach walks; lunch is served every day and dinner is available Thursday through Sunday. The Frozen Hut, meanwhile, is a low-key beach bar with a lunch menu that includes salads, Bermudian fishcake bites and frozen cocktails. They'll also bring beach snacks and icy beverages right out to your beach chair. It's a great place to catch a sunset to the sounds of live island music.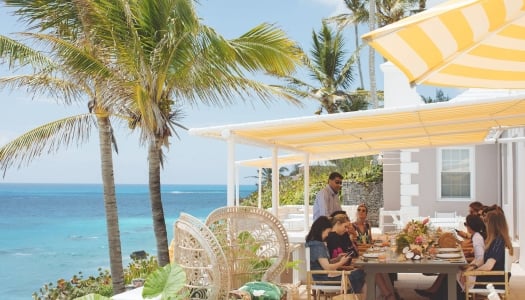 Beach Club Restaurant at Rosewood
For high-end dining with an island twist (and spectacular views of the Atlantic), opt for this restaurant at Rosewood Bermuda. It has the classic Bermudian carefree-but-sophisticated feel with a menu to match. There's a full menu for guests ordering from the beach; on it you'll find fish caught in Bermuda's waters, greens grown on the island and many more local specialties, plus island-inspired cocktails. There are full lunch and dinner menus in the restaurant's main dining area, where the dress code is resort casual. Indoor and outdoor seating are available.
Photography by Ken Hayden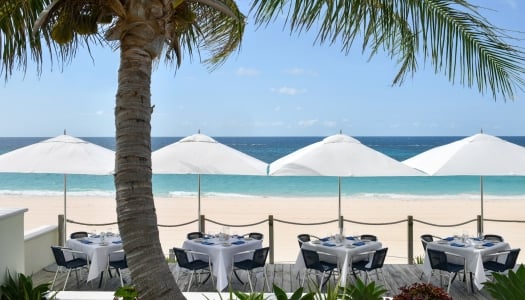 Hamilton Princess & Beach Club
Nestled on a private stretch of sand along the South Shore, the Beach Club is a serene, luxurious outpost of the Grand Dame of Bermuda, the Hamilton Princess. It's here you'll find hammocks in the water for your lounging pleasure, a menu consisting of mezze, Mediterranean-inspired small plates, classic Bermudian cocktails and a wine menu that includes champagne by the glass. Thursday through Saturday, dine in the sand as fire dancers, live musicians and DJs help set the tone for the evening.
Grotto Bay Beach Resort
With its striking views of Castle Harbour's turquoise waters, the Bayside Terrace Grill at Grotto Bay Beach Resort is an excellent spot for grabbing a casual lunch from April through November. On Monday and Thursday evenings, you'll find decadent spreads consisting, respectively, of barbecue and surf & turf, served with a side of live entertainment from local musicians. 
Casual Beach Bars & Cafés
Bermuda's laid-back island vibe also lends itself to come-as-you-are beach bars you can duck into between cliff-jumping and cave-exploring sessions. You'll find classic island food and drink at these beachfront spots – and there's no need to rinse the sand from your toes.
Rum Bum Beach Bar & Grill
This lively beach bar sits at the south end of the ever-popular Horseshoe Bay Beach. It's a colourful spot to grab a bite and a chilly beverage after a day of swimming and snorkelling. The drink menu features island favourites like the Dark 'n Stormy as well as house-made sangria and frosé. The food menu includes bar fare such as burgers and wahoo bites. Given its location at Horseshoe Bay Beach – arguably the island's most famous stretch of sand – you'll find lots of activity here, like live music and monthly full-moon parties. They also offer beach rentals, from beach chairs to snorkel equipment.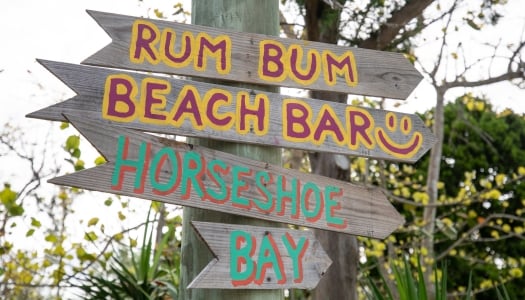 Hammerheads Bar & Grill at Snorkel Park Beach
Steps from Royal Naval Dockyard, Hammerheads Restaurant & Bar is a family-friendly bar and grill that doubles as an al fresco, late-night dance club. The food menu at this popular beachfront spot includes plenty of  handhelds as well as Bermudian favourites like fish chowder served, of course, with a splash of Black Seal Rum. Grab a cold beverage and head for an umbrella-shaded bench in the sand. If you're up for an ocean adventure, Snorkel Park Beach has snorkels, paddleboards, jet-skis and more available for rent.
Tobacco Bay Beach
For beachside dining with views of the water and dramatic rock formations, look no further than Tobacco Bay Beach. A short walk, taxi or Twizy ride from Town of St. George, Tobacco Bay Beach offers a full-service restaurant and bar situated right next to a shallow beach with gentle surf that's great for families with small children. This East End beach is also known for its summer bonfire parties. You'll find tons of amenities here, including beach chair and watersports equipment rentals – even a floating pool table. This spot is also steeped in island history with a story dating back to the American Revolutionary War.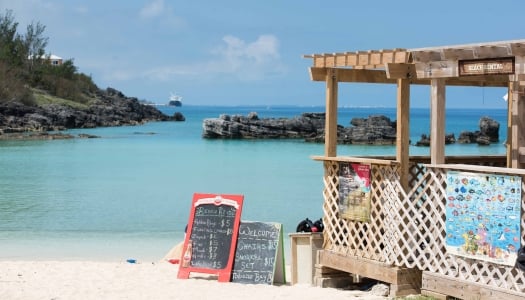 Luxe Beach Picnics & Beyond
Sometimes, you want to elevate your Bermuda beach dining experience into one that's as unique as it is photogenic. These island caterers will deliver an unforgettable (and oh-so-Instagrammable) spread for you right in the sand.
Eettafel
Imagine bellying up to the brunch table with your besties in Bermuda. Only, your chair is an oversized cushion atop a beach blanket and your table is an expertly appointed palate loaded with colourful, locally inspired dishes created just for you and your group. Eettafel is all about creating luxe, custom beach picnic experiences for you with sumptuous spreads and an alluring aesthetic to match.