Article
Bermuda's Top Wedding Venues
The wedding of your dreams is waiting out here. See some of the most coveted Bermuda venues for wedding rehearsals, ceremonies and receptions.
Beyond the Beach,
On the Beach,
Travel Tips
A perfect Bermuda wedding requires a perfect venue – and the island has plenty of them. Here are some of the most sought-after spaces in a variety of styles to suit your wedding the. 
Pink Sand Ceremonies
If your heart is set on a Bermuda beach wedding, you have many spots to choose from. Located on one of Bermuda's most beautiful pink-sand beaches overlooking the South Shore, Elbow Beach Bermuda's Lido Complex offers many options for any wedding style. Whether it's elegant on the terrace, casual on the sand or somewhere in between, what's guaranteed is a stunning oceanside wedding that will make your special day a dream come true.
With immaculate grounds, wedding and croquet lawns, a picturesque beach and a marble terrace overlooking the Atlantic Ocean, it's no surprise that Coral Beach and Tennis Club has become a favourite among couples looking for an exquisite destination wedding venue in Bermuda.
Say your vows amidst rugged coastal rock formations with the sparkling, turquoise ocean as the backdrop at The Reefs. Added bonus? The resort offers an enticing honeymoon package for relaxation after all the wedding excitement. (See Bermuda honeymoon ideas.)
Storybook Ceremony Venues
The striking Unfinished Church looks like it came right out of a fairy tale. Its unfinished state brings timeworn romance with soaring stone arches, a grassy floor and Bermuda's blue sky for a roof. There's no place on earth quite like it.
Fort Hamilton looms high on a hill overlooking the City of Hamilton and its harbour. Built in the 1870s to defend Bermuda from potential sea invaders, this fortress has found a new purpose: a truly grand Bermudian wedding venue with landscaped lawns, unmatched views, a romantic wooden bridge and dry moat lush with tropical foliage.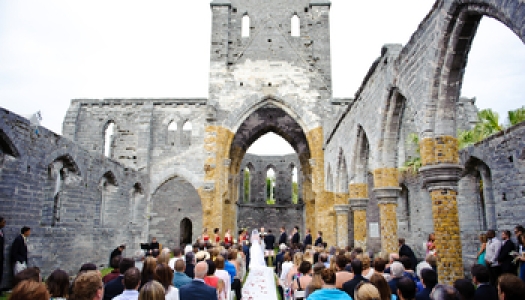 Tie the Knot on the Water
Set sail and say "I do" aboard the majestic Spirit of Bermuda, a three-masted sailing yacht that serves as a deeply romantic, only-in-Bermuda wedding venue. The yacht can accommodate up to 50 guests and its crew will ensure that your big day is unforgettable.
Landlubbers can enjoy all the perks of a wedding-at-sea with their feet firmly on dry land at Newstead Belmont Hills Golf Resort and Spa.
As far as backdrops go, it can't be beat. The elegant harbourfront terrace, backlit by painted sunset skies, has hosted countless wedding ceremonies over the years.
Bonus: Set the tone for your big weekend with a cocktail reception by the waterfront infinity pool.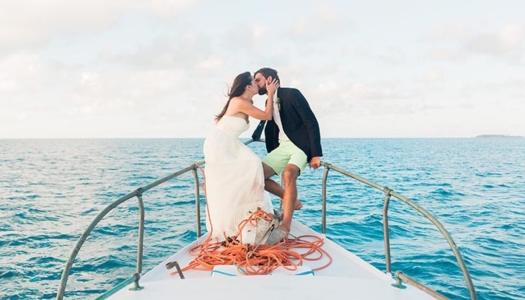 Opulent Bermuda Resort Weddings
You want your wedding day to be glamourous down to the last detail – and at Rosewood Bermuda couples can select venues for each wedding-related event to create the island wedding of their dreams, from a romantic rehearsal dinner in the Island Brasserie's candlelit Wine Room to elegant nuptials on the Croquet Lawn and jubilant, poolside receptions on the Pergola Terrace. 
It's said that a moongate brings good fortune to the couple who walk through it. One of the most picturesque is located on the grounds of the Hamilton Princess & Beach Club, which is framed by gorgeous views of Hamilton Harbour. Introduced to the island by way of Britain and China in the 19th century, these intriguing circular stone passageways are beautiful for vows and wedding portraits.
Whether you're looking for toes-in-pink-sand or a manicured English garden ceremony, Cambridge Beaches Resort & Spa can host several different types of weddings. But whatever you decide upon, you're guaranteed old world elegance at every turn, with service to match. 
Feeling inspired? Start planning your island wedding in Bermuda with 8 easy tips, and then check out these stylish Bermuda wedding resorts.