Itinerary
A Bermuda Family Adventure: The Perfect Itinerary
Bermuda is a playground for all ages with family-friendly, year-round adventures around the island. Sample the best of Bermuda's family fun with this action-packed three-day itinerary.
Day 1
AN UNFORGETTABLE ANIMAL EXPERIENCE
UNCOVER THE MAGIC OF BERMUDA'S NATURAL HABITAT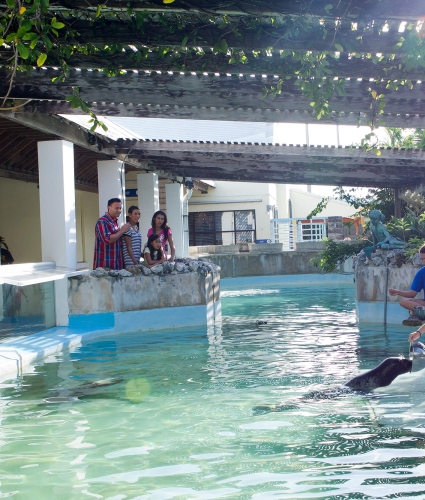 Bermuda Aquarium, Museum & Zoo
The animal kingdom reigns at the Bermuda Aquarium, Museum & Zoo, a three-in-one attraction located in Flatts Village. At the Aquarium and Zoo, you'll get up-close-and-personal with adorable seals, fascinating sharks, beautiful birds and many other creatures, all presented in detailed, naturalistic habitats. At the Museum, you'll learn all about Bermuda's unique ecosystem and habitats – and why the island is a hot spot for migratory animals like humpback whales and marine turtles.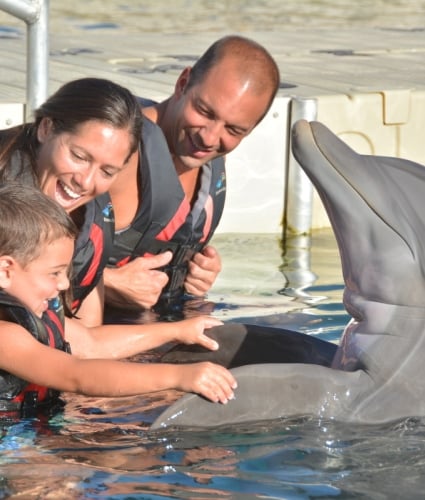 Dolphin Quest
Feel the thrill of a lifetime as you touch, swim with and even kiss a dolphin! Dolphin Quest offers interactive encounters with friendly bottlenose dolphins for adults and children. While you play with the dolphins, you'll also learn about the role humans play in conserving their marine home.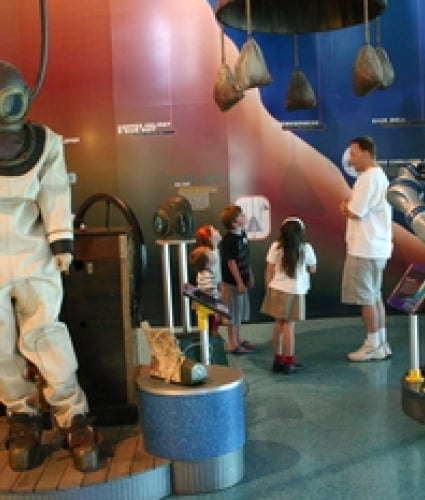 Bermuda Underwater Exploration Institute
Looking for more aquatic action? Pay a visit to the Bermuda Underwater Exploration Institute. The simulated dive experience takes you 1,200 feet below the surface of the sea, where you encounter whales and sharks. The Treasure Room features sunken treasure recovered by diving legend Teddy Tucker from some of Bermuda's 300 shipwrecks. And the new, immersive Living With The Ocean is a state-of-the-art stunner, with seven large Google Earth screens that let you "dive" beneath our oceans to visit coral reefs around the world.
Day 2
ST. GEORGE'S: WHERE HISTORY COMES TO LIFE
STEP BACK IN TIME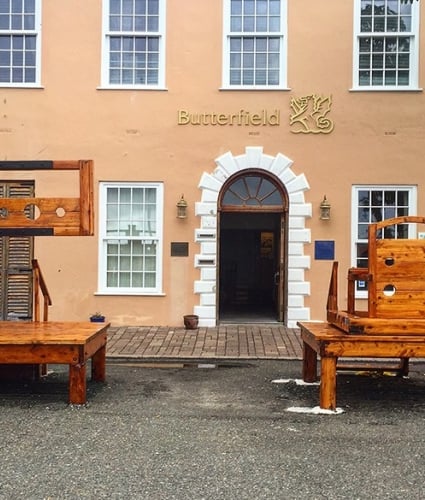 Town of St. George
Sorry, kids: the time machine hasn't been invented yet. But Bermuda does offer an amazing window to the past that will stimulate minds both young and old. Cobblestone streets, centuries-old architecture and quaint lanes crisscross the Town of St. George, which has been designated a UNESCO World Heritage site. The whole family will enjoy a walking tour to discover historic buildings, colonial landmarks and alluring shops and restaurants. Don't miss the Town's light-hearted historical re-enactments, including the infamous (and splash-filled) "Ducking Stool."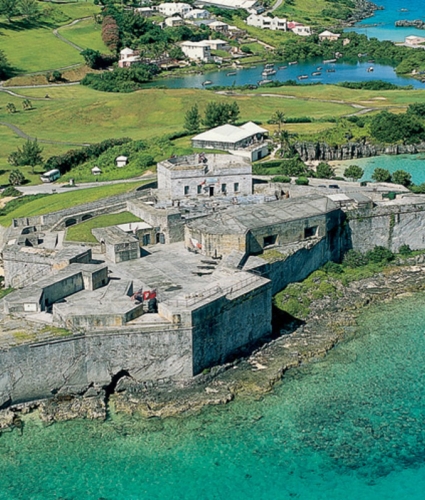 Fort St. Catherine
Nearby, visit the sprawling Fort St. Catherine, built on the very beach where Bermuda was founded in 1609. It's incredibly fun to explore the fort's massive ramparts, antique artillery, labyrinthine tunnels and chambers carved deep into the bedrock. Soak in incredible views of Achilles Bay, St. Catherine Beach and check out a museum that focuses on the age-old task of protecting Bermuda from invaders. Tell your kids to scan the horizon for pirate ships!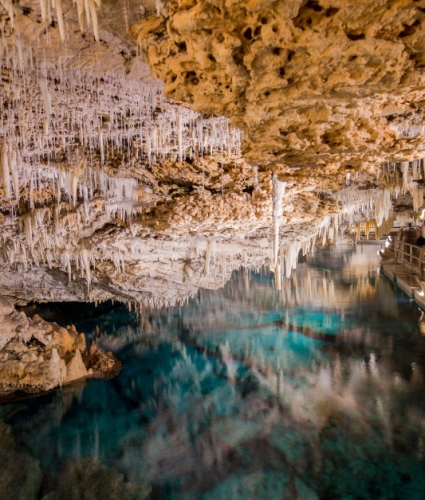 Bermuda's Crystal Caves
Kids will love Bermuda's Crystal Caves, where they'll find mysterious formations framing blue subterranean lakes. These caves are millions of years old but were only discovered in the early 20th century. Fun fact: Crystal Caves were the inspiration behind the classic Jim Henson TV series Fraggle Rock! Crystal Caves are open to the public every day from 9 am to 5 pm, with guided tours leaving every 20 minutes. Rubber soled shoes are recommended – you'll have to climb those steps down and back up.
Day 3
BERMUDA'S GREAT OUTDOORS
EMBRACE THE BEAUTY THAT SURROUNDS YOU
From the Royal Naval Dockyard, rent bicycles and head south on the Bermuda Railway Trail. This 18-mile, island-wide, multi-use trail offers panoramic seascapes and is accessible directly from the Dockyard. As you pedal through Bermuda's South Shore, take a detour to explore alluring pink-sand beaches. South Shore Park is a coastal nature reserve with grassy trails, bluffs and coves. Astwood Park is tucked below a cliff and feels peaceful enough to be your own private enclave. Don't miss Horseshoe Bay, ranked by TripAdvisor as one of the world's top beaches. To burn off any excess energy, climb the steps to the top of St. David's Lighthouse for a 360-degree, bird's-eye view of the island or travel 185 steps to the top of Gibbs Hill Lighthouse, one of the oldest still-standing cast iron lighthouses in the world. Completed in 1846, the Gibbs Hill's light can be seen up to 40 miles out to sea, with power equal to half a million candles.
Take an unforgettable eco-adventure on a guided kayak tour of Bermuda's secluded West End. Children will love gliding across the crystal clear water with marine life and colourful coral reefs just inches below. You'll also want to keep an eye out for some of the island's incredible birds on the nearby cliffs, including heron and the beautiful Bermuda Longtail.
Next, discover Bermuda's very own jungle! The Hidden Gems Nature Hike takes you deep into the heart of the Walsingham Nature Reserve (Tom Moore's Jungle to locals). Hike through lovely green trails, swim in gorgeous blue waters and explore subterranean caves. Top it off with a trip to Cooper's Island for snorkelling and relaxation on the beach. A perfect Bermuda day.