Article
Insider Tips: Guide Ashley Harris On Bermudas Hidden Gems
Do you like to go beyond the big tourist attractions in search of where the locals go? Fourth-generation Bermudian Ashley Harris offers an insider's tour of the island's hidden gems.
Hidden Gems of Bermuda might sound like a jewellery store, but it's something even better. It's Bermuda native Ashley Harris's guide service that offers the kind of gems that can't be bought: a day of adventure and exploration of the places one would never experience without a local for a guide. 
FROM THE JUNGLE TO THE SEA
Seasonal excursions include an immersion into Bermuda's only jungle, where guests explore caves, swim through underground caverns and come face-to-face with the island's indigenous flora and fauna.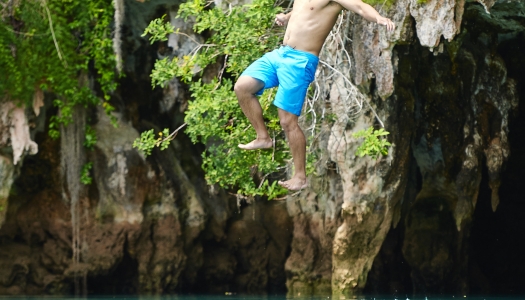 From there, the adventure moves to one of the highest peaks on the island, with a climb to the top of St. David's Lighthouse to savour a 360-degree view of the island. To finish, there's a descent to the coastline, where adventurers don masks and snorkels for an up-close encounter with the aquatic denizens of a beautifully preserved coral reef.
A NATIVE'S FAVOURITE EATS & DRINKS
When Harris isn't guiding adventurous visitors through the island's natural nooks and crannies, she enjoys pleasures a bit easier to find: TEN Café & Bar. Dining at Mad Hatters. Sipping a Yellow Bird cocktail while enjoying live music at Elbow Beach. "Bermuda enjoys a vast number of repeat visitors, but it's not just the beauty," she says. "It's the people. Visiting Bermuda is more than a vacation – it's an immersion into a community."
BERMUDA ENJOYS A VAST NUMBER OF REPEAT VISITORS, BUT IT'S NOT JUST THE BEAUTY. IT'S THE PEOPLE. VISITING BERMUDA IS MORE THAN A VACATION – IT'S AN immersion into a community.
TOP PICKS FOR YOUR TRIP
"Our beaches, of course, are world-renowned," Harris says. "I'd recommend Cooper's Island Nature Reserve or Jobson's Cove. Don't miss Bermuda's famous dish, codfish and potatoes. And if you're the adventurous type, give our company a call. You'll certainly see a side of Bermuda few people ever will."