Itinerary
5 Days of Adventure in Bermuda
This group itinerary offers high-speed thrills, hidden gems, eco-adventures, adrenaline-fueled activities and plenty of island exploration.
Day 1
ARRIVALS & WELCOME RECEPTION
A distinctly Bermudian welcome celebration awaits guests on their first evening on island. After a short hop to the island shores, invite your group to unwind with Bermuda's two most iconic cocktails, the Rum Swizzle and Dark 'n Stormy®. Invite a mixologist to showcase the art of perfecting each recipe and set the tone with live entertainment, island drums and Gombey dancers. Get ready to soak up the island soul.
Day 2
JET SKI TOUR
Enjoy a high-speed adventure as you cut through the many hues of blue waters. On a private tour with K.S. WaterSports - St. George's, explore the eastern end of the island where the first settlers lived, zip by forts built in the 1600s and rich marine life, including magical turtles popping their heads at the water's surface. A tour crafted for all experience levels will be sure to leave you with lasting memories, while taking in the sheer beauty and breathtaking views of the island shores. Duration: 4 hours
ENJOY A high-speed adventure AS YOU CUT THROUGH THE MANY HUES OF BLUE WATERS.
EXPLORE THE TOWN OF ST. GEORGE'S
Stroll centuries-old brick streets and enjoy an afternoon lunch in the quaint historic town of St. George's. Settled in 1612, this UNESCO World Heritage site is the oldest continuously inhabited English town in the New World. Start at King's Square, a local gathering place surrounded by Colonial-era buildings and historical replicas. Then pay a visit to the Bermuda Heritage Museum to learn about the island's intriguing past. Next, take a stroll to the State House, which served as the home of Bermuda's parliament until the capital was moved to Hamilton in 1815. While in St. George's, be sure to try some Bermudian cuisine. With a number of local restaurants to choose from, it's easy to take a quick break to get a taste of Bermuda.
HIDDEN GEMS
Join one of Bermuda's top rated eco-adventures for an insider's tour of the island's only jungle. This exciting tour will include cliff jumping, dry cave exploration and swimming in pristine underground caves. Learn about local birds, flora and other fauna. From the views on top of St. David's lighthouse to snorkelling one of Bermuda's best coral reef islands, you will be treated to an incredible day topped off with fresh made ice cream. Duration: 7 hours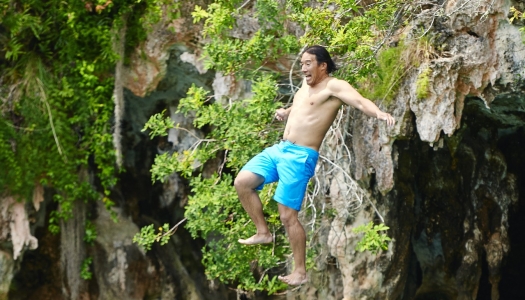 VIP APPRECIATION GALA
Celebrate your guests during an amazing evening honouring their outstanding achievements. Staged at Fort St. Catherine, a coastal artillery fort built in 1612, the event will surprise and delight your guests with an elegant evening of food, live local entertainment and stunning sunset views.
Day 3
MORNING ADVENTURE
Start the day with one of these exhilarating activities: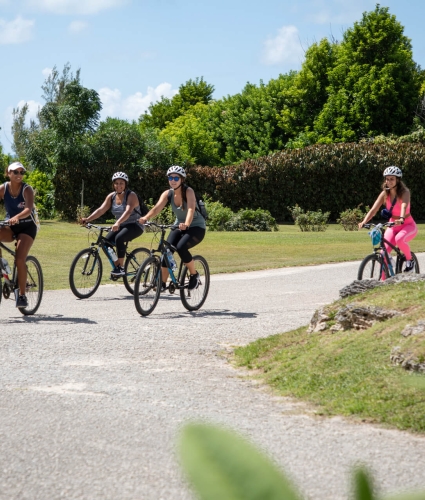 Biking
Enjoy a guided bike trek in the West End along the historic Bermuda Railway Trail. On this 6-mile journey you will take in highly rated points of interest such as Fort Scaur, which gives you an amazing view of the Great Sound, the body of water that served as the race course for the 35th America's Cup. Continue your ride trekking over the world's smallest drawbridge, finishing with a quick dip at the beach.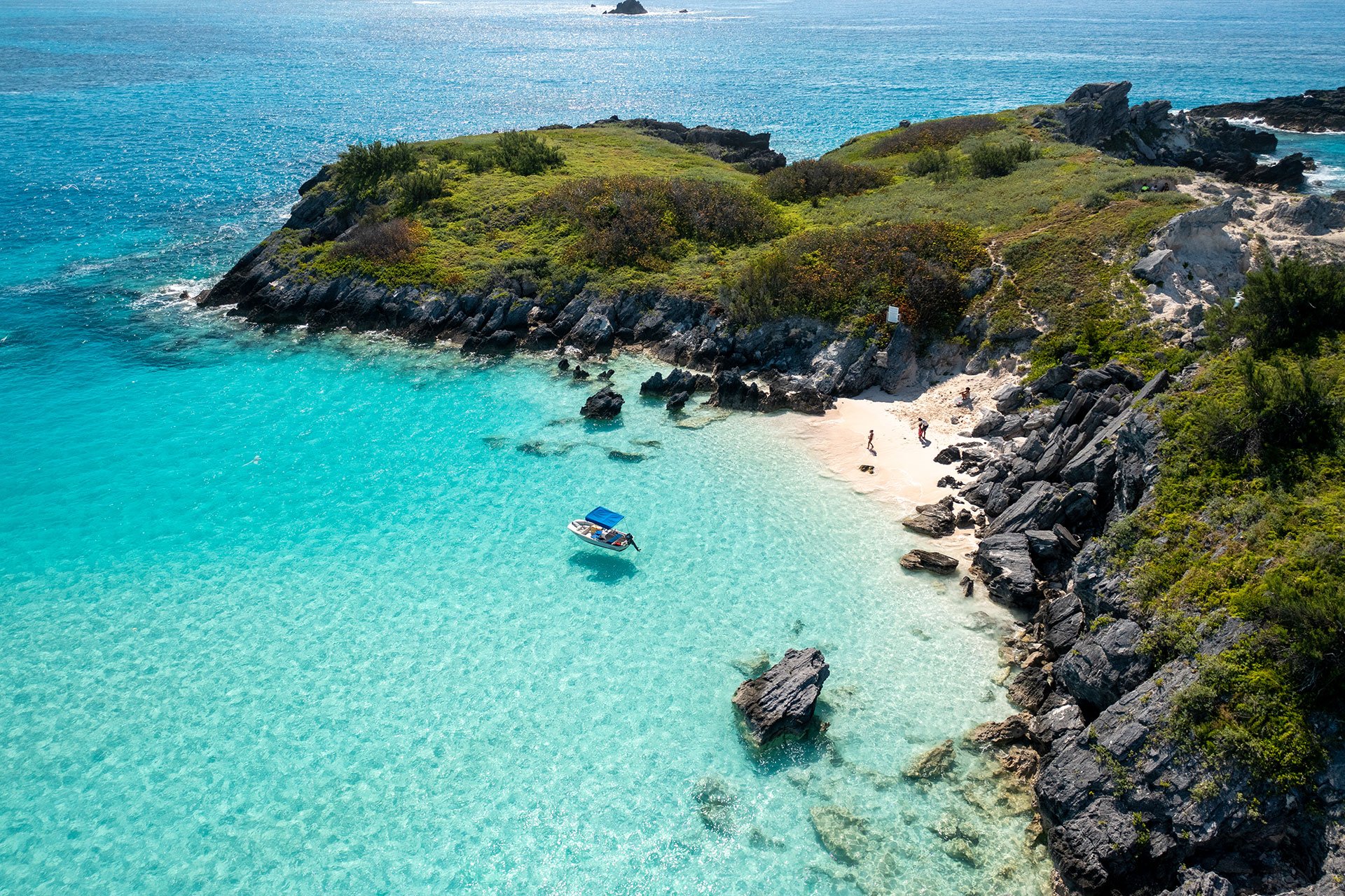 Cut through the clear blue waters atop this unique single-person vessel. Feed and swim with the abundance of fish that gather around the Vixen, a shipwreck on Bermuda's reefs dating back to 1856. Pedal to the nearby Cambridge Beaches Resort, grab a drink to enjoy during your adventure and be sure to look for sea turtles.
An eco-friendly and fun way to explore! Drift into shallow and peaceful waters and enjoy. Be on the lookout for sea turtles, Bermuda Longtails, parrotfish and more.
EXPLORE THE DOCKYARD
Head to the historic Royal Naval Dockyard for an afternoon of adventures. Here, step into the era of the British Empire and wander among the old stone buildings, wharves and fortifications. Stop in at the Clocktower Mall to check out its collection of boutiques, stores and restaurants. It's an ideal spot to shop for souvenirs, jewellery and locally made crafts. Then, be sure to visit the Dockyward Glassworks where you can watch master glassblowers in action, buy a one-of-a-kind piece of blown glass and take home a buttery rum cake made with Bermuda's own Gosling's Black Seal Rum. While in the area, pick from any number of available activities:
CITY DINE-AROUND
The City of Hamilton houses international companies, boasts island-inspired retail and offers great dining venues with variety of bars and nightclubs. Guests can be organized into smaller groups to enjoy a night of great cuisine:
Day 4
WILDCAT TOUR
Board the WildCat powerboat for a high-speed adventure across the island's beautiful Great Sound. Powered by twin 1,000-horsepower turbo engines, the WildCat is designed to thrill while keeping you safe and comfortable. This fully narrated tour will take you around the entire island, showcasing pristine beauty, historic landmarks and intriguing stories. At the halfway point of the tour, you will dock in the historic town of St.George's and explore everything that this UNESCO World Heritage Site has to offer. Duration: 3.5 hours
HELMET DIVING
Get up close and personal with Bermuda's tropical marine life during this spectacular underwater helmet diving tour. After descending a vertical ladder, immerse yourself in the underwater realm, walking on the ocean floor in near weightlessness. No scuba experience? No snorkelling experience? No problem! There is no special certification needed on this underwater adventure as you will stay safe and dry. Duration: 3-4 hours
TOBACCO BAY BONFIRE
Gather on this picturesque eastern beach for an unforgettable night of live local sounds. Whether you sit on the open terrace or dance on the beach around the bonfire, you will undoubtedly enjoy a relaxing evening of cocktails, great cuisine and fun activities. On Tobacco Bay Beach, your guests will feel a genuine island vibe.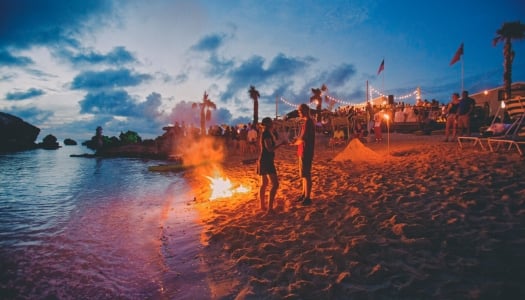 Day 5
DEPARTURES
Enjoy a traditional Bermudian breakfast of codfish and potatoes coupled with a fresh Bermuda banana, avocado, boiled egg and a delicious tomato sauce. Spend the morning reflecting on the breathtaking views and adventure experienced with colleagues before you depart.
AIRPORT TIPS
Clear U.S. Customs in Bermuda, making baggage claim a breeze. Be sure to pick up some duty-free items including Goslings Rum, Barritts Ginger Beer and various other Bermuda souvenirs for your family and friends.