Article
Bermuda Summer Adventures
You'll get plenty of sun and sand during the summer in Bermuda especially with our hotel deals and special offers. In Bermuda, you will enjoy summer island ambiance unlike any other! As you enjoy raft-ups with locals, catch a thrilling cricket match or sailing race, or enjoy Front Street's thriving dining and nightlife scene.
Summer Experiences
Make a Splash
Need a shot of adrenaline? Summer is the perfect time to give cliff jumping a try. Admiralty House Park, which Men's Journal recently singled out as one of the "Most Adventurous Beaches in the World," offers different heights and deep water for different levels of adventure here. One of the coolest things about Royal Admiralty is what you'll find after you take the plunge – cliff jumpers can swim into one of the park's hidden caves, dug out by the British military in the 1800s. Another option is Diving Board Island, which (as its name suggests) offers ample cliff jumping fun. It's only accessible by boat, so it's a little bit tougher to get to — but it's worth it!
Climb a Rock on "De Rock"
It's been a well-kept secret for some time now, but the word is getting out: Bermuda is a rock climbing hot spot. Hey, locals have given the island the affectionate nickname of "De Rock." One of the most popular kinds of climbing in Bermuda is deep-water soloing (DWS) — one-person climbing on coastal cliffs at high tide. The climber's only protection is the water below! Northwest of the City of Hamilton, Clarence Cove in Admiralty House Park is the most popular climb on the island, where you'll find an array of routes for varying skill levels.
Have an Underwater Adventure
There's a lot going on beneath the waves during the summertime in Bermuda. Dive down to learn why Bermuda has earned a reputation as the shipwreck capital of the Atlantic Ocean, with more than 300 sunken ships. Keep an eye out for sunken treasure! Bermuda is home to some of the world's finest snorkeling. Snorkel Park, a full-service beach facility located at the Royal Naval Dockyard, is a great spot for all ages, with clear, calm water and equipment rentals. Kids and adults will also love helmet diving, which lets you walk and breathe normally underwater while exploring reefs that teem with marine life – it's the perfect way for those with little undersea experience to get in on the fun.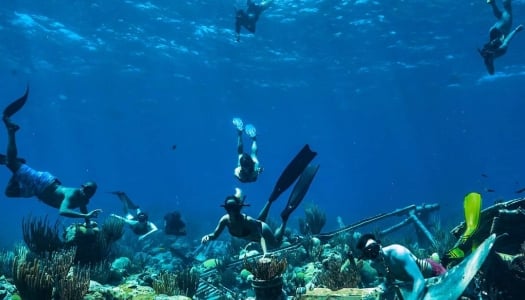 @weldonwade
Land the Big One
Bermuda is deep-sea angler's dream come true. The island's bountiful waters are filled with big-game catches like marlin, tuna and wahoo. May and June are the best times to hook yellowfin tuna and wahoo, while you're most likely to catch blue marlin in July and August, when the water heats up to 80 degrees Fahrenheit. Head out to the Argus and Challenger Banks, located several miles off the southwestern end of Bermuda, both featuring teeming natural coral reefs. If you get lucky, many fishing charters will prepare whatever you hook for a super-fresh seafood lunch.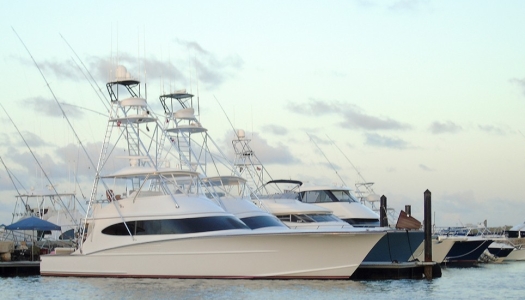 Set Sail on a Happy Hour Cruise
Feel the warm ocean breeze as you set out on the Great Sound of Bermuda aboard an Über Vida Celebration Yacht. Every Friday, these happy hour cruises offer signature cocktails, a DJ spinning mellow beats, a friendly vibe and one of the most spectacular sunsets you'll ever witness. Or climb aboard Bermuda's only floating bar —with a Jolly Roger hoisted at all times, Calico Jack's has a very Pirates of the Caribbean vibe. The pirate-themed watering hole offers happy hour specials, dazzling fire-stunt shows and a hopping dance floor.
Experience a Glow Worm Light Show
Summer is a great time for fireworks. But how about experiencing some natural fireworks? Evening glow worm tours during the warmer months let you view a rare, bioluminescent mating spectacle on the water's surface. From a glass-bottom boat you'll see a dream-like, bright green glow in the water. It's an only-in-Bermuda summer light show.
Sundays on the Water
Summer Sundays are all about getting out on the water with your friends and family. And you'll find that everyone in Bermuda is welcoming – strangers turn into friends very quickly. Rafting up with cocktails, food and listening to reggae is a true Bermudian tradition. For an extremely fun "raft-up," go to Paradise Lake, part of the famed Great Sound. Tiny islands surround the tranquil waters, making it an idyllic spot for a lazy summer float.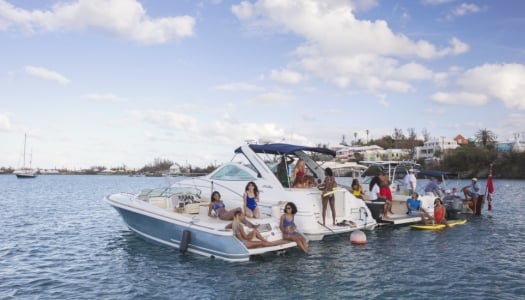 Summer Events
Harbour Nights
Harbour Nights is Bermuda's weekly summer street party. Every Wednesday from 7-10 pm Front Street in the City of Hamilton is closed off to traffic so that you can experience alfresco dining, check out the wares of local artisans, dance along to Bermuda Gombeys and much more. Mix, mingle and watch the sun set over Hamilton Harbour.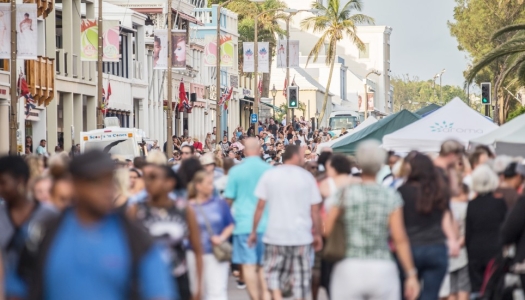 Bermuda Carnival
It's nothing less than the ultimate summer fete. Bermuda Carnival is an island-wide blowout, including local cuisine, Soca music, some of the world's best Steel Pan musicians, a parade of bands, boat rides and more. Events include Friday's opening night extravaganza on Front Street, the all-night J'Ouvert Celebration, the Parade of Bands, the Race Day Raft Up on Monday, National Heroes Day.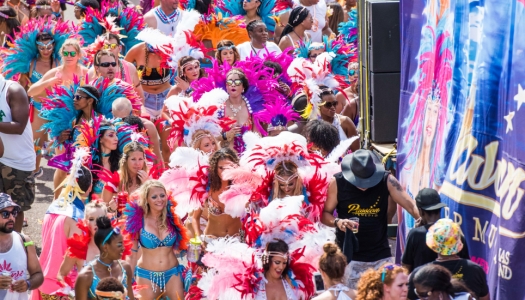 Cup Match Summer Splash
Cup Match Summer Splash is centered around a fierce Bermuda cricket rivalry, but even non-sports fanatics will find plenty to enjoy during this summer tradition. Try your chances during a game of Crown & Anchor, get down during the Cup Match Fever show or marvel at the size of the Non-Mariners Water Raft Up. Traditionally held on the first Sunday in August, hundreds of boats, floats, rafts and swimmers flock to Mangrove Bay to finish off the legendary Cup Match holiday.