Be a part of Bermuda's Black Golfers Week and experience thrilling tournament play, fun festivities, important conversations and more – all with the aim of bringing more diversity to the sport of golf. Don't miss it.
April 27 – May 1, 2023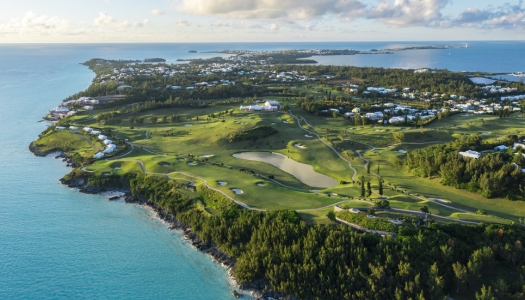 One of the earliest and most vocal advocates for integration in the sport of golf was a Bermudian. A St. George's native, Louis Rafael "Kid" Corbin was the first Black golfer to compete in prestigious tournaments like the Canadian Open, and passionately fought against racism on and off the course.
With such a powerful legacy, it's fitting that the island will celebrate progress and highlight persisting barriers to participation during the Bermuda Black Golfers Week Event. See a preview of last year's event below.
This weekend event brings together some of the best Black golfers and thought leaders in the world for thrilling play on breathtaking courses, compelling discussions about how to drive greater diversity in golf and fun festivities.
A Weekend of Celebrations:
Black Golfers Week Event Schedule
THURSDAY, APRIL 27
Tea on the Tee Welcome Reception | Ocean View Golf Course
The perfect introduction to Bermuda Black Golfers Week. Join us on the picturesque greens of Bermuda's first Black golf course, Ocean View Golf Club. With panoramic ocean views of Bermuda's North Shore, this historic 9-hole public course will be transformed into an outdoor oasis showcasing beats by one of Bermuda's premier DJ's, specialty cocktails, and tasty bites, your vacation retreat will kick off in fine style.  
FRIDAY, APRIL 28
Legends Dinner | Royal Naval Dockyard 
Set in Bermuda's largest fort with 500 years of history and heritage, this must-attend event will celebrate legendary barrier-breakers in sport. Three-time Olympian and BTA Director of Business Development, Hazel Clark will host a fire-side chat exploring the challenges faced by Blacks and people of colour in all levels of sport. After dinner, guests will be invited to pose questions to the panel for a rare and remarkable opportunity to engage with these legends in sports activism and explore action steps to make change in their own communities. 
Legends Afterparty to follow.
SATURDAY, APRIL 29
Louis Rafael "Kid" Corbin Golf Tournament | Port Royal Golf Course 
Spectate or participate in the Annual Louis Raphael "Kid" Corbin Golf Tournament alongside global leaders and golf enthusiasts at one of Bermuda's premier courses, Port Royal Golf course. Guests will enjoy a BBQ dinner, cocktails, and a post-tournament celebration recognising participants, and honouring the significant contributions of golf professional and activist, Louis Raphael "Kid" Corbin.
SUNDAY, APRIL 30
All-White Yacht Cruise
Pack your bright whites and get ready to cruise in style over our blue and turquoise waters. You'll enjoy the best views of the island - from the water! Enjoy the views with a Bermuda Rum Swizzle in hand and vibe to the sounds of Bermuda's top DJ.
Interested in learning more? Sign up for event updates.
Black Golfers Week Passes
Bermuda is a place where golfers of all levels escape to enjoy fabulous fairways that are enhanced by the charm of the island and its people. Black Golfers Week (BGW) is packed with inspiring activism, thrilling tournament play, and a host of social events.
If you are accompanying a golfer, you will want to get out and discover all that the island has to offer while they are out on the course. We have a range of tours and activities for adventure seekers and culture enthusiasts to do during the day, before getting dolled up for the themed events and parties in the evenings.
Back Golfer's Week is for everyone – even if you haven't found your golf swing yet. If you would rather skip the greens but are interested in the social aspects of this action-packed event, then this is the ticket for you. Rub shoulders with sporting legends, get involved in important conversations, and indulge in our island culinary delights.
Black Golfers Week Hotel Offers
Plan your golf stay at Grotto Bay Beach Resort, a family hotel with private beach, watersports, boat rentals and an underground, swimming cave.
Make yourself at home at Newstead Belmont Hills Golf Resort and Spa, a boutique resort with views of Hamilton Harbour and downtown City of Hamilton.