Article
Bermuda's Award Winning Golf Courses
The island is a golfer's paradise with ideal weather, dramatic oceanfront fairways and more golf courses per square mile than anywhere else in the world.
Beyond the Beach,
Travel Tips
Following in the footsteps of champions is easy in Bermuda, where you'll find seven world-class courses spread over just 21 square miles. The best golfers of the past century – not to mention celebrities, presidents and royalty – have played more than a few rounds on the island's links. Come and enjoy the spectacular vistas and pristine courses, then celebrate your hole-in-one with a round of Rum Swizzles.
Turtle Hill Golf Club
Winner of Golf Digest's "Best Places to Play Golf," and most recently voted as the 2020 "Best Par 3 Golf Course in the World" by the voters in the World Golf Awards, Turtle Hill Golf Club offers 18 challenging holes, not to mention impressive views of the Atlantic Ocean all along the fairways. Ranked one of the top five par 3 courses in the world by Golf Magazine, Turtle Hill is the perfect course for golfers of all skill levels and is the home of the Dark 'n Stormy World Par 3 Championships.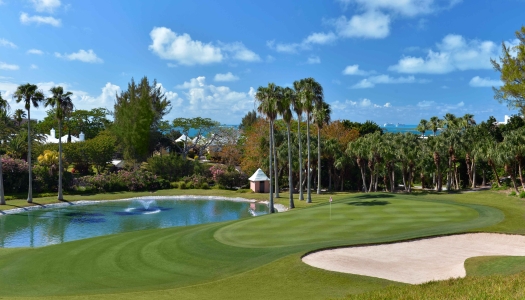 Mid Ocean Club
Designed by the renowned C.B Mac Donald, the Mid Ocean Club Golf Course is regularly ranked among experts as one of the best links in the world. A championship 18-hole course with plenty of undulating greens and dangerous sand traps, Mid Ocean emphasizes the long game with six par 4s over 400 yards.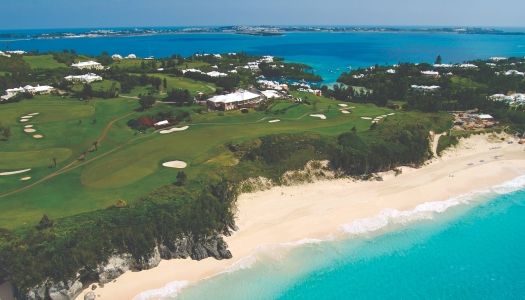 Port Royal Golf Course
Ranked among the world's best public golf courses by Golf Digest and named Bermuda's finest course by the New York Times, Port Royal Golf Course features 18 championship holes over 6,842 manicured yards, the longest and most picturesque course in all of Bermuda. The legendary 16th hole here has confounded even the world's best golfers, and it was a favourite of Jack Nicklaus himself. It also played host to the PGA Grand Slam seven years running.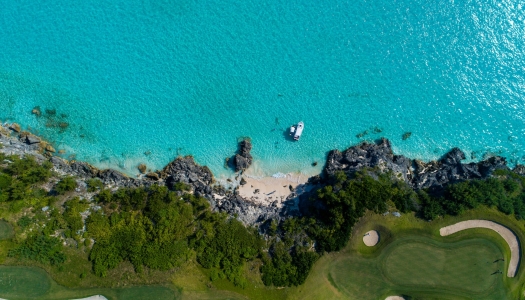 Tucker's Point Golf Club
Tucker's Point Golf Club is one of Bermuda's oldest courses, but a dramatic redesign by Roger Rulewich in recent years has put it on the golf world's cutting edge, earning accolades such as "Best Golf Resort" from Travel + Leisure Golf. All greens have been rebuilt with Tif Eagle, an imported hybrid Bermuda grass providing a faster, truer putting surface. 
Ocean View Golf Course
Treat yourself to a golf experience like no other at Ocean View Golf Course's premiere nine-hole golf course. With a four-star Golf Digest rating and coral-hued scenery complementing your sight lines, the course here is challenging and fun, with 18 different tee positions set for a tricky par 70.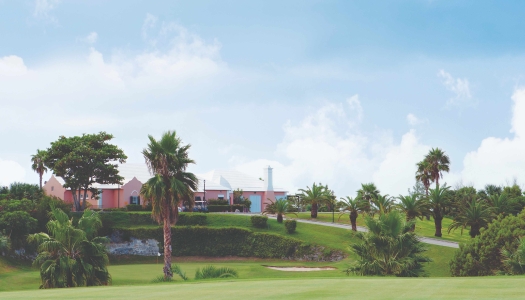 Newstead Belmont Hills Golf Course
Featuring 6,100 yards of strategically laid out bunkers, multi-tiered greens and slender fairways, the Newstead Belmont Hills Golf Course layout by Algie M. Pulley, Jr. offers a challenging test for players of all handicaps. Soak up panoramic views of Hamilton Harbour and the Great Sound – an inspiring accompaniment to every shot.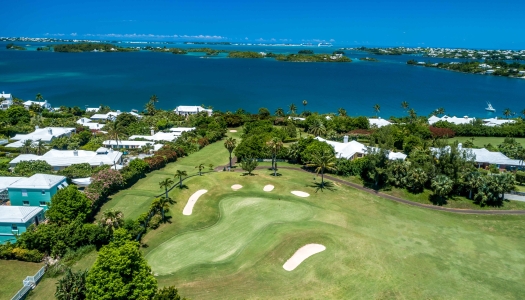 Five Forts Golf Club
Tee off for a scenic round of golf at the newly opened Five Forts Golf Course, located in the Town of St. George, a UNESCO World Heritage Site. The challenging but friendly course designed by Robert Trent Jones Jr., offers captivating ocean views from most of its 18 holes. Surrounded by five forts, including the well-known Fort St. Catherine, the par-62 course is designed for everyone from beginners to experts who are looking to enjoy a premier golf experience.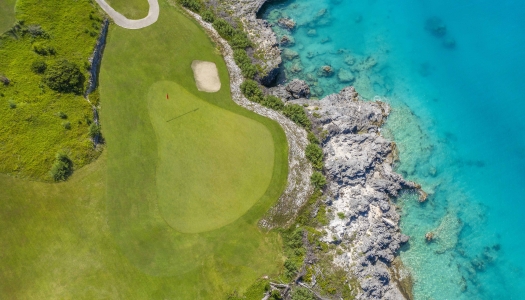 Bonus: 
It hasn't won any awards from golf magazines, but if you're looking for an on-the-green experience with the whole family, try Bermuda Fun Golf, featuring 18 challenging and exciting holes that represent some of the best crowd-pleasing golf holes from Bermuda, the U.S. and Scotland.