Article
Bermuda: Beyond The Beach
Bermuda's beaches are legendary, but there is plenty of fun ashore. Here are a host of things to do when you're not under a beach umbrella. Think playing oceanfront golf, indulging in local seafood and touring the historic Town of St. George.
Beyond the Beach,
Food,
Natural Wonders,
Travel Tips
Historic Sights & Attractions
Bermuda was settled more than four centuries ago, and everywhere you look on the island you'll find traces of the island's fascinating past. Uncover Bermuda's rich maritime saga at the Royal Naval Dockyard a onetime fortress that's now home to restaurants, shops and the National Museum of Bermuda and Bermuda Maritime Museum, featuring exhibits on the island's early days and an incredible, 1,000-square-foot Hall of History mural by local artist Graham Foster.
Old-fashioned lighthouses also lure fans of past times. Finished in 1846, Gibbs' Hill Lighthouse is one of the oldest cast iron lighthouses in the world. Also on the island, St. David's Lighthouse first started shining its beam in 1879.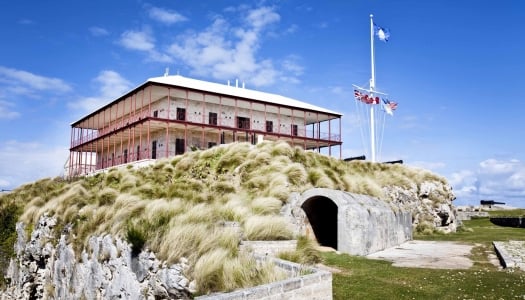 Golf With a View
Bermuda's golf season offers year-round play. You'll see some sand in the hazards of the island's seven world-class golf courses, but mostly you'll be feasting your eyes on a panorama of blue and green as you traverse the island's fairways. 
Port Royal is one of the island's most-loved golf courses, with undulating greens and a famously challenging 16th hole (a favourite of Jack Nicklaus himself). The crescent shaped beauty is one of the toughest – and most photographed – par threes in golf. 
A stunning showcase of Bermuda's natural beauty, the contoured course at Newstead Belmont Hills Golf Resort and Spa features more than 6,000 acres of fairway and breathtaking panoramas of the Great Sound and Hamilton Harbour.  
The 18-hole, pristinely manicured Tucker's Point Golf Course boasts some of Bermuda's most dramatic scenery including postcard views of Tucker's Town and the Castle Islands.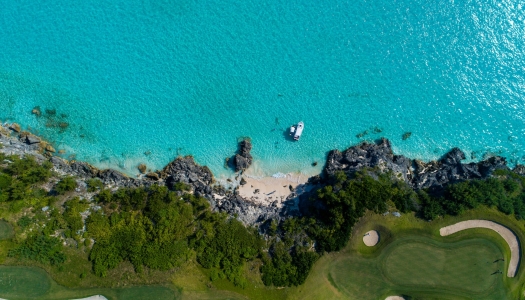 Beaches are just the beginning of Bermuda's scenic splendour. Inland, you'll find a wealth of natural beauty and open-air adventure.
Spanning the island from end to end, the 18-mile Railway Trail follows an abandoned train track bed that winds through tranquil woodlands and along stunning, rocky coastlines. It's ideal for bikers, hikers or joggers.
Discover the awe-inspiring Crystal Caves, subterranean grottos, pristine mangrove ponds and sub-tropical forests at the 12-acre Walsingham Nature Reserve (known locally as Tom Moore's Jungle). 
You can get lost in the wide-open spaces of the Bermuda Arboretum, a 22-acre expanse of wildflower meadows and forests. It's a great spot for bird watching, with cardinals, rare bluebirds, white-eyed vireo and other species twittering in the trees.
Fresh Seafood Flavours
Thanks to its mid-Atlantic location, the cuisine of Bermuda is a delicious mash-up of flavours and culinary techniques from England, the Caribbean, the U.S. and South America. Its star ingredient? Seafood, much of which is harvested from nearby waters.
On Sunday mornings, locals all over the island enjoy a hearty, classic codfish breakfast. It's a heaping plate of boiled or steamed salt cod with boiled potatoes, onions and sliced bananas, topped off with a hard-boiled egg and, occasionally, avocado slices.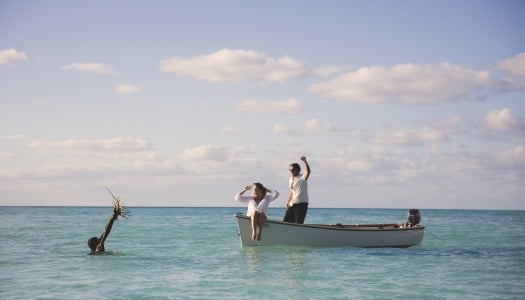 You'll also find fish sandwiches on many island menus. The recipe is similar islandwide: deep-fried fillets of fish with tartar sauce piled on raisin bread or whole-wheat toast. 
Fish chowder might just be the ultimate Bermuda dish. The aromatic blend of seafood and spice often includes potatoes, tomatoes, onions, carrots, green peppers and celery. Think of it as Bermudian gumbo.