Article
Girls Golf Getaway in Bermuda
With stunning fairways, upscale resorts and stylish shopping, the island has long been a favourite getaway for women who love to hit the links.
Friend Getaways,
Itineraries
Bermuda has been a top-tier golf destination for close to a century. Just a quick, two-hour flight from most major U.S. East Coast airports, you can board a plane in the morning and still get in 18 holes before the sun sinks into the Atlantic.
Throw in Bermuda's luxurious resorts and spas, vibrant cultural scene, welcoming vibe and, of course, those legendary beaches, and you've got the ingredients for an unforgettable girls' golf getaway.
WHY GOLF IN BERMUDA IS AS GOOD AS IT GETS
Spectacular Scenery – Bermuda's golf courses are stunning. You'll encounter breathtaking coastal views as you wind your way along some of the world's most picturesque fairways, including Port Royal Golf Course in Southampton Parish.
Easy Access – With seven courses spread over just 21 square miles, Bermuda offers the largest concentration of golf courses in the world. Wherever you're staying on the island, you're just minutes away from tee time.
Variety – No matter what your experience level is, there's a course for you.
Golf Resort Packages – Tee off on Bermuda's best courses, savour spectacular ocean vistas and then celebrate your hole-in-one with a cool Dark 'N Stormy. Make it happen with a golf resort package.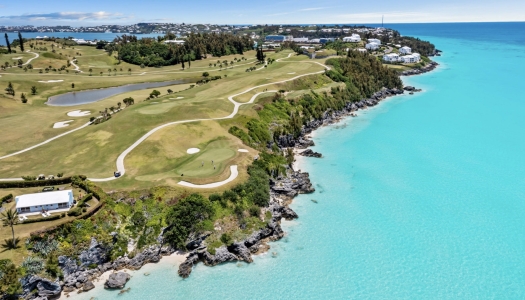 ADD A LITTLE ADVENTURE
Beyond the fairways and your hotel room, the rest of the island calls. Here are a few ways to round out your Bermuda experience:
Scuba Diving & Snorkelling – Whether you're a seasoned scuba diver or just want to snorkel along the surface, there's an underwater world to discover out here. Enjoy Bermuda's 200 square miles of pristine reef in crystal clear waters as you swim amidst marine life, colourful coral and more than 300 shipwrecks, ready to be explored.
The Railway Trail – Take a hike (or ride a bike) through rich, flora-filled landscapes. Named for the transit route that once wrapped around the island, the 18-mile Bermuda Railway Trail shows off the island's natural beauty.
Hidden Gems Tour – Trek through Bermuda's only jungle to check out secluded snorkelling spots, an immense banyan tree grove, magical beaches and more.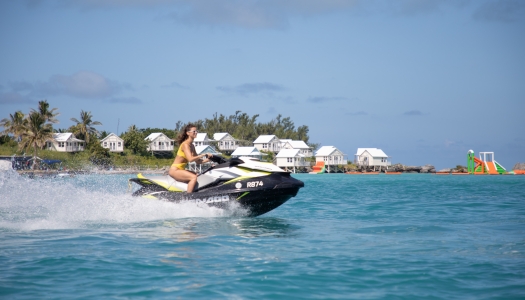 TAP INTO BRITISH CULTURE
While the island is only a short flight from most major U.S. East Coast airports, its atmosphere is decidedly more U.K. influenced. Stroll cobblestone streets lined with British Colonial architecture, spot iconic bright-red phone booths and pause every day with local Bermudians to enjoy traditonal afternoon tea with all the trimmings.
Here are some quick tips for adding a dose of culture to your girls' getaway:
The Town of St. George – A UNESCO World Heritage Site, the Town of St. George is the oldest English-speaking settlement in the western hemisphere. Walk its quaint, cobblestone alleys and lanes, visit the centuries-old St. Peter's Church and visit a wealth of historic attractions. It's like stepping back in time.
Bermuda Craft Market – One of the best places for local flavour is the Bermuda Craft Market in the Royal Naval Dockyard, where you can sample Bermudian treats such as Gombey Pepper Jams, Barritt's Ginger Beer and Horton's Bermuda Rum Cakes. The market also offers plenty of only-in-Bermuda, handmade artisanal items, which make great gifts or keepsakes.
Eat, Drink & Explore – Bermuda's fresh island cuisine, international platters and locally caught seafood win raves from visitors, as do the signature cocktails. And what's a girls' getaway without at least one shopping spree?
Traditional Afternoon Tea – Around the island, many of the hotels and resorts serve afternoon tea daily. Delight in all of the traditional trimmings: freshly baked scones, jams and delightful tea sandwiches.
The Fish Sandwich – The fish sandwich is a Bermuda specialty. From the East End to the West End, there is a fish sandwich that any local you ask will claim is the "the best". Find your own at any number of restaurants and claim your favourite.
The Dark 'n Stormy® – This deeply satisfying highball cocktail is made with Gosling's Black Seal rum (the dark) and ginger beer (the stormy) served over ice and garnished with a slice of lime. Get the recipe.
The Rum Swizzle – A combo of Gosling's Black Seal rum, orange, lemon and pineapple juices, falernum (local sweet syrup) and a few extra secret ingredients, the Rum Swizzle might just be the perfect tropical cocktail. Get the recipe.
Bermudians are known as some of the friendliest people on the planet, and they've got the classic good manners to back that reputation up. Wherever you go, locals will greet you with "good morning" or "good afternoon." You'll feel welcomed and safe – like one of the family.