Craft Cocktail Connoisseur
Bermuda Inspirers with Dan Moik
Sourcing fresh ingredients and creating juices, syrups, bitters, and purées is a big part of Dan's prep for a busy evening at the Sunken Harbor Club cocktail bar at Cambridge Beaches Resort. Dan is an expert mixologist with a passion for sustainable living and local produce.
Bermuda Inspirers,
Local Hotspots
It takes a lot more than a fancy cocktail shaker to create the picturesque concoctions served nightly at the dockside tavern. Dan has these cocktails down to a science and uses technical skills such as rapid infusion, acid adjusting, and fat washing to name a few.
 
Dan reveals to us what inspires him to keep creating and feeding us delicious drinks.
What does your day look like?
The bar at Sunken Harbor Club opens daily at 4 pm, so in order to get ready for the evening rush I work with my team to make sure that all of the fresh ingredients are prepared and take stock of our house-made syrups and oils. Some of these ingredients can take a day or two to prepare, for example, the falernum (lime and allspice syrup), so we are always creating more.
When the guests start arriving, we see a nice mixture of hotel guests, other visitors to the island, and locals. The bar is very social, so while we are mixing, we are meeting people and getting to know who is coming through the doors. A lot of people who are from New York have been to our sister bar in Brooklyn and like that connection.
What do you love about your job?
I love to meet people at the bar and hear their stories. Outside of that, I love that I get to be creative and make drinks that people enjoy.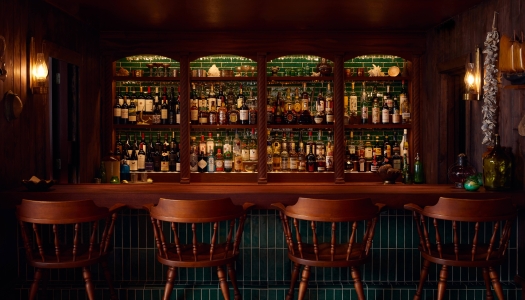 Where do you source your inspiration?
I get my inspiration from friends, from experience at the bar, and from the mixology community. I follow cocktail influencers and push myself to try new things. One of my favourite things to do is take a classic cocktail and give it a new twist.
What is your favourite Bermuda cocktail?
I love rum-based cocktails. It is a tough choice, but I would have to say my favourite is the Royal Bermuda Yacht Club, it is a less well-known Bermuda cocktail, similar to a traditional Daiquiri:
2 ounces rum (preferably El Dorado 5 Year)
1/2 ounce falernum
1/4 ounce orange curacao (preferably Pierre Ferrand)
3/4 ounce lime juice
What is your bartending philosophy?
Just have fun with it!
Secondly, taste everything before you serve it and if you wouldn't drink it, don't serve it.
Do you have a local secret ingredient?
At Sunken Harbor Club we use saline solution (salt water!). We add a couple of drops to every drink because salt opens the palette.
You can try this at home, put salt on pineapple and it will taste juicer!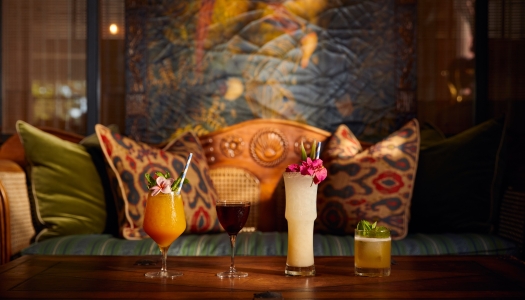 What food should every visitor try while in Bermuda?
Everyone should try a form of fish chowder. It is a traditional Bermuda dish, and everyone has their own recipe so it can be fun to find your favourite.
Another thing that I encourage people to try is lionfish because they have been introduced to our ocean and they are a pest without any predators. The only way that we can make a difference and reduce the numbers is to catch them and eat them. And the bonus is they are very tasty!
Where do you recommend that visitors go in Bermuda?
I like to tell people to check out Bermuda Underwater Exploration Institute (BUEI). I am a big fan of conservation and sustainability, and this is a fun way to learn about the ocean around us in Bermuda and how we can protect it. It is also great for families with plenty of children's activities.
Coopers Island is one of my favourite spots on the island, it offers a great nature walk and has some of the best beaches.
Whenever I get the chance, I love to be out on the water on a boat. Nothing beats it.
What your favourite Bermudian word(s)?
Chingas! Such a unique word. It could mean so many things and I love that.
Um Um is a close second - you can be anywhere in the world, and if you hear that in a sentence, you know the person is Bermudian.
Explore More Bermuda Inspires Stories
As a natural-born creative, Tyka connects things that require artistic nurturing to work together. As a practice, Tyka dreams, usually about food as an entity of her belonging. Her relationship with food drives the passion that is evident in every dish she creates.

Spend just two minutes with Weldon and you will have a new Bermudian friend for life. Weldon loves to spread joy through his personalised eco-tours sharing his wealth of knowledge on the island.

The best way, by far, to learn the lay of the land is from the locals. When you stay at Lemon and Ginger, Jenita and George will make sure that you are privvy the ins and outs of the Bermuda lifestyle, with a fully authentic experience.