The Wonderful World of Weldon Wade
Bermuda Inspirers with Weldon Wade 
Spend just two minutes with Weldon and you will have a new Bermudian friend for life. Weldon Wade loves to spread joy through his personalised eco-tours sharing his wealth of knowledge on the island. His passion for Bermuda and our surrounding nature is contagious, and if you have an interest in ocean conservation – you are in the right place.
Bermuda Inspirers,
Local Hotspots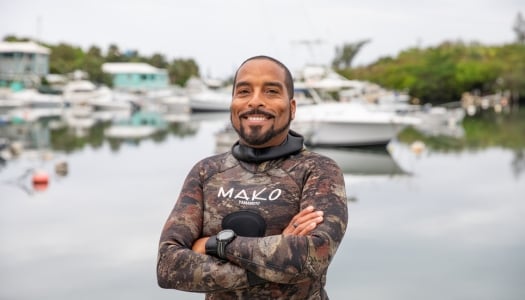 Spending his days exploring hidden spots and finding experiences that are both authentic and great fun is a little different from the 9-5 desk job that he has now left behind. What inspired the change from a suit-and-tie to a wetsuit, let's find out!
What does a day in the life of Weldon look like?
There is no such thing as a typical day for me. My days have changed from a structured desk job to checking the weather forecast to determine where my daily adventure will take me. I try to be near the water most days, which is not hard in Bermuda! I am blessed to say that I am never more than a mile away from the ocean, no matter where I am on the island.
I am also a PADI® AmbassaDiver™ and love to spend my time under the water as much as I can. Educating the community about the importance of a healthy ocean is also a big part of my personal mandate for ocean conservation.
What do you love about being a tour guide?
I find so much purpose, meaning, peace and joy in the work I do, it often doesn't feel like work. I have created a life that I never want to escape from. I love meeting interesting people from all over the world, which means that even when I am visiting the same locations, it is always a different experience.
I have been an entrepreneur most of my adult life, which allows me to be in control of how I spend my time. In addition to doing tours and educating the community, I am also looking more into the blue economy and climate risk as I have always had an interest in innovation and technology.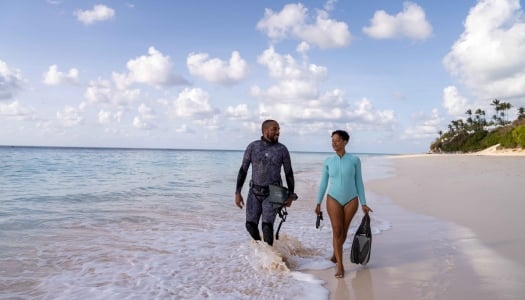 Where do you source your inspiration?
I maintain my drive to continue on this path by helping to make a difference in the diving community and representing black Bermudian divers on a global scale. My family has shown unwavering support and I feel proud to have a purpose in this community.
 
I have to add, when I see children and adults in awe after putting their eyes underwater for the first time it brings me an immeasurable amount of joy and inspiration.


What do you think is unique about Bermuda?
Almost everything about Bermuda is unique. Location, history, people, culture, traditions, vibe, cuisine, our dialect, accent, our stories, challenges and triumphs. I would write more, but it would be a four-page essay, so join me on a tour and I will spill the beans. 

What is your favourite spot in Bermuda to relax?
Cooper's Island!  It's such an escape once you get past the gate and over the hill. Determine the wind direction and choose your side. It is the perfect way to drift away into your own world.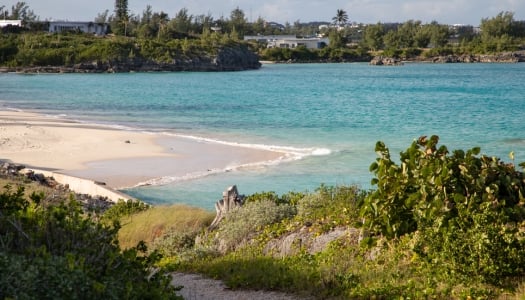 Where do you go with your friends?
Out on the boat. This tends to be anywhere the sea is calm and almost always involves getting in the water and diving for lionfish, lobster (during the season) or debris. The area between Palm Island and Morgan's Island stands out as a favourite spot on a boat.
Outside of work, what is your favourite thing to do in Bermuda?

The funny thing is, I craft my tour experiences to match the same thing I would do with my family and friends, which is what I think makes them authentic.  

What is your favourite Bermudian food?
Without question, a local fish sandwich on toasted raisin bread with tartar sauce, hot sauce and coleslaw. No cheese for me. When in season, I replace the regular tartar sauce with loquat tartar (you have to request this in the spring).
Pro tip: Get the slaw on the side and add it when you are ready or as you go to avoid soggy bread. Timing is everything and prepare to get a little messy.


Most used Bermudian word?
My favourite Bermudian word, the word I find myself using the most even unconsciously, has to be "Cha". I still use synonyms like "wow!", "oh?!" or "really?" but "Cha" just captures all of those things with a bit of spice. Yeah, that's my favorite.
Explore More Bermuda Inspires Stories 
As a natural-born creative, Tyka connects things that require artistic nurturing to work together. As a practice, Tyka dreams, usually about food as an entity of her belonging. Her relationship with food drives the passion that is evident in every dish she creates.

The best way, by far, to learn the lay of the land is from the locals. When you stay at Lemon and Ginger, Jenita and George will make sure that you are privvy the ins and outs of the Bermuda lifestyle, with a fully authentic experience.