Article
Bermuda's Mystical Moongates
One of Bermuda's national symbols, the fabled moongate traces its roots to China and is said to bring good luck. Learn more about this interesting architectural accent and find out where to see moongates around the island. 
Beyond the Beach,
People & Culture,
Romance
A Good Luck Charm
Eye-catching round openings often found along garden walls, moongates are made of local limestone and can be spotted gracing Bermuda's public parks, hotel grounds and private homes. Legend says that if newlyweds step through a moongate hand-in-hand, happiness will endure, which is why it's common to see newlyweds kissing or posing under these intriguing stone passageways. Newlywed or not, you're welcome to step through one of the island's dozens of moongates and make a wish. You'll find moongate locations below.
An Intriguing Backstory
In 1860, a local sea captain was inspired by his visit to a Chinese garden and returned to the island with plans for its very first moongate. Over the years, the moongate became a popular ornamental feature and was incorporated into Bermudian architecture. It wasn't until the 1920s that its centuries-old Chinese origins were fully realized in Bermuda. Credit belongs to the landscape architect of an English aristocrat, the Duke of Westminster, who had come to Bermuda to design grounds for the Bermudiana Hotel (it no longer exists). He designed the first moongate to be built at the hotel.
Devotees of Feng Shui might be interested to know that among Chinese nobles, closed doors were not considered courteous since they implied exclusion. Moongates were used as a means of enhancing views and welcoming neighbours, reflecting the essentially outgoing Chinese temperament.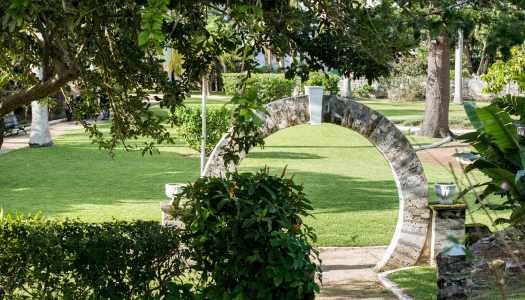 Pop Culture Connections
Visitors sometimes comment that the moongates remind them of the hit movie Stargate and its spin-off TV series, in which the stargate was a portal to interstellar travel. 
The Bermuda moongate's claims to fame are more down-to-earth – it was featured on a 1999 postage stamp and was also the subject of a song. American composer Ralph Blane (of Have Yourself a Merry Little Christmas fame) recorded Step Through a Moongate in 1983.
How Moongates Are Made
Constructing a moongate requires considerable expertise and involves a time-honoured technique of building a wooden frame, placing the stones on either side and building upwards. You finish with a keystone and then knock out the wooden template. If you're curious about how to build a moongate, watch one of the many moongate construction videos on YouTube.