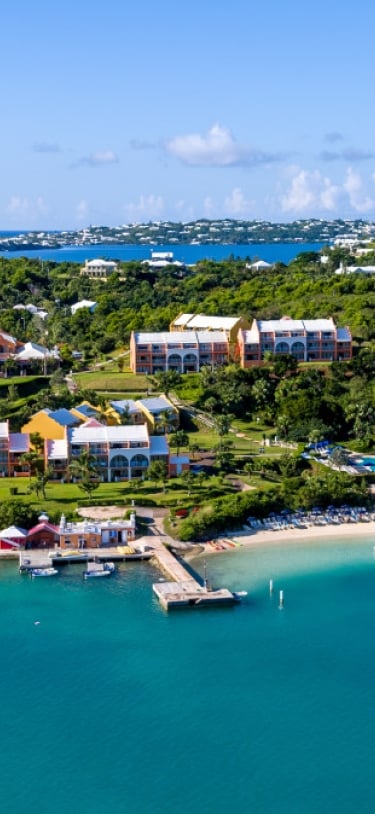 Grotto Bay Beach Resort & Spa
11 Blue Hole Hill, Hamilton Parish
image
map
About Grotto Bay Beach Resort & Spa
Scattered over 21 acres, 11 colourful cottages overlook clear, turquoise waters. This lush tropical estate features dramatic caves and acres of woodland preserves along the water's edge. Swim the shallow waters off a private pink sand beach, take a dip in the fresh water pool, or languish in the outdoor, garden Jacuzzi. Sail, snorkel, paddle board, dive ancient wrecks and explore the delicate coral reefs with the help of onsite company, Dive Bermuda. Grab an early morning fishing charter, take a cruise on a sunny afternoon or a glorious sunset sail right from our dock. With lighted courts, you can play tennis night or day, work out in our ocean-front gym or get pampered in a 500,000-year-old underground cave spa. The resort is conveniently located within five minutes of two of Bermuda's finest golf courses and the L.F. Wade International Airport. Grotto Bay Beach Resort & Spa has an extensive list of amenities and activities for the whole family.
Amenities
A/V on Site
Babysitting Available
Beach Access
Beachfront
Waterfront
Bicycles Available
Boat Dock
Boat Ramp
Boat Rental
Business Center
Children's Programs
Coffee Shop
Concierge Desk
Exercise/Fitness Facilities
Gift Shop
Golf Privileges
Hot Tub
Hotel Bar
Kayaks
Laundry Facilities
Laundry Service/Drycleaning
Library
Outdoor Dining
Outdoor Event Venues
Paddleboats
Pavilion
Picnic Area
Restaurant on Site
Rowboats
Sailing
Scooter/Cycle Rentals on Site
Dive Shop on Site
Snack Bar
Spa on Site
Sunday Brunch
Swimming Pool
Tennis
Waterslide
Watersport/Beach Gear Rentals on Site
Yoga
Driving Range
Chipping Green
Putting Green
Pro Shop
Rental Clubs
Golf Carts
In-Room Amenities
Air Conditioning, Coffee and/or Tea Maker, Hair Dryer, High Speed Wi-Fi Available, Iron & Ironing Board, Jacuzzi, Radio Alarm Clock, Refrigerator, Room Safe, Room Service, Rooms with Private Bath, Telephones, Television, Washer/Dryer, Free Wi-Fi Access
Open For Business
Quick Facts
Room Types: One-Bedroom Units
Location: Beach, Water View
Payment Methods Accepted
Cash
American Express
Master Card
Visa
Deals & Packages From Grotto Bay Beach Resort & Spa
Meeting & Conferences
Grotto Bay Beach Resort & Spa offers three well-appointed meeting rooms, most overlooking picturesque Bailey's Bay. In the Palmetto Room, Hibiscus South and Hibiscus East, various seating configurations can be arranged by the hotel's event staff. Certain rooms are enclosed with glass doors and have access to welcoming patio terraces, perfect for cocktail receptions. Grotto Bay's award-winning culinary team will help customize a menu to wow your guests from start to finish.
Quick Facts
Room Types: One-Bedroom Units
Location: Beach, Water View
Hibiscus East
Room/Venue Size: 88,000 sq. ft. / 8,175 sq. m
Ceiling Height: 7'6 ft. / 2.29 m
Theatre Style Capacity: 60
Banquet Capacity: 50
Hibiscus South
Room/Venue Size: 112,000 sq. ft. / 10,405 sq. m
Ceiling Height: 14 ft. / 4.27 m
Theatre Style Capacity: 100
Banquet Capacity: 80
Palmetto Room
Room/Venue Size: 140,000 sq. ft. / 13,006 sq. m
Ceiling Height: 9 ft. / 2.74 m
Theatre Style Capacity: 150
Banquet Capacity: 70
Weddings
Slip into the lush surroundings of Grotto Bay Beach Resort & Spa for your destination wedding. A variety of natural settings – from private beaches to gardens to stunning caves – fit a range of wedding sizes and styles. The resort's expert catering team incorporates the island's beauty and flavours in the décor and in the food, and the resort can also assist with arranging photography, flowers, music and more. Natura Spa offers a full menu of signature treatments, as well as a Bridal Package and the option to reserve a private area of the spa for you and your Bridesmaids to prepare for the ceremony. For an unforgettable spa experience, follow a couples' massage with a refreshing swim in the turquoise water of Prospero's Cave. Dine at three restaurants and sip cocktails at the Rum House Bar. All-inclusive meal plans are available.
Quick Facts
Room Types: One-Bedroom Units
Location: Beach, Water View
Hibiscus East
Room/Venue Size: 88,000 sq. ft. / 8,175 sq. m
Ceiling Height: 7'6 ft. / 2.29 m
Theatre Style Capacity: 60
Banquet Capacity: 50
Hibiscus South
Room/Venue Size: 112,000 sq. ft. / 10,405 sq. m
Ceiling Height: 14 ft. / 4.27 m
Theatre Style Capacity: 100
Banquet Capacity: 80
Palmetto Room
Room/Venue Size: 140,000 sq. ft. / 13,006 sq. m
Ceiling Height: 9 ft. / 2.74 m
Theatre Style Capacity: 150
Banquet Capacity: 70