Article
Sample Menus Spotlight Bermudas Best Cuisine
Whether you're planning an intimate island wedding or large corporate event, Bermuda has a host of creative, world-class chefs ready to serve up artfully prepared and satisfying fare. Browse these tempting sample menus to get a taste.
Local restaurants and caterers take pride in infusing events with the flavours of the island. From weddings to business dinners, whatever your group's size, dietary needs and budget, you'll find delicious options that fit the bill.  
Hamilton Princess & Beach Club
Three-course plated dinners add fine-dining flair to authentic Bermudian flavours at Hamilton Princess & Beach Club, a centrally located property in the City of Hamilton. Dishes include the rum-painted snapper filet and caramelized Bermuda pumpkin soup. For larger events, themed menus bring the spirit and history of the island to life with food. The Island Cookout features local seafood with dishes like lobster bisque and guava BBQ chicken, while the British Invasion menu honours Bermuda's English heritage with a hot carvery featuring rib roast and Yorkshire pudding (and sponge cake and flambéed strawberries with clotted cream for dessert). 
Island Restaurant Group Catering
Make a big impression with Island Restaurant Group, a network of local restaurants that also provide off-site catering services, offering a wide range of cuisines, from a Brazilian Churrascaria station to Asian street market fare and an English pub spread with chicken pot pie and curries. The restaurants that make up Island Restaurant Group are the Hog Penny Restaurant & Pub, The Pickled Onion, Barracuda Grill, and Frog and Onion Pub.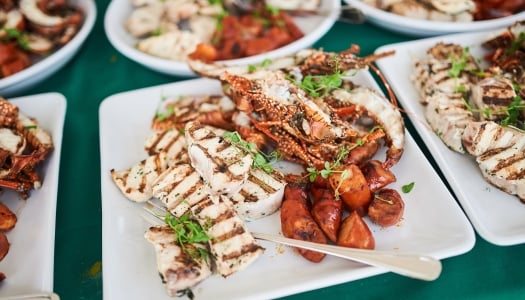 Harbourfront Restaurant
Treat your guests to fresh, local seafood and sweeping views of Hamilton Harbour at Harbourfront Restaurant in the City of Hamilton. Lunch and dinner options include seasonal Bermuda seafood, along with chicken and prime rib. The Harbourfront Restaurant is also home to one of Bermuda's best sushi bars, and sushi can be added as a choice with any menu.
Wahoo's Bistro & Patio Restaurant
The outdoor patio Wahoo's Bistro & Patio Restaurant is one of the island's best gathering spots with views overlooking the waterfront of historic St. George's. During lobster season, sample local spiny lobster in dishes like lobster thermidor and lobster pasta. Signature dishes include the award-winning fish chowder and the Rockfish Picasso, with local rockfish plated alongside a mosaic of fresh fruits and ginger. Finish with homemade desserts like chocolate bread pudding topped with Gosling's black rum custard. 
Fourways Catering
Providing off-site catering at such venues as the Commissioner's House in Royal Naval Dockyard, Fourways Catering's menus range from light breakfast fare to multicultural options like Thai and Indian menus. For classic flavours of the island, try the Bermudian Buffet, which features classic local dishes like Bermuda codfish cakes and pan-fried local fish, along with Gosling's rum-infused desserts like black rum cake and a Dark 'n Stormy flambé.
Serve classics like Bermuda codfish cakes and pan-fried local fish, along with Gosling's rum-infused desserts like black rum cake and Dark 'N Stormy Flambé.
The Docksider Pub & Restaurant
With catering options for small, casual get-togethers and large corporate events alike, The Docksider Pub & Restaurant is a go-to choice for events. The menus include breakfast items and canapes, along with sandwiches, party platters and themed spreads. The Bermudian buffet features BBQ chicken and Bermuda-style fried fish.