Article
Where To Do Afternoon Tea, Bermuda-Style
From the iconic red phone booths to bobby-hatted policemen, Bermuda's heritage is undeniably British. With a food scene that presents cultures as diverse as its 65,000 residents, it's perhaps most noticeable when the island breaks for that classic British activity: traditional afternoon tea.
Traditional afternoon tea includes freshly brewed tea, of course, but that's just the beginning. You'll also be served an array of pastries, scones, jams and finger sandwiches. Here are a few places where you can partake in this centuries-old ritual. Devonshire clotted cream, anyone?
The Crown & Anchor at The Hamilton Princess & Beach Club
An 1883 visit from Queen Victoria's daughter, Princess Louise, inspired the "Princess" part of the Hamilton Princess & Beach Club's name. Accordingly, the hotel serves an afternoon tea fit for today's royalty in its Crown & Anchor restaurant. In a modern, ocean-view setting with a fresh, nautical vibe, enjoy a selection of sandwiches, cakes and pastries inspired by British royalty, made fresh daily in the hotel's pastry shop. It's an impressive experience with servers bring out tiered, three-foot-high silver trays alongside steaming pots of English tea in their signature china. A Rose Congou – Princess Diana's favourite – is layered with rose petals, while their Prince Harry and Meghan Royal Wedding Blend fuses teas from South Africa, Kenya, China and France. Bring the kids – there's a special children's menu with peanut butter, tuna salad and cheese sandwiches. 
Sweet P's High Tea at The Bermuda Perfumery
Intoxicating, romantic scents fill the air at the Bermuda Perfumery, located in the historic Stewart Hall in St. George's Parish. But on Wednesdays and Saturdays, it's not just perfumes you can take in. Sweet P's High Tea, also in Stewart Hall, features the sinfully sweet confections of Paula Hayward, all made with fresh local ingredients. Try some local honey, Chantilly cream or Bermuda preserves as you nibble on pastries, scones and cakes. It all takes place in an elegant garden setting with optional, but indispensable, Champagne.
Conservatory Bar & Lounge at Rosewood Bermuda 
Set just off the lobby, the Conservatory Bar & Lounge with its hand-painted floors and beamed ceilings offers a refreshing selection of craft cocktails enhanced with fresh botanicals and house-made infusions. Centred around the quintessentially British gin, the airy space also offers another Blighty tradition – afternoon tea from 12 pm to 4 pm. It's savoury-sweet selection includes local beetroot and Tucker's Farm got cheese sandwiches, the Premier's chicken salad cornets, black rum cake and fresh baked scones with Bermuda loquat jam and clotted cream.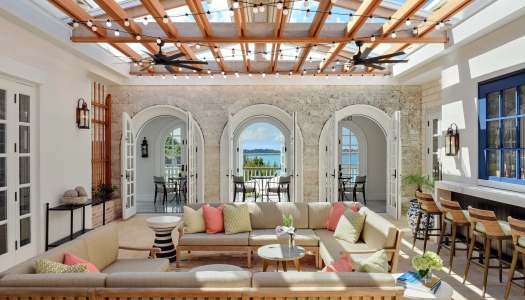 The Dockyard Pastry Shop
Pastry chef and photographer Joerg Rudolf's café is a welcome retreat on Dockyard Terrace, at the edge of the Victualling Yard. The most casual of afternoon tea spots, theirs is a simple but classic selection of cream cheese, cucumber and smoked salmon sandwiches and over-sized scones served with fresh cream and strawberry jam. While it's even better with a glass of champagne, you'll be tempted by the rest of the European-style menu with imaginative panini, hearty soups and a pastry case filled with daily quiche, buttery croissant and a gluten-free dulce de leche cheesecake.
Tea Tips for Your Bermuda Experience
DO: Use afternoon tea as an excuse to dress up – this is a fancy occasion, after all. No need for jacket and tie, gentlemen, but generally, "smart casual" is acceptable. No flip flops.
DON'T: Clink your spoon against your cup while stirring. 

DO: Put milk in your cup before tea. Or the other way around. Actually, this is the most hotly debated issue in all of tea-dom – just do what feels right. 

DON'T: Put your pinkie up while drinking your tea – it's a common faux pas.