Article
Bermuda Babymoons: The Perfect Island Getaway
Before your little one arrives, relax and indulge among the pink sands and historic, pastel-hued towns of Bermuda – the babymoon destination of a lifetime. Discover what to do and where to stay on your Bermuda babymoon.
A babymoon isn't just another vacation, so make it count by travelling to a place that's unlike anywhere else. In Bermuda, you can soak up island vibes, rich culture and spectacular nature – and you don't have to worry about Zika.
Plus, it's a short flight. Bermuda is just 90 minutes from JFK and about 2 hours from most U.S. East Coast gateways. 
Stay Safe From Zika
Bermuda remains free of Zika, the mosquito-borne illness related to birth defects. The mosquito that transmits Zika isn't found on the island, so there have been no known local transmissions of the virus. For parents-to-be, this has catapulted Bermuda to the top of the list of potential vacation spots. 
Have Secluded Beaches to Yourselves
Bermuda's peaceful, secluded shores will help you make the most of those final days before baby arrives. Along the famous South Shore, check out the scenic rocky cliffs of Jobson's Cove. Other best bets for privacy include Warwick Long Bay, with its secret coves and dramatic rocks framing the beach.
Learn more about Bermuda's secluded beaches, and check out some of the best beach walks around the island.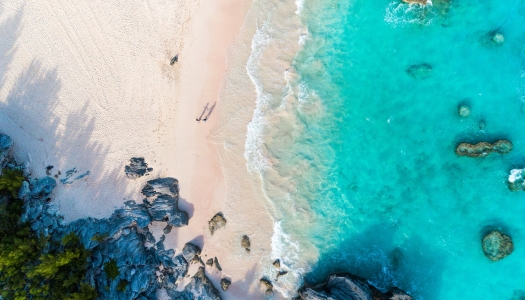 Savour the Island's Cuisine
The island's fresh cuisine is another reason why a Bermuda babymoon should be at the top of your list. At Devil's Isle Café, savour locally sourced organic fare in an elegant space with indoor and outdoor seating. Enjoy water views at Blu Bar & Grill, serving everything from Asian-fusion dishes to fresh prime seafood, or near Hamilton Harbour at Harry's, whose well-rounded menu offers steak, lamb, chicken and more. On weekends, dig into a traditional Bermudian breakfast of codfish and potatoes at Bouchée, a snug French restaurant in the City of Hamilton.
For fine dining, check out Sul Verde at Rosewood Bermuda, where you can tuck into wild mushroom risotto or veal scaloppine. The lavish space is decorated with antique murals of world sailing ports. The Waterlot Inn, a AAA Five Diamond Award-winning restaurant, overlooks a small bay sprinkled with boats.
Retail Therapy
Shopping – for you or baby – plays a starring role in a Bermuda babymoon. Hit the City of Hamilton, where the waterside Front Street features colourful storefronts selling jewellery, clothing and more. Stop in at Alexandra Mosher Studio Jewellery for a special souvenir incorporating the island's pink sand. Also browse the shops and boutiques along Church, Queen and Reid streets. On Reid Street, Nest sells maternity clothing and baby gifts. 
The quaint lanes and slender alleys of the historic Town of St. George also hold great shopping. Retailers, often located in historic buildings, include The Bermuda Perfumery for island-inspired scents and La Garza Bermuda for custom jewellery.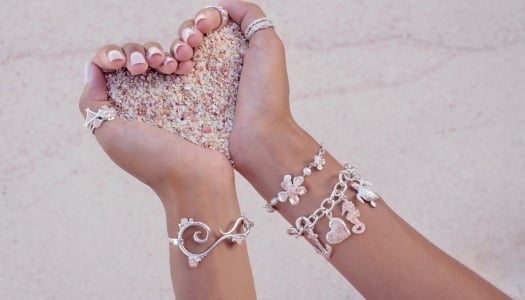 Indulge in a Heavenly Spa Day
Soak up relaxation with a spa day – a must-do for any Bermuda babymoon. Many of Bermuda's indulgent spas offer pre-natal treatments, too, upping the appeal. Try the Natura Spa at Grotto Bay Beach Resort & Spa, where you can get a massage in an ancient cave or in a pergola overlooking the water. Couples and pre-natal treatments are available.
At the La Serena Spa at The Reefs Resort & Club, treatments include a mother-to-be massage and a couples' rubdown in a two-person room. Before and after you indulge, chill in the spa's relaxation room overlooking the Atlantic Ocean.
A private pool flanked with lounge chairs and umbrellas with faux rose petals sets a serene scene at Sense®, A Rosewood Spa at Rosewood Bermuda. In the cottage-like facility, indulge in island-inspired treatments like a pawpaw massage or an organic facial.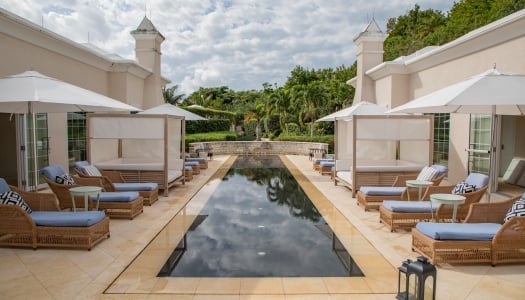 To The Moon and Back
Dozens of circular stone archways called moongates dot the landscape in Bermuda. The tradition dates to the 19th century, when a sea captain, inspired by a visit to China, erected one of the intriguing sculptures on the island. It's said that walking through a moongate brings good luck, and they make for a perfect babymoon photo op.
Moongates on public property can be found at the Bermuda Botanical Gardens, Palm Grove Gardens, Tobacco Bay and Shelly Bay. Many also grace the grounds of hotels and resorts throughout the island, including the Hamilton Princess & Beach Club in the City of Hamilton.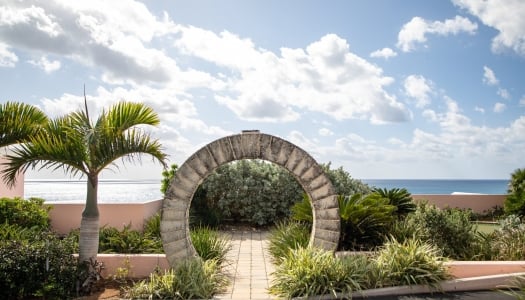 Where to Stay
Special Bermuda babymoon packages, rich amenities and personal service are among the highlights of Bermuda hotels and resorts. Here are a few to consider:
Cambridge Beaches Resort & Spa (which doesn't allow kids 12 and under) is a top-rated resort for an adults-only escape. Many suites and cottages offer water views, and you can also book special candlelit dinners on the beach.
The Loren at Pink Beach features dramatic ocean views, poolside cabanas and locally sourced cuisine in a sleek, modern compound. The on-site spa has couples' massages and facials.
At Grotto Bay Beach Resort & Spa, you can enjoy the private beach, lush grounds and on-site spa in an ancient cave. The resort also offers an all-inclusive option, a rarity in Bermuda.
Or, explore more options for places to stay in Bermuda.