Article
How Bermuda Shorts Became the Ultimate Island Fashion Statement
Whether you're out exploring parks and beaches or attending a parliamentary session, chances are you'll encounter at least a few pairs of Bermuda shorts. 
Virtually every Bermudian on the island owns these colourful knee-length shorts. They're comfortable, functional and elegant: the very definition of Bermuda style. Discover how this Bermudian staple became the ultimate island fashion statement – past, present and future.
SALUTE YOUR SHORTS
They used to say that the sun never set on the British Empire. And in some of Great Britain's far-flung outposts, that sun could get very hot. To adjust to tropical and desert climes (very different from the British Isles), commanding officers in the Royal military allowed soldiers and sailors to wear knee-length shorts while they went about their duties.
According to Rebecca Hanson, the creator of TABS (The Authentic Bermuda Shorts), it all started in Bermuda during World War I:
"Native Bermudian Nathanial Coxon owned one of the only teashops in Bermuda, and his little teashop quickly saw an influx of naval officers. Business boomed for Coxon, but his busy tearoom quickly turned into a sauna with all the steaming pots of tea. His employees complained about the heat as their uniforms consisted of a smart navy blue blazer and khaki pants. Coxon was a creative businessman and did not want to spend money on a new wardrobe for his employees, so he took all the khaki pants from his staff and cut them just above the knee to create the very first pair of Bermuda shorts. Rear Admiral Mason Berridge took his tea in Coxon's and thought their new uniform was "a bit of old Oxford and a bit of the Khyber Pass." He decided to adopt the style for his fellow officers and coined the attire 'Bermuda shorts.'"
LOCAL STYLE
As the 20th century progressed, Bermuda shorts got more and more popular, both on the island and off. In the 1920s, Bermudian bankers introduced them to the workplace. Soon, you could see them everywhere, whether on the beach or in a fine dining establishment. The colours and prints became more dynamic to match the brilliant hues of the island's turquoise waters, pink sand and lush greenery.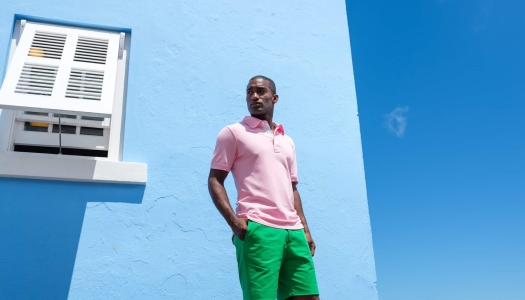 In the 1950s, women were finally given the go-ahead to slip on Bermuda shorts; until then it had been thought un-ladylike to show off your legs above the knee. It was illegal, in fact, women could be fined for too-short shorts.
Meanwhile, American and British vacationers thought these shorts looked so good that they brought the shorts back home with them, showcasing Bermuda's signature style in some very un-Bermuda-like settings. But they fit in everywhere.
RUNWAY & RED CARPET READY
Bermuda shorts have been popular for a long time. These days they're fashionable too, with trendsetting designers such as Christian Dior, Emporio Armani, Hermès and Ralph Lauren sending their own spins on this timeless look down the runways in Paris and New York City. Hollywood has taken notice, too, with celebrities on red carpets rocking the look. Perhaps most famously, superstar musician/producer Pharrell wore his Bermuda shorts to the 2014 Academy Awards ceremony. After 100 years, it seems like this Bermuda fashion staple is ready for its closeup.
THE SHORT-PANT IS A TERRIBLE FASHION CHOICE. UNLESS IT IS FROM BERMUDA.
–WINSTON CHURCHILL
TABS (THE AUTHENTIC BERMUDA SHORTS)
The trend couldn't have come at a better time for Rebecca Hanson. The born-and-bred Bermudian designer has reclaimed this island fashion statement and given the classic Bermuda shorts a fashion-forward spin with TABS. Each pair is trendy, playful and colourful – just like Bermuda itself.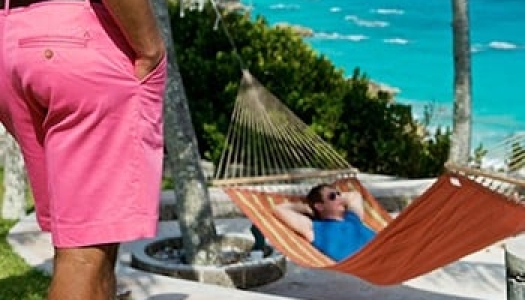 TABS aren't just stylish, however. They're also extremely comfortable, made out of high-quality cotton twill. In Spring 2015, Rebecca introduced her collection of Bermuda shorts for women. Available in five Bermuda-inspired shades, each colour matches something you'll find on the island, from sea glass green to hibiscus pink.
You can score your own pair of shorts at the flagship store in the City of Hamilton or shops around the island, including The Coral Beach & Tennis Club. Get the classic Bermuda shorts look at the English Sports Shop.