Itinerary
3 Days On The Water in Bermuda
After admiring Bermuda's turquoise waters, you'll want to get in it. Whether by swimming, kayaking, jet skiing or jumping off a cliff, you'll have many ways to get immersed in the island's clear, shallow waters and its deep blue sea.
Adventure,
Itineraries,
Natural Wonders,
On the Beach
Day 1: The Island's Watersports Scene
If you're a fan of fast-paced, active adventures, the island offers many ways to satisfy your need for speed. Zoom across (or high above) the water on one of these exhilarating adventures.
Jet Skiing
Touring the waters of Bermuda on a jet ski gives you a view of the island you can't get any other way. Speed across the turquoise waters around the island and you'll encounter otherwise tough-to-get-to gems like secluded beaches, hidden coves and sunken ships.
Kite Surfing & Parasailing
Many of the most adventurous watersports lift you above the surf.
If you're into kite surfing, check out Elbow Beach, Shelly Bay Beach, Somerset Long Bay or Horseshoe Bay beaches depending on the wind direction. There are about 50 kiteboarders living on the island, and the most consistent season for wind stretches from December through May. Water temperatures can be a bit cool during this time, so it's a good idea to bring along a wetsuit or plan to rent one. If you're new to the sport, Island Winds offers lessons for newcomers and gear rental for experienced riders.

For a real thrill with no experience required, try parasailing. You'll be towed behind a motorboat while attached to parachute-style sail. Then, as the boat picks up speed, you'll float up to 250 feet in the air, giving you bird's-eye panoramas of the island.
You can't come along for the ride, but another exciting high-speed activity in Bermuda is watching the Sail Grand Prix vessels training in the Great Sound. An ideal vantage point is the Royal Naval Dockyard. The America's Cup, presented by Louis Vuitton was also held in Bermuda in 2017.
Day 2: Eco Adventures, Kayaking & Boat Tours
Discover pristine natural landscapes and abundant wildlife with on-the-water adventures that are educational and eco-friendly.
Whale Watching

In March and April, up to 10,000 majestic humpback whales make their annual return to the waters near Bermuda, migrating north to the rich feeding grounds of the Arctic Circle. Ranging in length from 39 to 52 feet and weighing as much as 40 tons, these "acrobats of the sea" are known (and highly visible) thanks to their playful breaching. Head out on a whale-watching boat to witness these awe-inspiring creatures in a safe, respectful way.

Cooper's Island

On the southeast tip of the island, Cooper's Island was occupied for years by the U.S. military and NASA, only re-opening to the public in 2011. The Eco-Tour of Cooper's Island lets you explore 12 acres of this pristine Bermuda wilderness. You'll discover teeming tide pools, seabirds like heron and kingfishers, ancient Bermuda cedar trees and giant land crabs.

BDA Watersports

Glide across the water on a crystal kayak from BDA Watersports. The boats have glass-bottom viewing areas, yielding glimpses of colourful undersea life. Guides will provide you with a map, fill you in on the island's marine and coastal ecology, and points of interest.

@rachelsawden

Diving & Snorkeling

Bermuda is an unparalleled playground for divers and snorkelers. Go undersea to explore more than 300 amazing shipwrecks – including The Constellation, which was the basis for Jaws author Peter Benchley's The Deep. You can also enjoy crystal clear views of Bermuda's vibrant reefs, which teem with multicoloured fish and other marine creatures. There are many Bermuda dive and snorkel outfitters who can get you properly trained and lead you to the best spots.

Full-Moon Boat Cruises

On full-moon boat cruises organized by the Bermuda Underwater Exploration Institute, you'll witness an aquatic light show thanks to incredible, bioluminescent glow worms. In warmer months, these tiny creatures engage in a mating dance that casts a dreamlike, bright green glow in the water.
Day 3: Legendary Beaches
Take the last day to go beach hopping and swimming at Bermuda's world-famous beaches, known for pink sand and crystal-clear waters. Here are some of the ones to hit.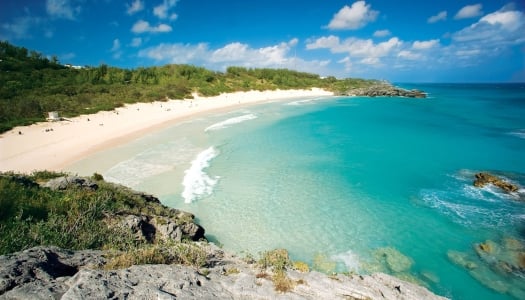 The crescent-shaped Horseshoe Bay Beach in Southampton Parish always pulses with energy, and it's the perfect spot for mixing and mingling with locals. USA Today named Horseshoe Bay one of the Caribbean's top 10 beaches (even though Bermuda isn't technically in the Caribbean).
Bermuda has many beaches that are ideal for romance – secluded and naturally beautiful, these pockets of sand feel a world away from everything. Jobson's Cove is a sheltered bay surrounded by jagged rocks; Astwood Cove is tucked away amidst steep cliffs. Tobacco Bay is an intimate spot that hosts on-the-sand bonfires on Friday nights during the summer. 
Want to end your three days of water-filled adventure with a bang? Admiralty House lures cliff jumpers and rock climbers with deep water, cool caves and tall cliffs. Partake in this simple-yet-exhilarating tradition before heading home.