Article
Getting to Bermuda by Cruise Ship
If you've set your sights on a cruise to Bermuda, here's some helpful information to know.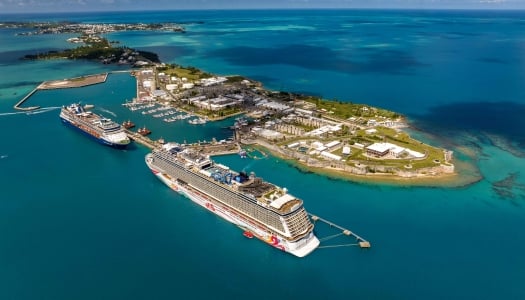 BERMUDA'S PORTS OF CALL
A warm Bermuda welcome awaits you at one of these ports of call:
King's Wharf and Heritage Wharf, both located in the Royal Naval Dockyard on Ireland Island North at the western tip of the island.
Hamilton Harbour, located in the island's capital, the City of Hamilton.
St. George's Port in St. George's Harbour (small-to-medium sized ships)
Step right off the ship to explore historic towns, sample Bermudian cuisine, shop markets and boutiques, visit a huge variety of attractions, discover hidden natural wonders or head straight for our world-famous pink-sand beaches. The island is only 21-square miles, so anything you want to see and do should be within reach.
CRUISE LINES SERVICING BERMUDA
NORWEGIAN CRUISE LINE (NCL)
Norwegian Cruise Line offers a variety of multi-day cruise itineraries to Bermuda with cruises departing New York, New York, Boston, Massachusetts, and Lisbon Portugal.
CARNVIAL CRUISE LINE
Carnival offers a variety of 6-day itineraries with cruises departing the US East Coast from New York, New York, Norfolk, Virginia, and Balitmore, Maryland.
CELEBRITY CRUISES
Cruise from Cape Liberty, New Jersey to Bermuda. Choose from one of four Celebrity Cruise itineraries ranging from 7-Day to 10-Day voyages.
DISNEY CRUISE LINE
Depart from New York, New York or Port Canaveral, Florida and arrive to beautiful pink-sand beaches in Bermuda. Disney Cruise Line offers a range of multi-day itineraries and themed experiences like, "Halloween on the High Seas".
ROYAL CARIBBEAN CRUISES
Royal Carribbean offers a variety of multi-day cruises departing from Baltimore, Maryland, Orlando (Port Canaveral), and New York, New York (Cape Liberty, New Jersey).