Article
What to Pack & What to Wear in Bermuda
Wondering what to pack for your island getaway? Think Britain-meets-the-beach. Bermuda has an air of modesty mixed with a casual island vibe, making for a fab opportunity to break out those Bermuda shorts.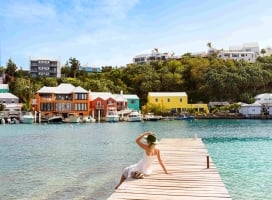 Summer
The days are very warm and humid from June all the way through to September. Expect blue skies and white fluffy clouds. Occasional showers are typically brief (and welcome). The sun sets around 8-9 pm.
Daywear: swimsuits, shorts, t-shirts, vests, summer-weight sports clothes, light windbreaker/rain jacket, hats, flip-flops/sandals or sneakers
Eveningwear: smart-casual summer dresses, button-down shirt, light sports jacket, light cotton pants
Shop summer wardrobe staples and beyond at TABS (The Authentic Bermuda Shorts), Coral Coast Clothing and Della Valle Sandals.
Winter
Winter is considered January through March in Bermuda. While you may see some Bermudians sporting Uggs and hats, don't let the "winter gear" fool you.
Winter is something of a misnomer, as temperatures average a balmy 70 degrees Fahrenheit, 21 degrees Celsius during the day and dip to the 60s (Fahrenheit) at night. Northern winds can blow from time to time, making the air feel slightly cooler.
Daywear: sweaters/fleeces, light woolens or fall-weight casuals, light rain jacket, coat, swimsuit, walking shoes or sneakers.
Eveningwear: dressy sweaters, long-sleeved dresses, suits, sports jacket.
Shop winter wardrobe staples and beyond at Atelerie, Merch and Vineyard Vines.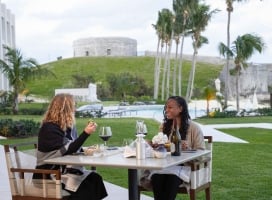 Food, Itineraries, People & Culture, Travel Tips