Article
Planning Your Perfect Trip to Bermuda
Find out the basic essentials, including time zones, currency, electricity, telecommunications and visitor information centre locations.
First-time visitors to the island of Bermuda will find the travel information below especially helpful. 
Pre-Departure Requirements
You'll need three things to enter Bermuda: Your valid passport, round-trip ticket and Bermuda Arrival Card. These documents are required for adults as well as infants or children travelling alone or with their parents.
The Bermuda Arrival Card is a simple form that takes about two minutes to complete – we recommend that you fill out the digital Bermuda Arrival Card prior to travel. Once you complete the form, you'll receive an email confirmation and present it to a border agent to expedite processing on arrival. The Bermuda Arrival Card form should be provided on your plane and is also available at the immigration desk in the airport, but filling it out in advance saves time.
Bermuda Visitor Services Centres
For brochures, guides and some personal insight to help you get exploring, drop one of our Visitor Services Centres below. The staff has a wealth of knowledge, from directions and phone numbers to their favourite spots on the island. You can also download guides and maps direct from this website and view recommendations from our Island Insiders.
City of Hamilton 
10 Front Street
City of Hamilton
Tel: +1 (441) 261-2872
Email: [email protected] 
Royal Naval Dockyard
Visitors' Courtyard
Royal Naval Dockyard
Sandys Parish
Tel: +1 (441) 296-9400
Email: [email protected]
Town of St. George
25 York Street
Town of St. George
St. George's Parish
Tel: +1 (441) 297-0556
Email: [email protected]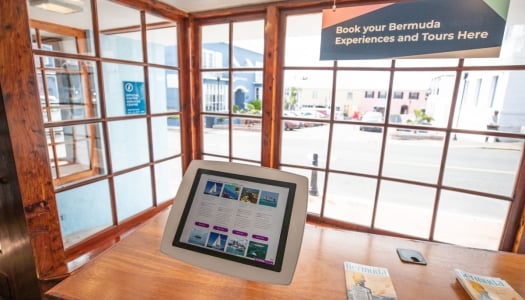 Currency & Banking
Legal tender on the island is the Bermuda Dollar, which trades at the same rate as the U.S. dollar and carries the same symbol ($).
Bermuda and the U.S. Dollar are accepted interchangeably. When dispensing change, most retailers and businesses will try to provide change in U.S. dollars to visitors.
Canadian dollars, British pounds and other foreign currencies need to be exchanged at local banks.
ATMs are widely available. Find 24-hour ATMs at HSBC Bermuda, Butterfield Bank and Clarien Limited. Check convenience stores, gas stations or your hotel for the ATM nearest you. Most ATMs dispense only Bermuda dollars. HSBC Bermuda does offer US Cash ATM's at their branch locations. 
Visa, MasterCard and American Express credit cards are accepted almost everywhere.
Money Orders & Travellers' Cheques
Due to recent changes in the laws (the U.S. Patriot Act and the Bank Secrecy Act), travellers' cheques and money orders in U.S. Dollars have not been accepted in Bermuda since March 1, 2014. As they can be purchased for cash with no identification required, there has been increasing use of these instruments in fraudulent financial transactions.
Telecommunications
Though Bermuda may be small in size, its international telecommunication system ranks among the best in the world for reliability, quality and sophistication.
The island provides telephone, fax, Internet, wireless and wireless roaming services.
Bermuda's country code is 441. Direct dialling is possible to and from the island.
Mobile Prepaid Bundles
Prepaid local and international bundles can be purchased through the telecommunications company Digicel.
Mobile Phones
Most mobile phones will work on the island; ask your carrier ahead of time to make sure.
Electricity
The electrical current in Bermuda is 110 volts, 60Hz AC, which is the same voltage supported by the U.S. and Canada. 
Travellers from the U.K. and Europe will need to use an adapter since two-pronged plugs are in use island-wide.
Time Zone
Standard Time in Bermuda is Greenwich Mean Time minus four hours. In other words, the clocks on our island read:
One hour ahead of New York
Two hours ahead of Chicago
Four hours ahead of Los Angeles
Four hours behind London
Five hours behind Rome
Five hours behind Munich
Daylight Savings Time is from the second Sunday in March to the first Sunday in November.
General Post Office
The main post office is located in the City of Hamilton at:
56 Church St.
Hamilton HM 12 
Tel: +1 (441) 297-7893 
Fax: +1 (441) 292-1928
Operating Hours
Mon. through Fri. 8 am to 5 pm 
Sat. 8 am to 12 pm