Article
Bermuda's Holiday Celebration Guide
Bermuda is located less than two hours from most major cities on the U.S. East Coast, making it the perfect place to spend the holidays with your loved ones. Here are some of the best ways to enjoy classic holiday experiences – all with a Bermuda twist.
Beyond the Beach,
People & Culture,
Travel Tips
With its blend of colourful architecture, international influences, seasonal events, boutique shopping, pink-sand beaches and mild climate, Bermuda promises a holiday season like no other. Bermuda is brimming with natural beauty and festive holiday traditions and beckons travellers with a worry-free getaway. That, and the promise of sunshine, mild weather and island breezes.
There are plenty of safe ways to experience holiday traditions. Here's how the island gets festive over the holidays.
Holiday Fun Throughout the Season
Bermuda's blended cultures mean residents practice a range of religions and may observe one or many seasonal holidays including Hanukkah, Kwanzaa, or Christmas. You'll see festive decorations, glittering lights, window displays and soaring Christmas trees in hotel lobbies and public squares. Get into the spirit with mulled wine, the smell of cedar burning in the hearth. And find Santa Claus, who's coming to the Town of St. George where he'll be driving through to offer season's greetings – and candy.
By early December, the pastel-hued buildings of both cities are decked out with sparkling lights and verdant wreaths and garlands, and the beautifully trimmed Christmas Tree at Royal Naval Dockyard welcomes shoppers and visitors alike. It's an excellent time to get in the holiday spirit while searching for uniquely Bermudian holiday gifts at locally-owned shops or at the Huckleberry Holiday Market, where you can savour cholocate truffles as you peruse locally made goods.
Dockyard's festivities continue each Sunday throughout December, when Santa Claus takes up residence at Frog & Onion Pub. Come Christmas Day, no celebration is complete without a trip to the beach. In most years, locals head to Elbow Beach to sunrise with a glass of Champagne. You can always have a toast to welcome the day on a more low-key beach.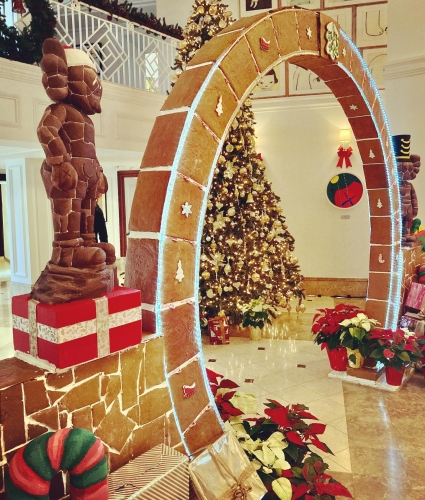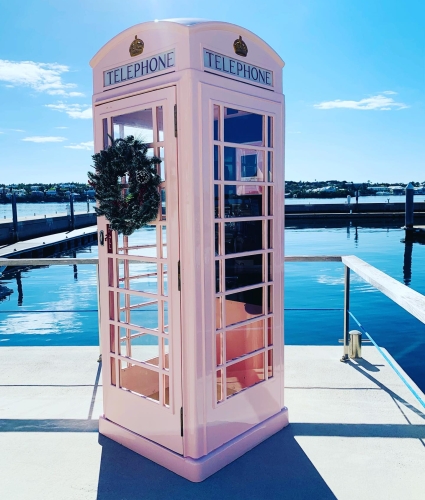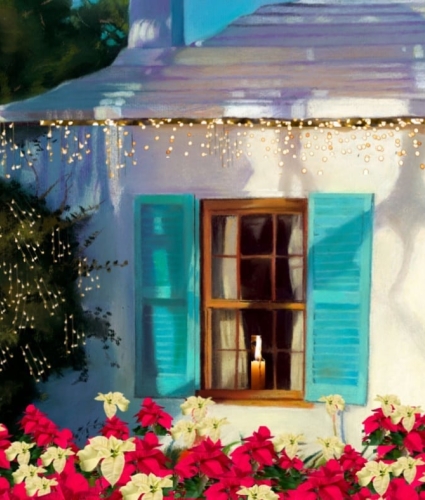 Bermudian Holiday Food Traditions
Warm, aromatic spices are a year-round fixture in Bermudian cuisine, but the holidays kick it up a notch. Start your day with an Eggnog Latte or Gingerbread Mocha from Rock Island Coffee in Hamilton.
The holidays happen to occur at the height of spiny lobster season, which makes for hearty seasonal dishes at restaurants like the Lobster Pot. For dessert, satisfy your sweet tooth by picking up a pint of Rum Eggnog Ice Cream from Alex & Pete's Bermuda Artisan Ice Cream.
Home-cooked holiday meals have their own beloved Bermudian twist. While it wouldn't be Christmas dinner without the turkey and a (rum) glazed ham, Bermudian holiday sides are just as essential. Hoppin' John, paw-paw (papaya) casserole, and cassava pie (a sweet cake made with shredded cassava root layered with chicken) are a key part of any Christmas dinner. Moist, buttery Bermuda rum cake is a perfect finale – pair it with a mug of warm mulled wine.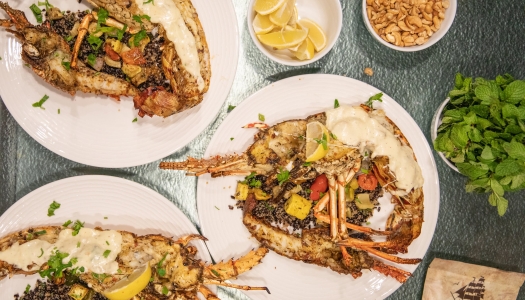 Festive Holiday Events
The holiday spirit is alive and well island-wide. You'll find fun, reimagined festivities throughout the season.
Carol with dolphins, attend a Christmas Eve candlelight service at the oldest Anglican Church in the Western Hemisphere and do Christmas on the beach.
On Boxing Day, this British holiday gets a Bermudian twist when Gombey troupes in colourful costumes dance through the streets to the rhythm of snare drums, beer bottle fifes and tin whistles. 
Finally, ring in the New Year in King's Square in the Town of St. George. Crowds gather to watch the giant onion drop as the clock strikes midnight. 
Once you've experienced the holidays in Bermuda, you'll want to return.