Article
Family Spring Break
With twenty-one square miles of turquoise waters, green spaces and pink sand beaches, Bermuda is a veritable playground for families looking to explore the great outdoors. Just ask Linda Cook, mom of two and owner of Little Longtails, a children's concierge service and the only baby equipment rental company on the island.
"It's an outdoor country," says Cook, whose company also shops for groceries and provides welcome baskets upon arrival. "In Bermuda, kids can play outside 365 days a year." One of her favorite spots is the Bermuda Botanical Gardens for its five-feet-tall hedge maze, a nautically inspired playground relocated from the America's Cup Village and tall banyan trees with long vines that kids can swing from. "You can spend hours there and never get bored," says Cook. See for yourself during a spring break getaway, when temperatures are in the low 70's and resorts offer some incentives on rooms and suites.
DAY 1
Bike the Trail
Long before cars were permitted on Bermuda's roads, islanders depended on a train to get from St. George's to Somerset. When the railway ceased operations in 1948, it left behind a coastal railbed that was transformed into a byway for cyclists and walkers—an 18-mile-long National Park called the Railway Trail. If you're up for an off-the-grid adventure, explore it for yourself by renting bicycles at Oleander Cycles. Its smallest rentals have 13-inch frames, which are good for most kids ages 11 and up. Make sure to inquire about a 'pedal bike' since motor scooters are commonly referred to as 'bikes' in Bermuda (and yes, helmets are included for the whole family). The trail is accessible at well-marked entry points throughout the island -- but don't miss the scenic stretch through Hamilton Parish.
This family-friendly route features a coastal footbridge with unending views of the island's stunning seashore and Shelley Bay Beach with an oceanfront playground and calm, shallow waters perfect for little swimmers. When you're done, ride to nearby Bailey's Bay Ice Cream Parlour to taste of one its 30 flavors of homemade, all-natural ice cream (try the Dark 'n Stormy).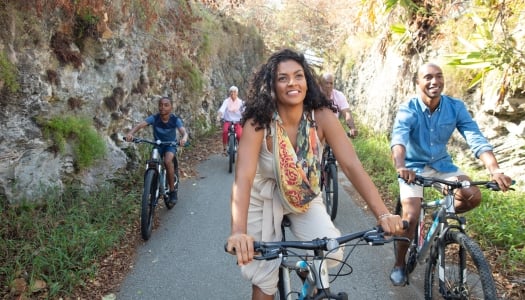 DAY 2
Take a Dive
Got a budding marine biologist in tow? Consider exploring the vast underwater ecosystem by taking the plunge with Bluewater Divers. With more than 300 shipwrecks in its waters plus 280 square miles of thriving coral reef, Bermuda is widely considered the SCUBA diving capital of the Atlantic—and fortunately no experience is necessary to give it try. Sign up for a "Lesson and Dive" program and anyone ages 10 and older can hop in the water for a two-tank dive at a maximum depth of 40 feet. Where you'll go is weather dependent, but it's likely your family will hover over shipwrecks like the Montana, a 236-feet paddlewheel steamboat that wrecked in 1863. Your kids will love spotting old cargo, shattered china and glass bottles among thick schools of tropical reef fish like grouper, parrotfish and sergeant majors.
Bonus: Since the dive shop is located at Robinson's Marina in Somerset, your family can get a unique photo opportunity on Somerset Bridge. The tiny crossing is in fact the world's smallest draw bridge, with one removable timber to allow only the mast of a sailboat to pass through.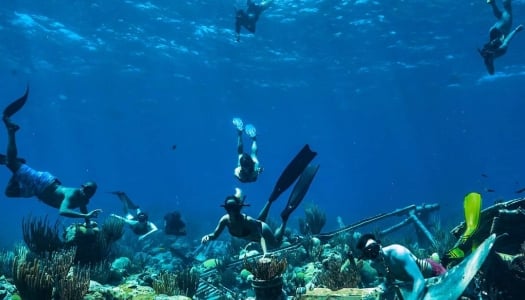 DAY 3
Snorkel the Sea 
Thanks to a wall of barrier reef that's home to thousands of tropical reef fish, Bermuda is home to some of the world's finest snorkelling—a magical underwater activity even non-swimmers can try with the help of a floatation device (simply bring your own or rent one from Little Longtails). On the west end don't miss the appropriately named Snorkel Park, a full-service beach facility located at the Royal Naval Dockyard. Pay a $5 admission fee, and once inside you can pull up a chaise lounge under a shady umbrella or grab lunch at its open-air restaurant before exploring the water. Snorkel rentals are available on-site as are kayaks, pedal boats and float toys, which are good for kids ages 4 and up
Tip: While there, don't miss Fun Golf, a miniature course right next store that features replica holes from 18 of the world's most iconic courses
Heading east, brake for Church Bay in Southampton where you'll find a grassy park that's perfect for hide and go seek and a pink sand beach where kids can search for shells and sea glass. You'll need to bring your own snorkel gear since the only facilities on the grounds of this National Park are public bathrooms, but once in the water you'll be treated to a stunning array of tropical reef fish congregating around thriving elk, fan and brain coral clusters.
Finally, don't miss Tobacco Bay on Bermuda's east end, a sheltered, shallow bay that's tailor made for snorkelling and family fun on the water. While there grab lunch at the beach bar, which serves hot dogs, burgers and salads or even rent a water bike—a bicycle that floats on the water's surface via two pontoons. Cap the day and catch the sunset at The Beach House at Blackbeard's, a cliffside restaurant next to Fort St. Catherine with stunning views over Achilles Bay.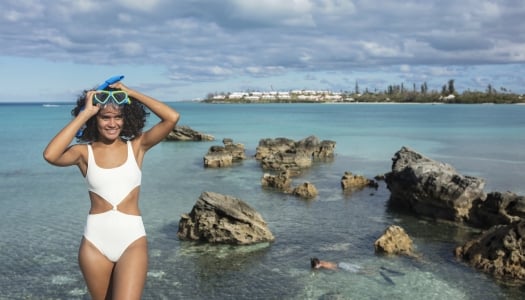 DAY 4
Explore on Water
At KS Watersports in the City of Hamilton, rent a 16-foot, self-drive Boston Whaler, which comes equipped with life vests, a cooler full of ice and a large shaded canopy to protect your little one's from the sun. Motor to Admiralty Park on the north shore where brave kids and kids at heart can try cliff jumping in its deep protected cove (just anchor off the coast, swim to shore and climb through tunnels carved by the British military in the 1800s to get to the top).
If you'd prefer to let someone else be your captain, then consider a half- or full-day sailboat charter courtesy of Sail Bermuda. With a 47-foot catamaran or a 51-foot monohull to choose from, your family will have ample space to enjoy Bermuda's coastal scenery. If a bit more adrenaline is required, then try wind surfing lessons with Upwind Sports. This mobile windsurfing school chooses the best conditions on the island on any given day and offers two-hour lessons for groups up to six people—perfect for adventurous teens and tweens.
Finally, aspiring scientists will enjoy a guided tour of Nonsuch Island, a protected Nature Reserve that's home to endemic and endangered species of plants and animals. Three-hour tours run from April through June and include round trip boat transfers to the island and wildlife encounters by naturalists from the Bermuda Zoological Society.
DAY 5
Let it Rain
Don't let a rainy day spoil your family fun. If showers are in the forecast following is a trio of outings to help save the day. In the City of Hamilton head to the Bermuda Underwater Exploration Institute (BUEI), a 40,000-square-foot science center dedicated to Bermuda's underwater world. Kids ages four and up will love the Jack Lightbourne Shell Collection featuring over 1,200 ocean mollusks from around the world; an interactive America's Cup exhibit where they'll learn about high-performance sailing technology; and a ride on the Nautilus X2, BUEI's virtual submersible that recreates a dive to 12,000 feet. When you're done grab a cab to La Trattoria, an Italian restaurant popular with locals that serves pizza cooked in wood burning ovens.
In Flatts Village, don't miss the Bermuda Museum Aquarium and Zoo featuring animals from Bermuda and other island ecosystems around the globe (think lemurs from Madagascar and kangaroos from Australia). Kids of all ages will love the Northrock Exhibit, a 140,000-gallon tank that mimics a healthy coral reef with large predatory fish like sharks and black grouper. When tummies start to grumble walk to Village Pantry, a nearby restaurant where much of what's prepared is locally sourced and creative kids can make their own pizza.
Finally, if your little ones simply need to get their wiggles out then make a beeline for The Playtrium in Devonshire Parish. With free WiFi and coffee for parents, the indoor playground features soft climbing equipment and slides perfect for crawlers and kids up to age 10. When hunger calls, walk across the street to Northrock Brewing Company, a traditional English pub that serves local beers brewed at the Dockyard Brewing Company.
About the Author: David LaHuta is a Bermuda-based journalist who has been living on the island for nearly 10 years. When not on assignment for the likes of The New York Times, Travel+Leisure and AFAR, he enjoys surfing, snorkelling, boating and beach-combing with his wife, Joy and two young sons, Jackson and Tyler.