Article
Eco-Friendly Ways to Travel Around Bermuda
Explore the island while minimising your carbon footprint. Bermuda's eco-friendly transportation options make getting around the island easy, affordable, convenient and carefree. 
PUBLIC TRANSPORT: GET ON BOARD
New Electric Buses
Bermuda's fleet of sleek, new electric buses produce zero road-side emissions, a win for the island's air quality and public health. They reduce the island's fuel consumption and come with far less maintenance costs than the diesel buses they replaced.
The electric buses run daily and connect several points of interest, including town centres, beaches and attractions. Carrying up to 40 passengers, the buses are air-conditioned and offer USB charging – perfect for replenishing your phone battery between island adventures. There's designated priority seating for senior citizens and anyone requiring assistance. Bus fares vary, with options including cash fare (exact change only), tokens, tickets, day passes and monthly passes. Children under age 5 ride free. See bus fares and bus schedules.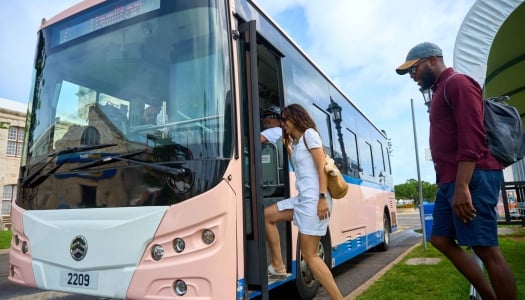 PRIVATE RIDES: RENT BIKES, MOPEDS, MICROCARS & MORE
Electric Bike Rentals
With a variety of styles plus health benefits for people and the planet, it's hard to go wrong with electric bikes. Pedal when you want and let the bike back you up. Whether you're looking to ride on streets or trails, electric bikes make it easy to get around at your preferred pace.
Rent electric bikes at various spots around the island. On the St. George's waterfront, PEDEGO Bermuda offers electric bike rentals in various styles including cruisers, road bikes and fat tire bikes. Kids' fat tire bikes are also available. PEDEGO Bermuda's "Best Bike" option is a Platinum series Interceptor, City Commuter or Boomerang featuring front-fork suspension, 10 speeds and a 52-volt battery. 
In the City of Hamilton, Social Cycles offers their go-to bike: the SC-1, a compact, easily maneuverable and fun-to-ride electric bike. It features 20-inch wheels, a deep step-through frame and wider tires, making it a fit for just about any height or skill level.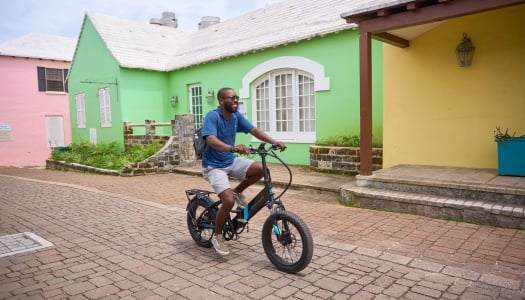 Electric Mopeds 
For more power and comfort, check out the electric moped rental option from Elbow Beach Cycles near Elbow Beach on the South Shore. You can rent by the day, and Elbow Beach Cycles will pick up and drop off to you anywhere on the island. All rentals come with free riding lessons, helmets, locks and roadside assistance. Note that the electric moped rental is recommended for advanced riders only.
Electric Scooters
As Bermuda's brand-new and first-ever e-scooter rideshare option, Whip offers a quick, convenient and fun way to get around the island. Just get the app, find a Whip, scan and go!
To grab a Whip scooter, first download the Whip app on your phone. Use the locator map to find the closest scooter available in your area. Once you find it, scan the QR code on the Whip or enter the Whip number to unlock the scooter. To end your session, park and swipe to complete your ride. You can leave the Whip anywhere on the island (parked neatly, to the side) – you don't have to return it to where you picked it up. Note: You must be 16 or older to ride and you will require internet/WiFi to use the app.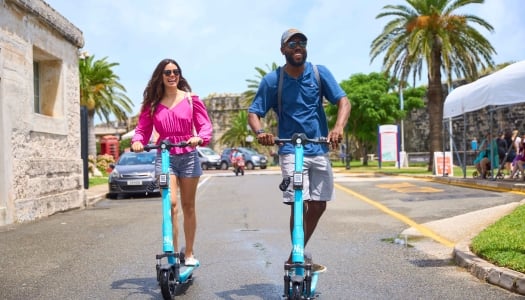 Electric Microcars
To help control congestion on Bermuda's roads you won't find traditional rental cars, but the island's fleet of fun and eco-friendly electric vehicles are more fitting for getting from A to B. These microcars are compact, safe and easy to drive. 
Rental options include the enclosed, two-seat, tandem-style Twizy from Current Vehicles or the Gem from Rugged Rentals. Read more about Bermuda's growing list of microcar rental options.