Article
Visiting Bermuda with Pets
Wild, nature trails, expansive gardens and warm shores to splash around in – with the right planning, travelling to Bermuda with your dogs is easy and rewarding.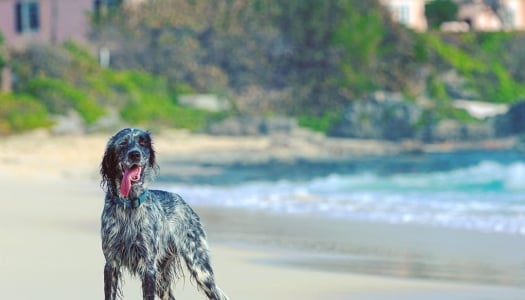 @hunterthebermudian
From Spittal Pond Nature Reserve to the subtropical plant paradise of the Botanical Gardens and neighbouring Arboretum, taking your best friend for a walk is no ordinary experience. Other options include a jog on the Railway Trail that runs the length of the island as well as miles of sandy shoreline to cover – beaches are open to animals from November to April. We promise your dog will love it out here as much as you do.
TO BRING DOGS INTO BERMUDA FROM THE US AND CANADA, YOU WILL NEED:
A Bermuda Import Permit: The Bermuda Government requires an import license for visiting dogs supplied by the Department of Environment and Natural Resources. Just visit your local vet to submit an application.
A Health Certificate: The importer must be able to present a veterinary health certificate issued within 10 days before your arrival from a licensed veterinarian identifying each dog by reference to its name, breed, sex, age and colour, stating that the animal is not infected with any communicable disease and is free of external parasites.
A microchip: The animal must be implanted with a microchip read by a standard microchip reader.
Pest Control statement: A veterinary statement that each animal has been treated on the day of examination with an acaricidal preparation, which is known to have residual activity against ticks.
A Rabies Vaccination Certificate: Visitors must provide a veterinary statement verifying that each animal has not been exposed to rabies nor been present in an officially quarantined rabies area within the last six months and a Rabies vaccination history, showing at least two rabies vaccinations. Dogs under 10 months old, and dogs of any age that have received only a single rabies vaccination, do not qualify for entry into Bermuda.
If you are in any doubt about whether or not your dog has the required vaccinations, please fax a copy of your dog's complete vaccination history to the Department of Environmental Protection, Animal Husbandry: +1 (441) 236-7582, Animal Imports: +1 (441) 232-0046 or email: [email protected]
Dogs arriving directly from the U.K., Ireland, Australia, New Zealand or Jamaica do not need a Rabies vaccination.
Further details and contact information can be found on the Bermuda Government website.
See https://www.gov.bm/online-services/import-dog-or-cat for a list if restrictions on certain breeds.
WHERE TO STAY
While vacation rental homes are often the first choice for dog-lovers, many of the island's hotels welcome our furry friends.
The Hamilton Princess & Beach Club accepts up to two dogs per room as long as they weigh less dogs less than 25 lbs. There is a charge of $25 a day, per pet; they cannot be left unattended and must be kept on a leash in public areas. 
Rosewood Bermuda is a pup's paradise with expansive lawns and trails for long walks and no additional fees. Dog beds, dog treats, toys and water bowls can also be provided – the only condition: your pal must weigh less than 25 lbs.
Here's a complete list of options on where to stay in Bermuda.
EATING OUT
Many of the island's restaurants welcome dogs at tables on the porch or patio. Here are a few. Call ahead to reserve:
Pink Beach Club, The Loren
Devil's Isle Café, City of Hamilton
Village Pantry, Flatt's Village
Gulfstream, South Shore, Southampton
The Wharf Tavern, Town of St. George
Wahoo's Bistro & Patio, Town of St. George
North Rock Brewery, Smith's
Sul Verde, Rosewood Bermuda
Island Brasserie, Rosewood Bermuda
Beach Club Restaurant, Rosewood Bermuda
The Docksider Pub & Restaurant, City of Hamilton