Article
The Triathletes Guide To Bermuda Flora Duffy
Pro triathlete and gold medal winner Flora Duffy reveals why the island is so good for the sport, and where she likes to swim, bike, run and spend her time in Bermuda.
Adventure,
Beyond the Beach,
On the Beach
At just 21-square miles, Bermuda might not seem like the most obvious triathlon hot spot. But the island has turned out plenty of Ironmen and Ironwomen – including Olympic athlete Flora Duffy, who brought home Bermuda's first-ever gold medal. Flora also won the Xterra World Triathlon Championships in Maui.
Here's her guide to the island's best running, swimming and biking routes, in her own words.
Why Bermuda is an Ideal Triathlon Training Destination
It's Beautiful
I'll admit, I am a huge Bermuda fan and will always sing the island's praises. There are few places I have been to that match the beauty of Bermuda, and I have seen a lot of places!
The Climate
It can get quite warm in the summer (May through September), but by no means is it unbearable. Early mornings and evenings are ideal training times. In winter, it rarely drops below 60 degrees, and I'd say the average temperature is between 65 and 75 degrees – perfect training weather. The water stays pretty warm, too.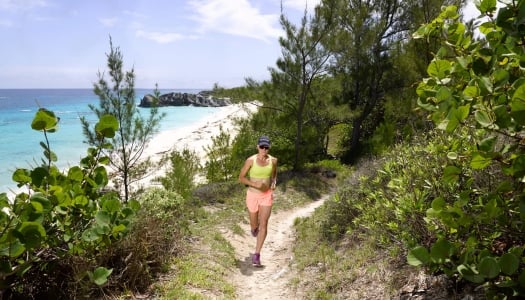 There are few places I have been to that match the beauty of Bermuda, and I have seen a lot of places! 
FAVOURITE RUNNING ROUTES
The Railway Trail
The Railway Trail is a hard-packed dirt trail that runs the length of nearly the entire island. The rail lines have been removed and it is flat. Some parts are right along the coast, offering beautiful ocean views. I grew up right next to it and would spend many hours running along it.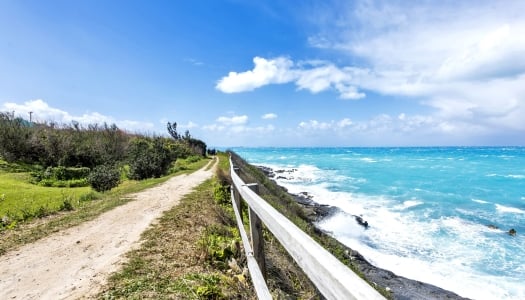 Bermuda Botanical Gardens
I ran here a lot when I was a teenager. My running coach at the time worked at Bermuda Botanical Gardens, and together we came up with quite a few routes. He jokes that "The Duffy" route is still used today with some of his athletes.
South Shore
Another favourite of mine. I can run straight from my door along the road – mostly with sidewalk or grass sidewalk – for miles. All of the well-known beaches are along South Shore, so it is a really pretty run.
Favourite Open-Water Swimming Spots 
I have a few favourites – Shelly Bay Beach, Clearwater Beach, Harrington Sound and Clarence Cove. I pick and choose where I want to swim depending on wind direction, and if I have swimming company or not.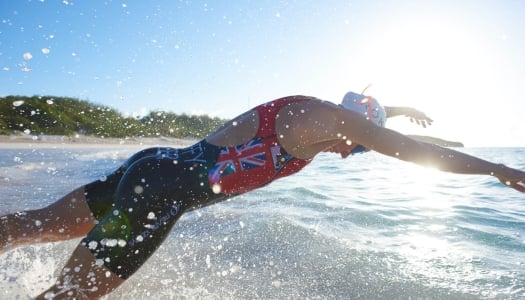 FAVOURITE BIKE RIDE
Head east towards St. George's and St. David's. Once in St. George's, I take some back roads that twist and turn along the coast, passing by Tobacco Bay, Fort St. Catherine and other beautiful hidden beaches as well as some local neighborhoods. It is truly stunning. Every time I ride it, I notice something new. I'm always taken aback in awe of the beauty of Bermuda.
Flora's Perfect Training Day in Bermuda
At 6:15 am, I join a group ride loosely organized by members of the cycling community. It meets every Saturday morning at the Johnny Barnes Roundabout outside Hamilton. [Side note: Johnny Barnes was a legend in Bermuda. He stood at this roundabout Monday through Friday from 5-9 am greeting (waving, blowing kisses, etc.) to those driving into town for work. Ask any Bermudian about him.]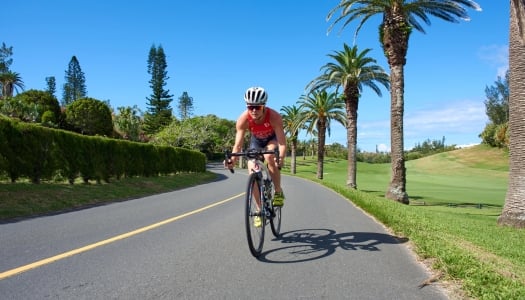 The ride heads west all the way to the Royal Naval Dockyard. We turn around and then ride back into Hamilton. It is a beautiful and fun ride. The route is undulating, mostly along the coast, has lots of twists and turns, and you always get to see a killer sunrise.
On the way back, the ride turns into a race, so the group, which started at about 30 people, ends with about five people. But everyone on the ride knows the finish spot: Miles Market, a high-end grocery store. We all get coffee and pastries and discuss the ride. It is really cool. I usually add on more by riding to the other end of the island. Bermuda may be small but the riding is pretty good, and sure, a four-hour ride will take you around the island and back, but how much more do you need?
Mid day, I will swim either open water or go to the swimming pool at the National Sports Centre.
In the evening, I'll go on a run of some sort depending on what my coach has set. I usually run from my house to the Botanical Gardens and do a few loops around there.
And finally, I end the day with some home cooking by my mom.