Article
Top Eight Private Foodie Experiences Bermuda
From dinner cruises to cooking classes, try one of these unique culinary experiences for the ultimate island inspired meal.
Thanks to Bermuda's balmy climate, fertile soil and pristine marine ecosystem, island chefs are spoiled with abundant seasonal yields, which means plates are full of fresh, locally sourced food year-round. And while Bermuda's best restaurants commonly dish up world class fare, one of the best ways to dig in is by hiring one of the island's top chefs and event planners to create an unforgettable culinary experience like none other. Featuring menus with vegan specialties, southern barbecue and traditional island cuisine, check out some of our favourite foodies for your next farm-to-table dining experience. Appetite required.
BEACH BBQ
There's just something about eating outside that makes food taste better – and when those dishes are expertly prepared by some of the island's most noted kitchens and served up seaside with a fresh ocean breeze, the experience is downright incredible. Savour a delicious Sunday dinner at Rosewood, where hotel guests can chow down on BBQ classics prepared in a Texas-style smoker right on the beach: perfect cuts of meat paired with mac and cheese, mashed potatoes, coleslaw and more. Come for the food, stay for the live entertainment by Dave and Aimee. On Saturday nights, feast under the stars at the Hamilton Princess' Zuill's BBQ Buffet (we recommend the Zulu Potato Salad and the Bermuda Spiced Smoked Brisket flavoured with Black Seal rum). Grotto Bay serves beach BBQ on Mondays and Thursdays: on Monday, enjoy dishes like paella, black-eyed peas and rice, and jerk chicken, while Thursday's menu is surf and turf classics.
ENTERTAINING EATS
The Lido Complex, perched on a stunning stretch of South Shore beach, boasts some of Bermuda's best views – and it's the place to be to get your weekend started right. Live entertainment is on the menu Thursday-Saturday at the Sea Breeze Lounge & Terrace, with a mix of acoustic classics and DJ sets for a fun, festive island vibe. For a more intimate experience, book your private table and indulge in a decadent dinner perfectly paired with a selection of cocktails and wines. Dedicated service and breathtaking views make for an unforgettable evening.
HIT THE HIGH SEAS
When entrepreneurs Josh Crockwell and Nicole Minnich purchased a 40-foot sailing catamaran called Azalea in 2018, they wanted to not only showcase Bermuda's turquoise waters, but dazzle their guest's tastebuds. "Food is the center of most gatherings," says Minnich, who along with Crockwell co-owns True Bermuda Charters, "so making that a focus of the charter experience has really been a game changer for us." And change the game they have. Thanks to fishing excursions aboard their other vessel—a 26-foot center console called Aurora—the pair reel in much of what they serve aboard Azalea. That means groups of two to six people can dine on fresh, chef prepared seafood, or virtually anything they desire, while sailing through dreamy west end locations. "It's all intertwined—the food, the drink, the sailing," says Minnich, who loves taking guests to a secluded cove called Ely's Harbour. "It's one of the greatest experiences you can have in Bermuda."
JOIN THE PARTY
Looking to eat like a local? Then join one of the unique culinary experiences planned by Farm to Table BDA, a full-service catering company that plans large group dinners in unusual locations across the island, which are then followed by DJ-fueled dance parties. "It's a lot of work to put these events together," says co-owner Ondreyah Rochester, who along with her partner Jakila Maybury plans parties for up to 55 people, "but once we actually see the event in motion and watch everyone having a good time, it's completely worth it." Three-course menus feature locally-sourced ingredients from several island farms—like Amaral Farms in Devonshire, which grows fruits and vegetables year-round—and its venues are among some of the most unique on the island (like FryDays trampoline park in the Royal Naval Dockyard where they hosted a party on Halloween). "Trust me," says Rochester, "you won't forget one of our dinners."
LEARN HOW TO COOK
It happened during a trip to Europe, while 35-year-old Jakai Franks was taking a cooking class in Italy, when the idea hit him. "Food is a great way to connect with world cultures, so I try to take a cooking class everywhere I travel," says Franks. "That's when I realized there was nothing like that class offered anywhere in Bermuda." So when Franks returned home, he teamed up with Kieshé Simmons, a Red Seal Certified chef who was eager to create hands-on cooking classes for locals and visitors alike. Known as Kooking with Kie & Kai, the pair now offer three-hour mobile courses for up to 20 people, that not only teach the basics of cooking Bermudian dishes—think grilled local snapper with pineapple salsa, peas and rice, or traditional Bermuda fishcakes—but also branches out to other cuisines including Jamaican, Italian and vegan. Says Franks: "We're just really passionate about food."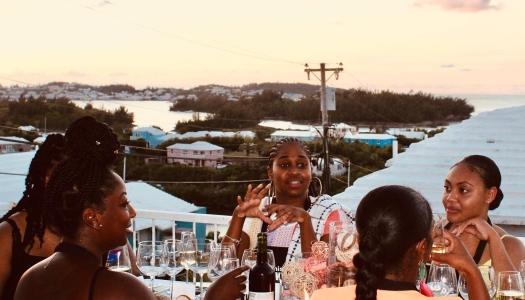 @kookingwithkieandkai
SPICE IT UP
Before Rinelle White started Umami Spices in 2018, she realized that many people liked the idea of cooking, but shied away from preparing bold, flavour-filled meals. "People were struggling to cook healthy, tasty meals," says White, "so I created quality spice blends and quick meal planning ideas to take the stress out of meal prep." And just like that Umami Spices was born—what is now a thriving small business that sells unique spice blends on its website and in stores like Long Story Short in St. George's and D'angelini's in Hamilton. But beyond her spice blends, what White loves most is creating bespoke three-hour dinners for eight to ten people with local foods that feature her spices (like Stardust made with star anise, ginger and garlic, which is perfect on lamb). "Not everyone is adventurous foodwise," says White, "so it gives people the chance to try something new."
FUEL UP ON PLANTS
"It's amazing the endless creations that can be made from Mother Nature's harvest," says Trevor Johnson, a Johnson & Wales trained chef who specializes in plant-based dishes like grilled barbecue tofu, vegetable jackfruit curry and sweet potato soup with coconut flatbread. In fact, his Instagram feed @PlantBasedFuelBDA is packed with healthy vegan dishes, which is one the ways he interacts with a burgeoning clientele around the island. The other way? Johnson circulates a weekly plant-based menu via WhatsApp, which allows clients to choose what meals they want, then pick them up from his home kitchen near Devil's Hole. It's a creative small business model that the accomplished chef has perfected, and one that keeps customers clamoring for his private plant-based dinners for up to ten people. "Fueling the body right is not just my passion," says Johnson, "it's my job."
GO YACHTING
If you're searching for a taste of old school Bermuda—one that takes you aboard a classic 1975 custom built yacht that motors through picturesque bays—then look no further than Traveler, a 50-foot trawler available for bespoke dinner charters. Once owned by former Bermuda Premier, Dr. David Saul, the handsome vessel oozes maritime charm with its classic navy blue hull, teak brightwork and stainless steel finishings. But beyond its dock appeal, Traveler is mostly known for its private, chef's table dinners for up to 12 guests—fully customizable culinary experiences spearheaded by owner Keerome Maybury. "It's a sensory overload in every sense," says Maybury, whose chefs, many of whom work in some of the island's top restaurants, source most of what they serve from local farms and fishermen. "From the aesthetics of the boat, to the story behind the menu, to the interaction with the chef who's cooking your food onboard—the whole experience is unforgettable."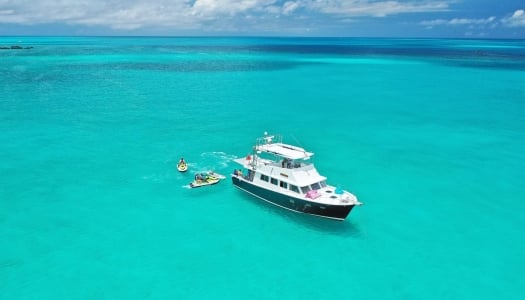 @travelerchartersbermuda
BONFIRE MAGIC
There's nothing like winding down at the end of the day with a bonfire on the beach. Whether it's just you and someone special or the whole crew, gathering around a bonfire with some snacks, beverages, stories and songs is a quintessential summer memory – one you can make all year long here in Bermuda. Bermuda Bonfires offers everything you need for a safe, magical bonfire experience including a fire permit, firewood, seating, a fire extinguisher, bluetooth speakers, and a host of options to cultivate your experience. Add-on a DIY grill to prep your own dinner, or arrange for private catering through Bermuda Bonfires.
UNPACK A PICNIC
When Elizabeth Blankendal first started planning intimate get togethers for her friends, she had no idea her efforts would eventually turn into a full-fledged private event business. "The whole idea just grew organically," says Blankendal, who would use pieces of décor she'd find around her house to create unique picnics on the beach. Fast forward to 2019 when the intrepid entrepreneur unveiled Eettafel—pronounced ate-taf-fel, the business is named for a Dutch word meaning dining table, which is a nod to Blankendal's heritage since her father is from the Netherlands and her mother is Bermudian. But beyond its low country roots, what the event planning firm is best known for are its high-end picnics featuring fresh, locally sourced foods, served in unique locations around the island, like Southampton's Church Bay or historic National Trust properties. "There are so many beautiful venues around Bermuda," says Blankendal, "the options are endless."
DINNER WITH A VIEW
Some of Bermuda's most memorable meals are also the simplest. For a low-key night out that you'll never forget, grab takeout from one of the island's beloved eateries – think fish sandwiches to go from Woody's, savoury pies from Baxter's Pies in Somerset, or roti from Trini Spice – then head to nearby Long Bay Beach. Find a spot in the sand, spread out a blanket or towel, and enjoy the sunset. This is one of the most gorgeous places on the island to end the day, and with big Bermudian flavours to feast on, it's guaranteed to be a totally satisfying experience. Don't forget – after your picnic or takeout dinner, leave everything as you found it! Bring litter with you and make sure to keep our beaches, parks, and outdoor spaces beautiful and clean.