Article
Why Bermuda Is A Safe Destination For Solo Travellers
Ever considered travelling by yourself?  Well, you're not alone. According to recent data, nearly one in four people have a solo trip planned for the next year, many of them eager to see more of the world without needing to wait for someone else to join in. And good for them: travel has been proven to make us happier, healthier, and more creative too. 
Local Hotspots,
Travel Tips
Yearning to set out on a new journey and gain the confidence that comes with solo travel, but a little unsure where to dive in? That's where we can help. Here are just a few reasons Bermuda is an ideal trip for anyone looking to taste the freedom that comes with solo travel, even if you've never headed out on your own before.
TRAVELLING HERE IS QUICK AND EASY
You don't need to commit to a long getaway to enjoy the benefits of travelling by yourself. Given that we're so close to mainland America (90-minutes from New York City and 2-hours from most East Coast cities), Bermuda is the perfect place for a quick solo getaway that doesn't take a huge commitment. Start your travel planning and check out which flights are best for you.
GENUINE HOSPITALITY CREATES A SAFE DESTINATION
Bermuda is a place where you can feel safe and secure travelling on your own. No matter where you go; you'll be surrounded by smiling faces. We're so friendly that one of our idols, Johnny Barnes, used to wish commuters good morning every day while standing at a roundabout in Hamilton. A statue now reminds us of his kindness every time we pass by. Out here, we have a reputation for being friendly, laid back, and always happy to help travellers. And since we speak English, it's pretty easy to ask for local tips on what to do next.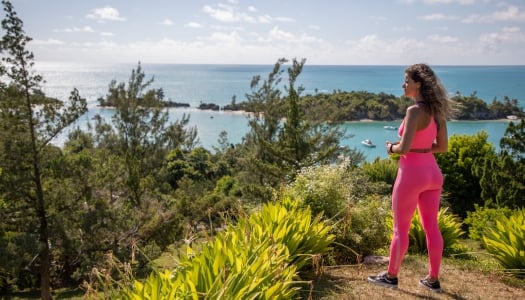 21-SQUARE MILES OF ACCESSIBLE ADVENTURE
So many adventures are in reach in Bermuda year-round. Hike or ride along nature trails, sandy beach paths or the railway trail; an 18-mile path that takes in forts, coastal scenery, great nature and food stops too. For water-based fun, there are kayaks, jet skis, stand up paddleboards, sailing and incredible snorkelling and diving amongst the coral reefs. There are plenty of ways to get around on your own here too. Hire an electric car to zip around the island; just you and the open road ahead! 
And don't forget, we also know how to kick back and relax. Find some solitude in a hidden cove at Cooper's Island, and make some new friends at some of our favourite hangouts like Gombeys, Tobacco Bay, or at Wine Down Wednesday.
FEMALE-RUN BUSINESSES OFFER SPECIAL EXPERIENCES 
Our island is proudly home to many amazing female-run businesses, all of which offer a warm welcome to those travelling solo. Wander through a store filled with handpicked books and hula hoops, browse collections of handmade treasures, opt-in for a cooking class at one of our fantastic bakeries, or join some of these incredible women on a tour of the World-Heritage listed Town of St. George. We're so proud of and inspired by our local friends who are living their dreams out here.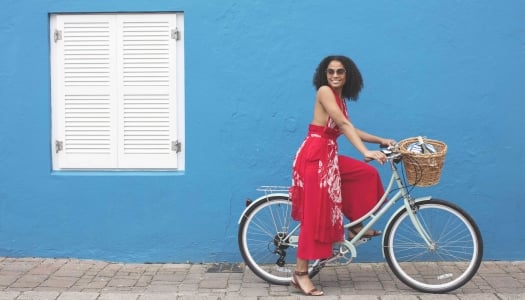 In Bermuda, we like to think travel is all about the stories you'll treasure, the people you'll meet, and being true to yourself. Come explore with us and see where the adventures take you.  
Need help planning a solo trip to Bermuda? Check out our planning resources here or leave a message for us on Facebook or Instagram.