Article
Bermuda's Eco-Friendly Microcar Rentals
Travel light and go exploring in style when you rent one of Bermuda's fun and eco-friendly microcars. Expect narrow and winding roads that hug the shore, and remember to drive on the left as you take in the views. 
Bermuda's fleet of electric cars – known as microcars – provide a safe and convenient way to explore the whole island in style and at your own pace. From one end to the other it takes about one hour, and one charge is sufficient! Fun fact: Standard rental cars do not exist here, but with all the fun and modern microcar options, you won't look back.
 
From Twizys and Tazzaris to Amis and Bermis, Bermuda microcars offer a mix of stylish design, convenient amenities and eco-conscious features. They're zero gas, zero-emissions, all go. Consider them your green light to Bermuda adventure. All you need is a current driver's licence!
Current Vehicles
Current Vehicles offers a fleet of electric microcars easily available through their Current Bermuda app. The vehicles can be found at the Hamilton Princess & Beach Club hub or at other locations across the Island, located in the app. Four-wheeled and enclosed, the vehicles provide an excellent alternative to the iconic Bermuda scooter. Current's Renault Twizy and Citroen Ami are two-seat, tandem-style microcars with a range of 50+ miles (75km) per charge. Just under four feet wide, these microcars are ideal for nimbly navigating Bermuda's roads. Booking and charging your rental is easy – using the app, you can locate available vehicles and charge up at the Hamilton Princess or one of the 100+ "Oasis Points" around the island. Charges are included in the rental fee.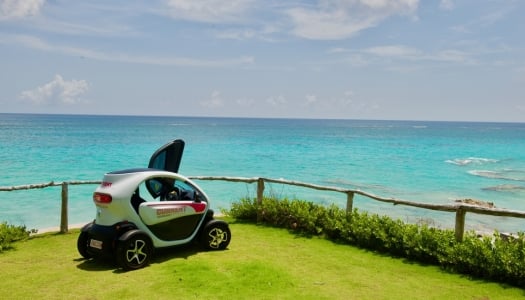 Bermuda Rental Car
Bermuda Rental Car's Tazzari is a two-passenger enclosed electric car with A/C and heat, large windows, and a range of 43 miles (70km) per charge. Made in Italy, the Tazzari is a stylish ride with a futuristic design and several eye-catching colours to choose from. Side-by-side seating make this microcar perfect for couples looking for a romantic drive around the island. Another option is the slightly smaller Anaig Quick, which seats two passengers and boasts a similar range to the Tazzari. Bermuda Rental Cars have locations Island wide for easy pick up and drop off.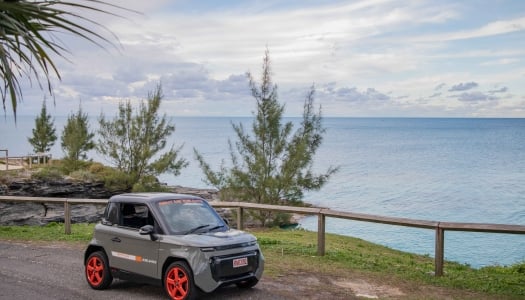 Localmotion
Localmotion's Bermis are kitted out with air conditioning, Bluetooth for smartphones, and a panoramic sunroof – perfect for taking in all those spectacular Bermuda views. Fully electric, these stylish vehicles allow drivers to travel quickly, quietly, and swiftly, with a range of almost 100 miles (160km). Bermis also come equipped with a powerful lithium battery, allowing travellers an easy charge through any 110V outlet. Located in Hamilton, Bermi's can be booked via telephone or email and a delivery service is available upon request.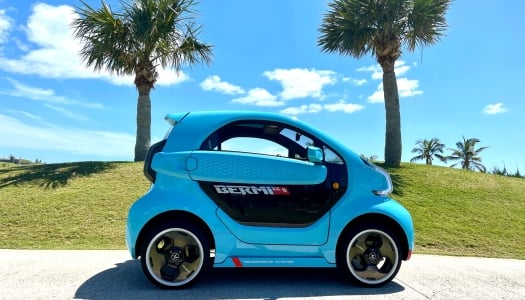 Rugged Rentals
Rugged Rentals offers a fleet of Gem microcars, available in St. George's (deliveries to other parts of the island are available by request). Featuring a range of 93 miles (150 km), A/C, Bluetooth radio, and side-by-side seating for two, the Gem is an excellent choice for a compact yet spacious ride. Charging stations are located across the island, or you can simply plug into any 110V outlet.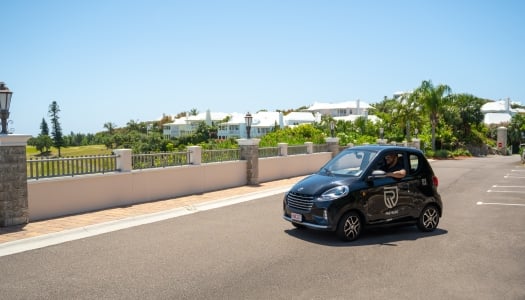 Bermuda Driving Tips
On Bermudian roads, motorists drive on the left (UK-style).
The maximum speed is 22 miles per hour / 35 kilometres per hour.
On all Bermuda roads, bicycles and scooters have the same road rights.
Always wear your seatbelt when driving.
Explore more options for getting around Bermuda.