Article
Kayaking Bermuda
A perfect way to explore the island is paddling to hidden gems you can't get to on foot. See nature like you've never seen before.
With its calm and crystal-clear waters, Bermuda is a kayaking paradise. You won't just see incredible on-the-water sights and encounter exceptional wildlife; you'll also get a good workout. No previous experience is required. If you're a newbie, Bermuda outfitters can get you trained on your kayak in no time.
Whether on a guided tour or on your own, you'll be ready to paddle out to secluded coves, shipwrecks, coral reefs and more.
Here are a few Bermuda kayaking options:
Kayak Eco Adventure
On this 3.5-hour guided-and-narrated excursion with Island Tour Centre, explore Bermuda's rural West End aboard a kayak. But this isn't just any kayak. You'll see above the surface, of course, but also below, thanks to your kayak's glass bottom. So you'll see coastline creatures of all kinds (Bermuda longtails, egrets, herons and crustaceans) as well as underwater life (coral, fish and turtles). 
Crystal Clear Kayaks
Take a guided tour from Daniel's Head Beach across tranquil waters in a clear-bottomed kayak. From here you'll have easy access to one of Bermuda's most amazing sights – the HMS Vixen, a three-masted British gunboat from the 1860s that was sunk in shallow water off Daniel's Head. Her bow, which sticks out above the surface of the water, is a local landmark. Bring some food for the fish and dozens will come swimming by.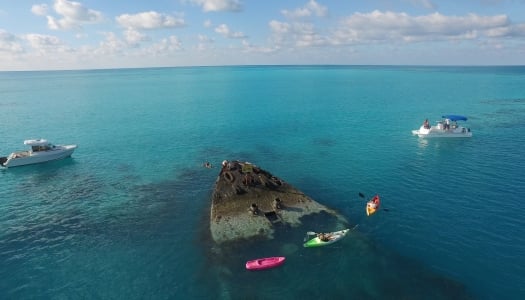 Blue Hole Water Sports
Set off from Grotto Bay Beach Hotel on Bermuda's East End for an unforgettable kayak adventure. You'll glide through Whalebone Bay, Walsingham Nature Reserve and Baileys Bay, seeing sea turtles, seabirds and rugged coastal cliffs. Bring along snorkel gear for a closer look at what's happening beneath the waves.