Article
Jet Skiing in Bermuda
Zipping around the island on a jet ski is a great way to enjoy high-speed thrills on the water, discover remote islands and coves and see Bermuda from a new perspective. 
Going jet skiing is an adrenaline rush that also gives you a view of the island you can't get in any other way. You'll zoom all over the turquoise waters that surround the island and check out otherwise tough-to-get-to gems – secluded beaches, hidden coves and sunken ships. You can even take a jet ski tour.
Never ridden a jet ski before? No problem. Outfitters will provide instructions on driving and safety.
Jet Skiing Hot Spots
The Great Sound: Bermuda's Natural Amphitheatre
Exploring the Great Sound – a closed body of inshore water with 60 islands or so – is one of Bermuda's best jet ski experiences. You'll glide through Hamilton Harbour and past yachts and sailboats on the Straits of Paradise. You'll get a look at some of the luxurious homes on Millionaires Row (also known as Fairyland) and, perhaps most notably, you'll get to travel along the exciting America's Cup racecourse.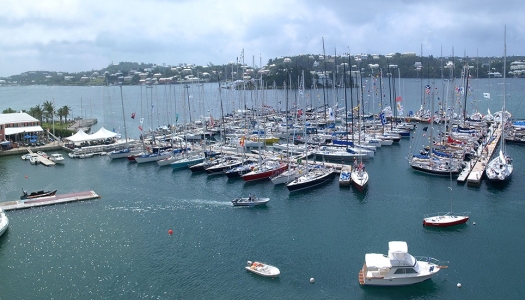 The Harrington Sound: A Waterscape Teeming With Life
Underwater caves and subterranean passages surround this inspiring and precious inland lake (connected to the Atlantic by a small inlet). Once in the sound, you'll discover remarkable volcanic formations and experience an incredible diversity of wildlife.
Bermuda's Barrier Reef: Colours Beneath the Waves
Bermuda has one of the healthiest and northernmost reef systems in the world – its surrounding waters are home to an abundance of fish and even whales during migration. Bring your snorkelling gear to get a closer look at this incredible undersea world.
Shipwrecks Galore
Bermuda is known as the Shipwreck Capital of the Atlantic with more than 300 sunken vessels surrounding the island, several of which are visible from the surface of the water. Take a jet ski excursion to see the HMS Vixen, whose mast sticks out from under the waves. Bring some fish food – the fish will swarm around you once it hits the water.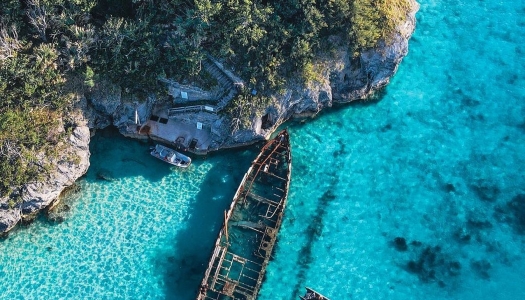 @divebermuda
Snorkel Park Beach
Zip out from Snorkel Park beach for a beautiful trip around the western end of the island. You can glide over sea gardens and see swimming rays, among other sights. Rates start around $145 (for 1 hour) and $270 (for 2 hours) per person. Call to check the rates before you go.
Bermuda Jet Ski Tour Operators
K.S. Watersports
Depart from the historic Royal Naval Dockyard and get ready for a 75-minute jet ski adventure exploring the western end of Bermuda. You'll head toward Somerset Bridge (the smallest drawbridge in the world) and on to Ely's Harbour, where you might spot sea turtles, herons and Bermuda Longtails. Prices start at $145 per single; $155 per double. Call to check the rates before you go.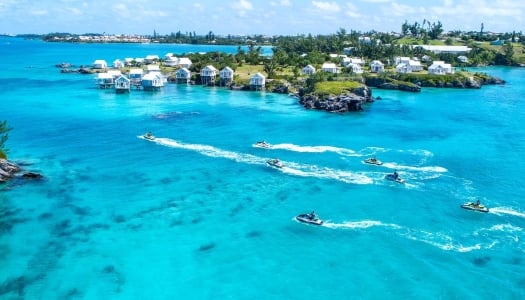 @kswatersports
SEA VENTURE WATERSPORTS
Take a two-hour jet ski safari to discover a fantastic snorkelling spot in secluded Mangrove Bay, where you'll catch glimpses of tropical fish and perhaps Bermuda's famed spiny lobster. Zoom past the Royal Naval Dockyard – its centuries-old fortifications are a sight to see from the water. If you're lucky, the guides might take you to their "secret" snorkelling spot. Prices start at $220 per single, $270 per double. Call to check the rates before you go.
SOMERSET BRIDGE WATERSPORTS
On a thrilling 75-minute jet ski tour, skim across crystal-clear waters, visit the extensive sand flatts off Pompano Beach, watch the majestic Bermuda Longtail perform aerial courtships maneuvers, and explore secluded coves where sea turtles congregate. Prices start at $125 per single; $135 per double/triple. Call to check the rates before you go.
H20 SPORTS BERMUDA 
Carve out your own slice of paradise with a private jet ski tour with H20 Sports. Get familiar with your craft from their sheltered bay at Cambridge Beaches. Glide across Mangrove Bay. Ride through historic Somerset Bridge, the world's smallest drawbridge. Ask questions – this is your own, extraordinary, Bermuda adventure.