Article
Bermuda Shopping Spree: The Clocktower Mall
Once part of a British Royal Navy outpost, Bermuda's Clocktower Mall is now one of the island's premiere retail destinations. Duty-free shopping spree, anyone?
The historic Royal Naval Dockyard spent 150 years as a symbol of Great Britain's military might in the Atlantic Ocean. The warships are long gone, of course, but in their place you'll find one of Bermuda's most popular attractions, including the island's premiere shopping destination: The Clocktower Mall.
Completed in 1856, the Mall originally served as a warehouse for the British Royal Navy, and it was fortified to protect against any unauthorized personnel – the stone walls are three feet thick. Today, you can just walk right in to enjoy more than 20 of Bermuda's finest shops selling authentic Bermuda clothing, crafts and souvenirs, as well as a handful of restaurants.  
Finding the Mall is easy – just look for the two iconic 100-foot-tall clocktowers.
If it's the time of day you're after, check the south tower; in the old days, sailors used the one-handed north tower clock to mark high tide.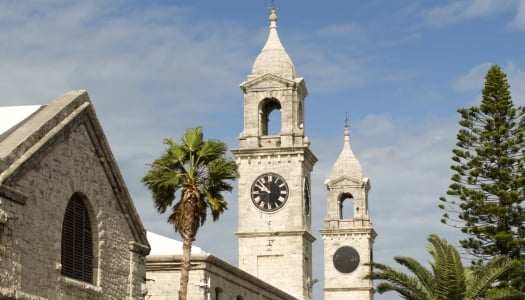 Must-Visit Stores
Pick Up Unique Bermuda Items at These Clocktower Shops
Bermuda Clayworks – A collective of imaginative local studio potters and ceramic artists in the Royal Naval Dockyard, Bermuda Clayworks features a diverse range of professional pottery.
Bermuda Triangle – Here you'll find an eclectic selection of Bermuda-inspired souvenirs and gifts, many of which you won't find anywhere else. Befitting its cheeky name, this is a shop to get lost in.
Carole Holding's Bermuda Shop – Always overflowing with Bermuda crafts and artwork, Carole Holding's shop features many exclusive items made by the island's most creative souls. 
Crisson Jewellers – Serving Bermuda since 1922, this old-world, family-owned business sells elegant jewellery and quality watches. 
Davison's of Bermuda – Pick up some colourful, casual clothes for your Bermuda vacation. Bermuda shorts, perhaps?
Dockyard Linen – Bermuda still takes tea every day, and Dockyard Linen offers a fine selection of tea towels as well as tablecloths, bun warmers, placemats and other home accessories.
Fair Trade Bermuda – Here you'll find one-of-a-kind items from Bermuda and around the world, including arts and crafts, instruments, Asian eccentricities, clothes and household furniture. 
The Grand Bazaar of Bermuda – The husband-and-wife team of Bulent and Teresa Ganal run this colourful Clocktower shop, stocked with a wide array of Bermudian gifts, including popular Bermuda hanging lanterns.
Hand Made Bermuda – Only made by Bermudian hands! This shop showcases the work of local artists and crafters. 
Lisa-Anne Rego Gallery – Take home your very own Bermuda masterpiece. Lisa-Anne Rego expertly captures the colours and personality of the island, and her gallery is filled with wonderful sights. 
The Littlest Drawbridge Gift Shop – The Littlest Drawbridge (named for Bermuda's famed Somerset Bridge) offers hand-made Bermuda Cedar treasures, local gourmet foods and souvenir gift items. 
The Perfume Shop – Pick up great scents from Marc Jacobs, Chanel, Calvin Klein, Dolce & Gabbana, Dior, Givenchy, Yves Saint Laurent, plus many more. Added bonus: they all sell at duty-free prices.
Sidekicks – Football (soccer) enthusiasts will love checking out the racks at Sidekicks, which sells authentic jerseys, bags, flags, scarves, balls, hats, banners and full football gear from both international and Bermudian teams.