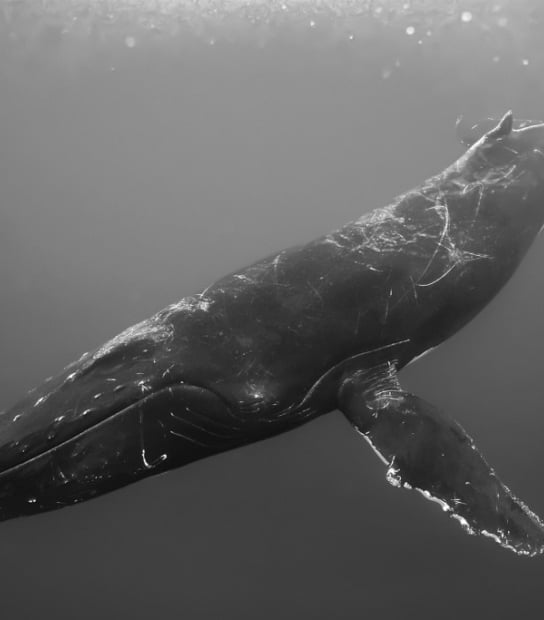 The Ocean They Inhabit Exhibit | Bermuda National Gallery
When
September 21, 2023 until September 30, 2023
Recurring weekly on Tuesday, Wednesday, Thursday, Friday, Saturday
From: 10:00 AM to 04:00 PM
Where
City Hall & Arts Centre 17 Church St.
City of Hamilton
HM 11
Bermuda
Admission
Admission is free. Monday – closed Tuesday – Friday 10am – 4pm Saturday 10am – 2pm
image
map
About The Ocean They Inhabit Exhibit | Bermuda National Gallery
As winter begins to wane in Bermuda, spectacular splashes of water can often be spotted in the distance off the island's South Shore, announcing the arrival of the humpbacks which pass by every year and, for locals, heralding the approach of spring.
It is estimated that between 700 and 1500 humpback whales travel through Bermuda's waters each season on their migratory route between the northern feeding grounds of the Arctic waters and the southern breeding grounds of the West Indies. Their migration is the longest of all animals, travelling as far as 8000 km in each direction. Bermuda, with its isolated position in the mid-Atlantic, plays a unique role as a meeting point midway between the two.  
The photographs in The Ocean They Inhabit, which were taken by internationally renowned Bermuda-based marine researcher, photographer and filmmaker Andrew Stevenson over a two-day encounter with the same pair of whales, capture the majestic grace of the humpbacks in the wild. Like the fine art photographs of Nick Brandt (British, b. 1964) and Peter Beard (American, 1938-2020), they advocate for the strength and beauty of the animals in their natural habitat and remind us of our responsibility to protect both the whales and the oceans they inhabit.
The accompanying film, captured utilising drone technology, follows a second pair of whales as they approach Bermuda's shallow reefs at sunset where they exfoliate in the sand holes.  Its meditative quality is emphasised by the immersive experience of the arial footage.
Andrew Stevenson was feet away from the whales when capturing these photographs. Shot in black and white, the striking images allow us to see the humpbacks, who have monochromatic vision, to see the world as they see it around them, reminding us of our shared existence.
The Ocean They Inhabit: Photographs by Andrew Stevenson is on display at the Bermuda National Gallery through to the end of September. Sponsored by Butterfield.