Itinerary
Eating Your Way from East to West – A Foodie's Guide to What's Good
When we say 'foodie' in Bermuda, think yummy, island food from mom & pop roadside cafés and eateries. Some are mere 'holes in the wall' and others offer outdoor seating or, in some cases, even waterside dining.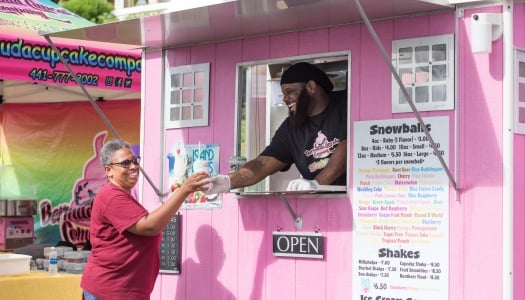 What is Bermuda food anyway? There's a whole history lesson to this, but let's not digress. There are food experiences that can help fill in the gaps in the meantime. Of course, food and drink go hand in hand, so save room to try some Bermuda-made faves.
As you set out on your self-guided food tour, order small portions to share with your crew as you taste-test the best of the best along the way.
Day 1
THE EAST END
The parish of St. George's at the eastern end of the island is known for being the oldest settled area in Bermuda (its town is a UNESCO World Heritage Site because of this fact). By default, St. George possesses Bermuda's oldest culinary secrets, too. Locals from 'down east' contend the best Bermuda food is found in establishments here. Don't just take their word for it, though — go and taste for yourself!
Mama Angie's Coffee Shop is like your grandmother's kitchen, where all the neighbours drop by to see 'what's cooking.' Fresh Bermuda fish consistently sells out. Once the fish is gone, it's gone — until the next fishing day. No need to worry if you miss out, however. Mama Angie's burgers, fries, peas 'n' rice and daily specials all deliver home-cooked goodness.
Yo Cherry Frozen Treats offers delectable desserts in the Town of St. George. Known for its frozen yoghurt and hand-crafted ice-creams made with natural ingredients like Avocado Ginger, Yo Cherry offers something unique for all, including vegan, diabetic and kosher customers.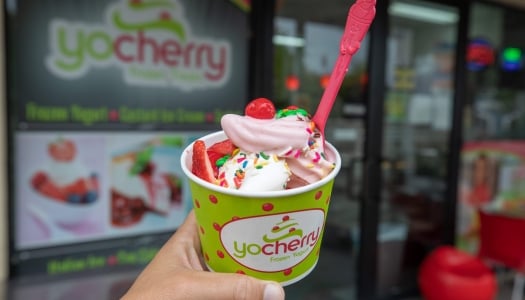 St. David's Seafood is not your ordinary seafood spot. Deep-fried mussels, marinated mussels and shark hash are a few of their tasty, must-try delicacies.
Double Dip Express is an institution in the East End. Whether entering the parish of St. George's or departing, the ice-cream parlour's bright green exterior can't be missed — nor should the deliciousness that awaits inside.
BQ Beach Grill overlooks the beautiful pink sand of John Smith's Bay. With a stunning view of turquoise rollers, and fresh-grilled delights to order, your food tour could end here and no one would blame you.
D & C Grill is another popular roadside eatery near the water. Best known for take-out, it also offers dine-in, letting you dig into jerk-flavoured pork or chicken, curried goat, peas 'n' rice, mac 'n' cheese, and many other island comforts.
Day 2
CENTRAL & THE CITY OF HAMILTON 
The central part of the island holds its own on the culinary front. Its reputation rests on the big establishments, but smaller eateries are better suited to foodies who want to dig deeper into Bermuda's local scene. For quick island bites and comfort dishes, these spots do not disappoint. Park your rental scooter or electric car and explore on foot.
Soul Food Grill & Cafe is true to its name and its daily offering never strays far from the classic tastes of homestyle cooking.
Jamaican Grill is the veteran on 'the block' when it comes to jerk. Curry goat, oxtail and brownstew chicken are all regular dishes on the menu. If you know, you know.
Don't let this takeout spot fool you. Fish & Tings is serious about its food. Baked whole fish, daily soups, fried dumpling and 'Escovitch Sprat' keeps everything 'irie.'
Fresh Bermuda fish is the order of the day Lost in the Triangle (LITT). Get acquainted with bonita, turbot, amberjack, wahoo and rockfish (grouper), as they all get rotation on the specials. Spiny lobster (in season September to March only) is definitely worth a try also.
There are several eateries that serve vegan food in Bermuda and Om Juicery is one of the standouts. Cold-press juices and superfood smoothies are always on offer. Daily, freshly made vegan bowls are also available.
An island institution, Art Mel's Spicy Dicy is uber-famous for its gargantuan fish sandwich. It's customisable. Add any combination of toppings — tartar sauce, hot sauce, coleslaw, lettuce, tomato and cheese. However, the lightly fried fish will always be served on raisin bread. That part is non-negotiable (well, unless you have a raisin allergy).
Cupcakes are only a part of the culinary story at Bermuda Cupcake Company Snowball Shack. In addition to home-baked cakes and cookies, the baking wizards here create frozen treats, gourmet popcorn, cotton candy and elaborate ice cream and sherbert (sorbet) shakes. If that isn't enough, you can also try a snowball (snow cone) with any combination of 40-plus specialty syrups.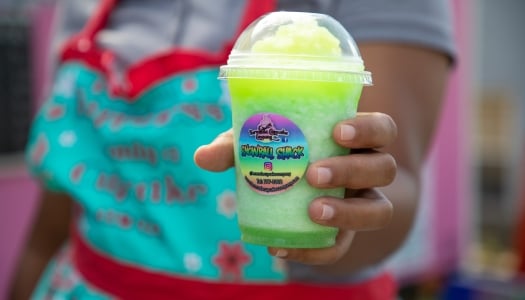 At Grannie's Kitchen, the name says it all. This eatery offers home-cooked goodness from sweet to savoury, made with love and from scratch. Bermuda fishcakes and fish sandwiches are only two local favourites on an extensive menu of comfort food.
Ashley's Lemonade is 'sunshine' in a cup. Fresh lemons, agave, mango and strawberries with a hint of ginger or rosemary are all freshly squeezed flavours you can expect here.
SeaSide Grill, a Best of Bermuda 2020 winner, consistently ranks as the 'people's choice' for fresh grilled seafood. Stop by for any of its dishes and you'll have made a wise decision.
Located all over the island, food trucks (known as lunch wagons here) are a slice of island life in Bermuda. Look out for them and their uniquely Bermudian flavours as you explore.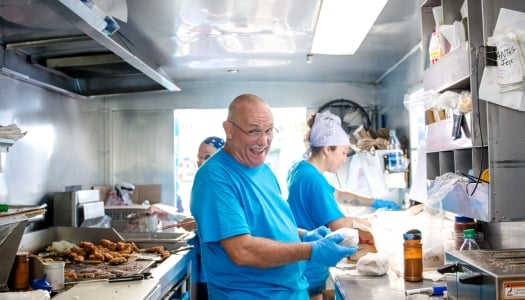 Day 3
THE WEST END
Some would say 'save the best for last' (in this case the West). However, depending on whom you speak to, that can run you into some friendly trouble. The West End's culinary profile for authentic island cuisine runs deep and there is no shortage of mom & pop eateries.
Scoops Ice Cream & Cupcake Cafe is brimming with homemade deliciousness. Flavourful combinations run the gamut from chocolate to 'Granny Durham Apple Pie.' Sherberts (sorbet), ice-cream sandwiches, milkshakes and baked goods are sure to satisfy your sweet tooth.
Island Cuisine and Tuck Shop are a two-for-one stop. Located next door to each other, the family-run businesses are 'sister' establishments. Diner-style food and gourmet baked goods are on offer, respectively.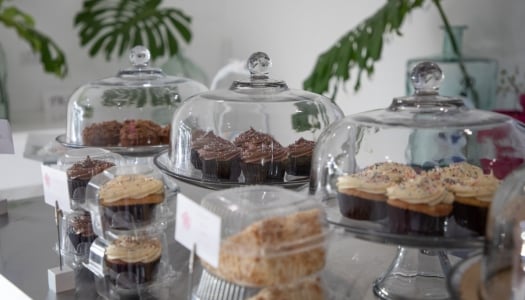 Heading further west, you will come across J&B's Wood Fired Pizza. Just imagine a mobile, thin-crust pizza company that bakes to order. Find them in the west on Thursdays, in the east Tuesdays, and a few other locations as per a well-followed social page. If pizza is not a fave, there are wood-fired baked nachos, too!
Generosa's Cuisine sticks to its Portuguese roots. This 'Best of Bermuda' winner operates out of a food truck, but make no mistake: dishes like the sautéed codfish with onion and scrambled egg, chorizo patties, or octopus stew taste as if Mama Generosa cooked them in her kitchen herself.
Home-baked goodies in a post office is what you get at The Bridge Trading Post. Located next to the 'World's Smallest Drawbridge,' stop in for a slice of 'Coconut Cake' or 'Red Velvet Cheesecake' – and an Instagram-worthy photo.
Baxter's Pies is hiding in plain sight off the main road in Sandys (across from West End Primary School). There's no store sign. Just ask someone in the area where to find 'Patsy, who makes the meat pies,' and they'll be sure to steer you to her shop. You can stick to the basics, with a burger and fries. But loyal patrons come from far and wide strictly for the meat, mussel, fish, chicken and vegetable pies.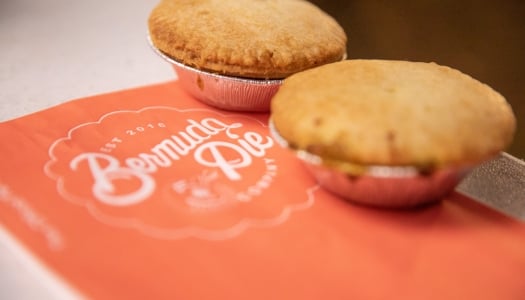 A taste of the Trinidad has found a home in Bermuda at Trini Spice. Rotis (they come with lamb, chicken, beef or vegetable fillings) are the specialty here. They also cook traditional grilled fare like burgers as well.
Woodys Restaurant Bermuda is a popular roadside restaurant with outdoor waterside dining. Fish sandwiches and fried fresh fish fillet, spiny lobster (in season September to March only) and jerk chicken are some of the dishes on offer. Traditional Sunday codfish breakfast is served also.
Duch Pops Bermuda makes all-natural, fresh fruit, homemade popsicles. Exotic flavour combos like 'Hibiscus-Watermelon-Ginger-Mint-Lime', 'Grapefruit-Lavender' and 'Watermelon-Cucumber' serve as refreshing tastes of the tropics.