Article
Rock Climbing On Bermudas Coastal Cliffs
Scale boulders and coastal cliffs around the island and you'll understand why locals have affectionately nicknamed Bermuda "the Rock."
Adventure,
Natural Wonders
Deep Water Soloing & Sport Climbing
One of the most popular kinds of climbing in Bermuda is deep-water soloing (DWS). DWS is one-person climbing, practised on sea cliffs at high tide where the climber's only protection is the water below. Sport climbing, on the other hand, utilises permanent anchors, ropes and other gear.
Note: Climbing in Bermuda is for experienced climbers and shouldn't be attempted without the help of someone who knows its climbs intimately. Remember, you're always doing this at your own risk.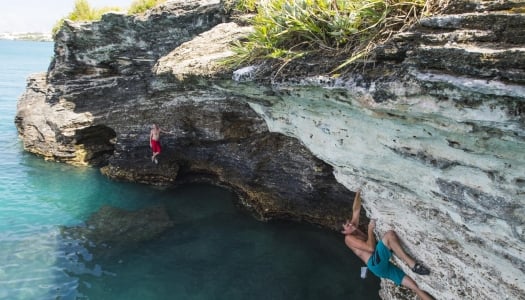 The Best Rock Climbing Spots: Clarence Cove & The Great Head
If you want to get climbing in Bermuda, there are about 250 deep-water solo routes and about 50 sports routes on the island. Many more are added with each passing year.

Northwest of the City of Hamilton, Clarence Cove in Admiralty House Park is the most popular climb on the island – it's "DWS central" according to Climbing Magazine. Among its dramatic rock formations, you'll find an array of routes for varying skill levels. The manmade caves here offer unique challenges, too. Admiralty House Park is also famed for its cliff jumping. After you complete your ascent, take a running leap into the turquoise waters below. ​The park is extremely accessible, with serious bouldering thrills just minutes from the entrance.
Clarence Cove is famed for dramatic rock formations and manmade caves.
Meanwhile, measuring 100 feet tall, the craggy Great Head Park in St. David's Island is probably Bermuda's highest cliff. Great Head is steep and requires ropes, but seasoned sports climbers will be rewarded with spectacular ocean views as they ascend.
YOUR BERMUDA CLIMBING RESOURCE
Grant Farquhar is Bermuda's own "rock star." His Climb De Rock Bermuda website details routes, tips, videos and guidlines to get you scaling.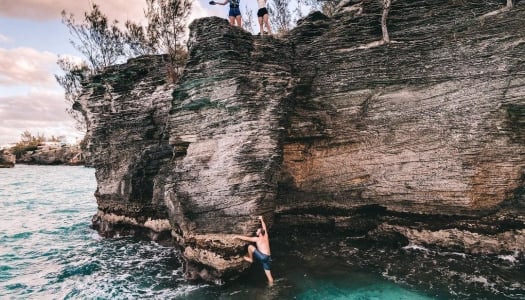 @badgalkeechy