Article
Islands And Mansions And Villas Oh My
Whether you're a high net worth individual searching for some solace or a large family or group looking for a secluded place to connect, Bermuda's private islands and estates are the perfect place to plan your next luxurious, mid-Atlantic experience. But don't just take our word for it. We spoke with the caretakers, owners and managers of four of Bermuda's most esteemed vacation rental properties to learn how to have the ultimate getaway.
Adventure,
Local Hotspots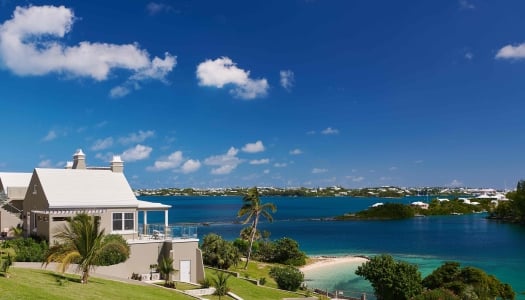 HAWKINS ISLAND
Tucked away in a sleepy archipelago known as Paradise Lakes, Hawkins Island might be a stone's throw from Hamilton Harbour, but it's also a world away from most everything else. After all, this pristine private island features two über-luxurious estate homes that sleep 16 guests total, with not a neighbour or another structure in sight. In fact, you'll have the entire 25-acre island to yourself making this one of Bermuda's most sought after vacation rental properties for those seeking a secluded stay like none other. "Hawkins is an ultra-lux piece of the market where you'll also have an added layer of security since you're not coming into contact with the general public," says owner Will Cox. "Plus, you've got all the amenities that go with renting a private island." That means a dedicated team catering to your every need, a personal chef cooking all of your meals, water sports equipment including kayaks, paddleboards and a small sailboat, plus unlimited water taxi transfers to and from Hamilton if exploring the mainland is on your agenda. You'll also be staying in one of Bermuda's most luxurious homes with jacuzzi tubs, outdoor showers and spacious water view balconies galore. Says Cox: "It's really one of the most special places in Bermuda.
OSWEGO ISLAND
Located in tranquil Smith's Sound between St. David's and Smith's Islands on Bermuda's far east end, Oswego Island is a secluded 3.2-acre sanctuary replete with natural beauty. "It's an incredibly romantic existence out there," says owner Rick Spurling who along with his partners Geoffrey and Douglas Redmond acquired Oswego from an eccentric Englishmen in the early 2000's. At the time the island had a singular ramshackle cottage built in the 1800's, but once this trio of St. David's islanders took the reins, they built a glistening new three-bedroom, three-bathroom home that paid homage to Bermudian design without forgoing modern amenities. "It's a place where you can sit quietly and let history speak to you," says Spurling who spends most of his time as the director of the St. David's Historical Society and who's still moved by Oswego's ocean views. "From the front patio of the house you look out at a very historic bay and the old channel leading into the harbour," says Spurling. "It's the same view that you would've had 400 years ago." In addition to sliding floor-to-ceiling glass walls that convert the inside space to an airy outdoor living area, the house also boasts amenities not seen at other properties—like a 23-foot power boat available to all guests. "If you're on an island," says Spurling, "you've gotta have a boat."
THE RESIDENCE AT THE LOREN
When the Loren at Pink Beach first opened its doors in 2017, the chic boutique hotel quickly became Bermuda's most stylish property with its sexy, ultra-modern décor and to-die-for beachfront location. About a year later the resort unveiled The Residence at The Loren —a sprawling 10,700-sqare-foot mansion sitting on 5.5 acres of waterfront property with six bedrooms, eight en-suite bathrooms, a two-bedroom staff cottage, and high-end amenities like a covered bar, outdoor chef's kitchen and poolside verandas with ocean views. In short, the Residence is one of Bermuda's most prestigious properties, which is why Hollywood celebrities, professional athletes and computer tech magnates have all stayed on the premises. "During the high season you're looking at $15,000 a night, so we're definitely attracting a niche market," says The Loren general manager, Sebastien Maingourd.
"But you get what you pay for—there's nothing in Bermuda that can match this level of privacy and amenities." That means you'll also have a private 300-foot-long pink sand beach, high-tech fitness center, screening room, tennis court and an oceanfront heated pool where you and your entourage can relax in secluded style. Pair that with a ten-minute drive to Bermuda's private jet tarmac and you've got a recipe for ultimate island luxury.
ISLAND HOUSE
Once home to Boer War prisoners who were taken to Bermuda in the early 1900's, this private island in Paradise Lakes is aptly named, since the skinny speck stretches nearly a quarter of a mile from end to end. Like its sister property on nearby Hawkins Island, here you'll have total seclusion from the outside world and unending views of the islets and cays that dot Hamilton Harbour and Granaway Deep. But unlike Hawkins, instead of an ultra-modern estate house, with Island House you'll be treated to a traditional Bermuda cottage oozing with island charm (think exposed cedar beams, plantation style furniture and wooden Adirondack chairs on its breezy patio). "This is more of a high-end family home that's surrounded by so much natural beauty," says owner Will Cox, who's family bought the property about ten years ago. "Imagine waking up in the early morning to endemic bird species that you just don't see on land, and then of course there's the star gazing at night. There's not a more spectacular place to be than on the open ocean." In addition to a games room, croquet lawn and outdoor jacuzzi tub, you'll also have access to its watersports shack with kayaks and sunfish, all tailormade for a family-friendly getaway on your own private isle. Email [email protected] or call +1 (441) 296 5722 for more information.