Article
Flora, Fauna & Fun: Put Ag Show Bermuda on Your List
You're invited to take in the marvels of Bermudian agriculture every April at the Bermuda Botanical Gardens.
Out here, lush landscapes, a pleasant climate and a culture that prides itself on ingenuity make for an unparalleled place to visit – and, in the case of 65,000 lucky Bermudians, to live.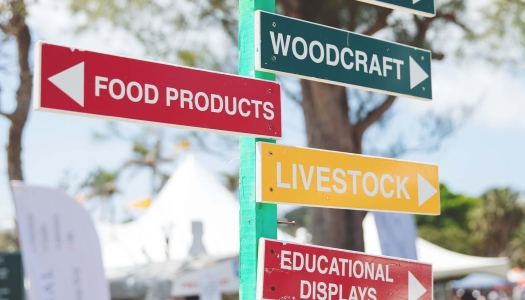 Those three elements also make for an intriguing array of products made from things that thrive in Bermuda's soil. Every April, the Ag Show Bermuda is a chance for Bermuda's agricultural and artistic communities to come together to share the fruits of their labour. Taking place at Bermuda Botanical Gardens most years, 2021 marks the official event's 82nd year, and the event is being held virtually.
Originally a showcase for produce and livestock, Ag Show Bermuda has evolved over the years into a jubilant celebration of the diverse cultural patchwork that makes Bermuda such an interesting place. Over the course of its three days, the event attracts roughly 25,000 people with live entertainment, equestrian shows, delectable food offerings and more.
Here's why you won't want to miss it.
A FEAST FOR THE EYES (AND TASTEBUDS)
This three-day event invites you to stroll among rows of impossibly perfect strains of plumeria, hibiscus, day lilies and passion flowers you'll only find in Bermuda, and meet the Bermudians who painstakingly tended to them as they grew. The show is also one of biggest events for local makers to gather to sell their wares; vendors will display everything from woodwork crafted from local stock to colourful handmade kites.
Your tastebuds are also in for a show. Stroll around and sample locally raised and sourced honey and other food products, some you can take home with you. Don't forget to pick up some malassadas (fried donuts first brought here by the early Portuguese immigrants who came to the island 170 years ago to work on its farms) and a traditional fish sandwich (trying it on raisin bread is a must).
MEET THE (FOUR-LEGGED) STARS
Every year, equestrians take center stage, whether it's a competition for best Bermuda-bred pony or best horse-drawn carriage ride. Always the crowd-pleaser, the highest jumpers will be clearing impossibly tall hurdles in the main ring.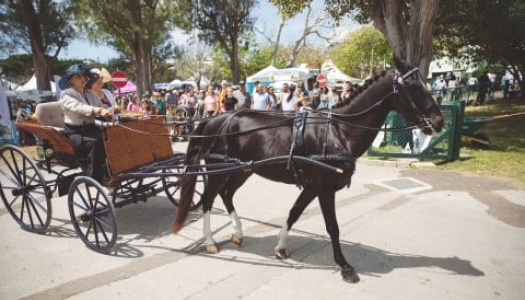 DANCE TO LOCAL MUSIC
From the Gombey dancers that dazzle crowds during Harbour Nights to the rock bands that jam at local watering holes, Bermudians love their music. Local musicians of every age provide hours entertainment over the show's duration, including school choirs, soloists, dance troupes and more.
IF YOU GO
Location: 169 South Rd., Devonshire
Hours: Daily - 08:00 AM to 06:00 PM
Admission: Adults $10; Children under 16 $5; Children under 5 free; Senior Citizens with ID $5