Article
Bermuda Bus Schedule
The public bus system is known locally as the 'Pink n' Blue' because of the unique colours of the buses. It is a great way to move around, with 11 routes that cover the island from east to west. The bus station is located in Hamilton and most routes start and end at this location (with the exception of Route 6).
The bus fares are calculated by zones and cost between $3.50 and $5 per ride. The buses accept exact change or tickets that can be purchased in advance at the Hamilton Bus Station, Visitor Service Centres in Dockyard and St George's and some hotels. If you plan to catch public transportation for your whole trip, you can also buy a Transportation Pass for 1, 2, 3, 4 or 7 days for the bus and ferry.
 
Fun fact: The bus stops are colour coded. If the pole is pink, the bus is heading towards Hamilton, if it is blue, it is heading away from Hamilton (east or west).
ROUTE 1 - HAMILTON TO GROTTO BAY/ ST. GEORGE'S VIA TUCKER'S TOWN
This bus is not the most direct route to St George's, but it is the scenic route as it travels along the South shore and around Harrington Sound. As the bus travels east to St George's it passes lots of places of interest including the Botanical Gardens, Mary Prince Emancipation Park, the National Trust Verdmont Museum, Spittal Pond,  John Smith's Bay, Mid-Ocean golf course and Tucker's Point golf course, and the Crystal Caves.
 
Note: Some Route 1 buses end at Grotto Bay. If the bus does not travel all the way to St George's, it will be named Grotto Bay on the front and back of the bus. 
ROUTE 2 - HAMILTON TO ORD. ROAD
This is one of the shorter routes travelling between Hamilton and Warwick. You can catch this bus to travel to the Bermuda Underwater Exploration Institute (BUEI), the Botanical Gardens, Masterworks Museum of Bermuda Art, and Elbow Beach. It is also an interesting fact that this bus passes Bermuda's only college. 
ROUTE 3 - HAMILTON TO GROTTO BAY/ ST. GEORGE'S VIA MIDDLE ROAD
This is another route East that travels along Middle Road. It is still not the most direct route to St George's, but you can catch this bus to see the Arboretum, Flatt's Village, The Bermuda Aquarium and Zoo, Devil's Hole, Crystal Caves, Swizzle Inn, Blue Hole and Walsingham Nature Reserve (Tom Moore's Jungle). If you are interested in Pony Racing (seasonal between January and February) then you would get off at Vesey Street.
ROUTE 4 - HAMILTON TO SPANISH POINT VIA ST. JOHNS OR NORTH SHORE
This bus travels along the north shore to Spanish Point. Catch this bus to visit Admiralty House, the famous spot for cliff jumping, and a nice place to walk around and relax at the beach and lagoon. Admiralty House also has a free tennis court if you feel like hitting a ball around, but you must bring your own equipment. 
ROUTE 5 - HAMILTON TO POND HILL VIA GLEBE ROAD
This route travels through the north side of Hamilton and Pembroke neighborhoods. It is used mostly by locals to travel to and from work. 
ROUTE 6 - ST. GEORGE'S TO ST. DAVID'S
You can catch this bus to travel to St. David's Island. If you are taking route 1, 3, 10 or 11 from Hamilton to St. George's you can transfer to this bus at the Double Dip entrance, which is also a nice pit stop for ice cream. This bus will take you to Carter House Museum, Clearwater Beach (get off here for Turtle Bay and Cooper's Island), and St David's Lighthouse.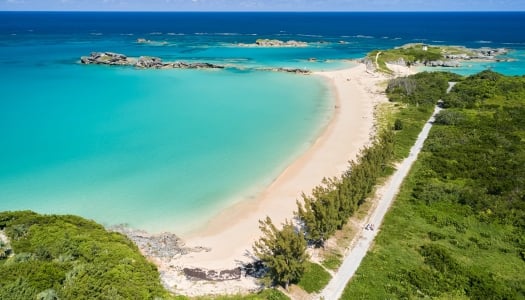 ROUTE 7 - HAMILTON TO BARNES CORNER/DOCKYARD VIA SOUTH SHORE BEACHES
By far the most popular and arguably the most picturesque route. As the bus follows South Road and heads west, you will pass some of Bermuda's most famous beaches including Warwick Long Bay, Jobson's Cove, Chaplin Bay, Horseshoe Bay and Church Bay. Other points of interest along this route include Southlands Park, Gibb's Hill Lighthouse, Port Royal Golf Course, Somerset Bridge, Fort Scaur, Somerset Long Bay, and Woody's (fish sandwich).
ROUTE 8 - HAMILTON TO CEDAR HILL/BARNES CORNER/SOMERSET/ DOCKYARD VIA MIDDLE ROAD
This is a more direct route to Dockyard and travels along Middle Road the whole way. It takes approximately one hour to travel from Hamilton to Dockyard. Points of interest along the way include Paget Marsh (Lovers Lane), The Belmont Hills Golf Club, Sherwin Nature Reserve and Warwick Pond, Port Royal Golf Club, Hog Bay Park, Somerset Bridge and Fort Scaur.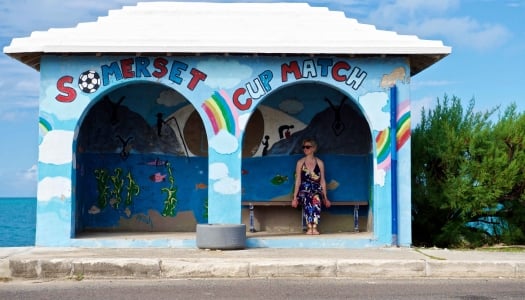 ROUTE 9 - HAMILTON PROSPECT VIA NATIONAL SPORTS CENTRE 
This is a circular route from Hamilton to the National Sports Centre, which has an Olympic size pool and track. Many sports and musical events are held at this location.
ROUTE 10 & 11 - HAMILTON TO ST. GEORGE'S
Route 10 and 11 are the most direct routes to St George's. The only minor difference is that one travels down Palmetto Road, and one goes straight down the North Shore. For the W.E.R Tennis stadium catch the number 10. 
 
Points of interest on these buses include Ocean View Golf Course, Flatts Village, the Bermuda Aquarium, Museum and Zoo, Shelly Bay, Abbott's Cliff Park, Bailey's Bay footbridge, Coney Island, Swizzle Inn, Blue Hole Park, and the LF Wade International Airport. The journey from Hamilton to St George's is approximately 50 minutes. 
Common Questions
Yes, the bus does accept cash but passengers must have exact change in coins. If you don't want to deal with exact change, you can purchase bus tickets and passes at the Ferry Terminal, Central Bus Terminal and the St. Georges and Dockyard Visitor Services Centres. 
SHOW +
To find a bus stop, look for a pole with a pink (for rides inbound to Hamilton) or blue (for rides outbound of Hamilton). 
SHOW +